That 70's House
Season 2, Episode 13
There are no certainties when it comes to choosing our properties. Many variables are weighed and measured to facilitate a successful resale, and while we have no guarantees about how a renovation will play out, this house was poised to be a winner right from the start! It started with a good set of bones, a walk out basement, and is located in a desirable area that was sure to help it sell quickly. In a business of "maybes," transforming this outdated ranch into a cozy farmhouse set the stage for a favorable outcome. We are excited to share some of the finished product with you, so keep reading!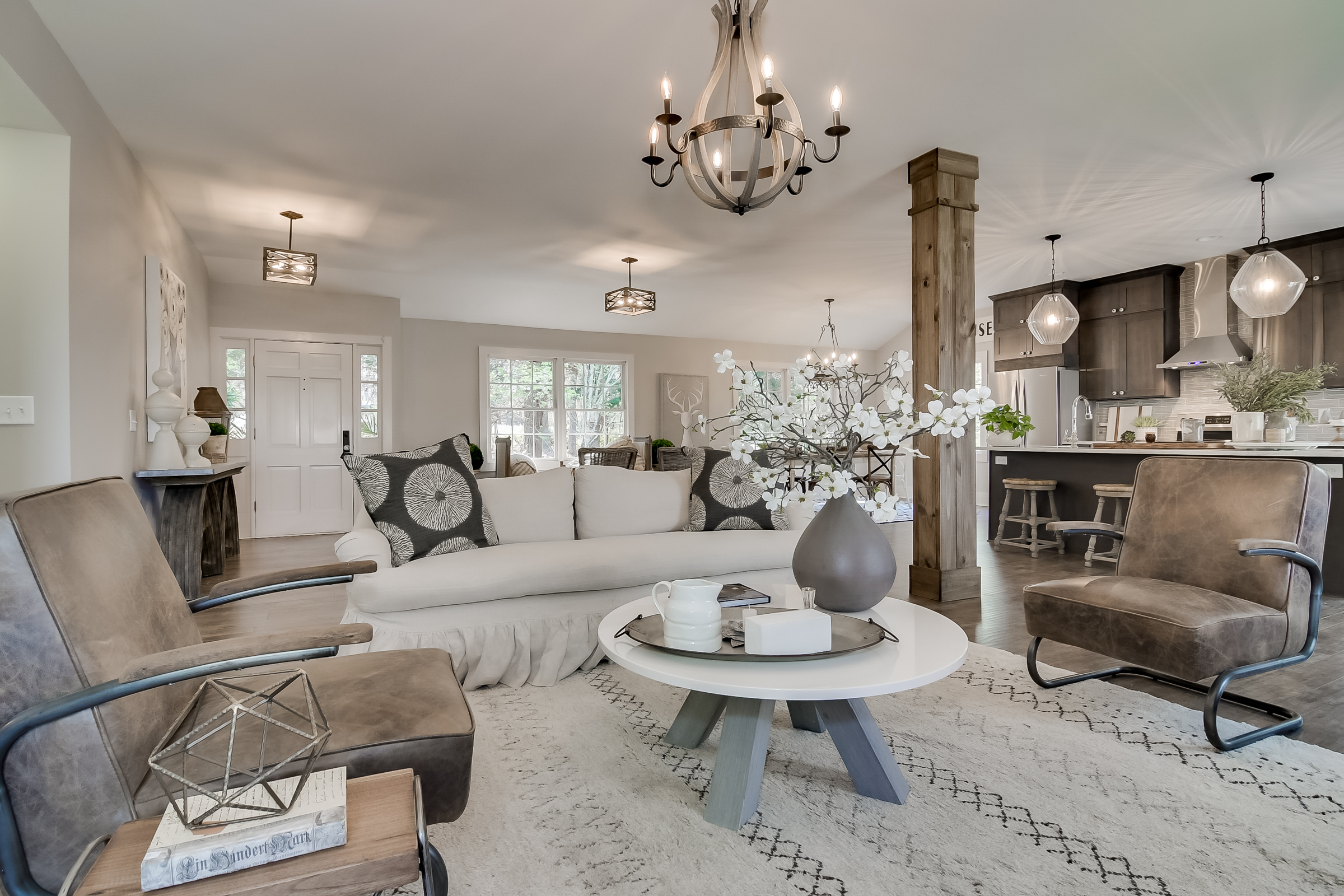 There are so many beautiful finishing touches to take in for this project thanks to our friends at Urban Farmhouse, who staged this property with unrivaled polish and precision. Every piece captivated our buyers, and complemented our design selections. The open concept living room, kitchen and dining room gave this space a sense of cohesion and continuity that carried throughout the house. One of my favorite aspects of an open floor plan, aside from making the spaces look much larger, is seeing all of the gorgeous lights dripping from the ceiling simultaneously. Now that's a great light show!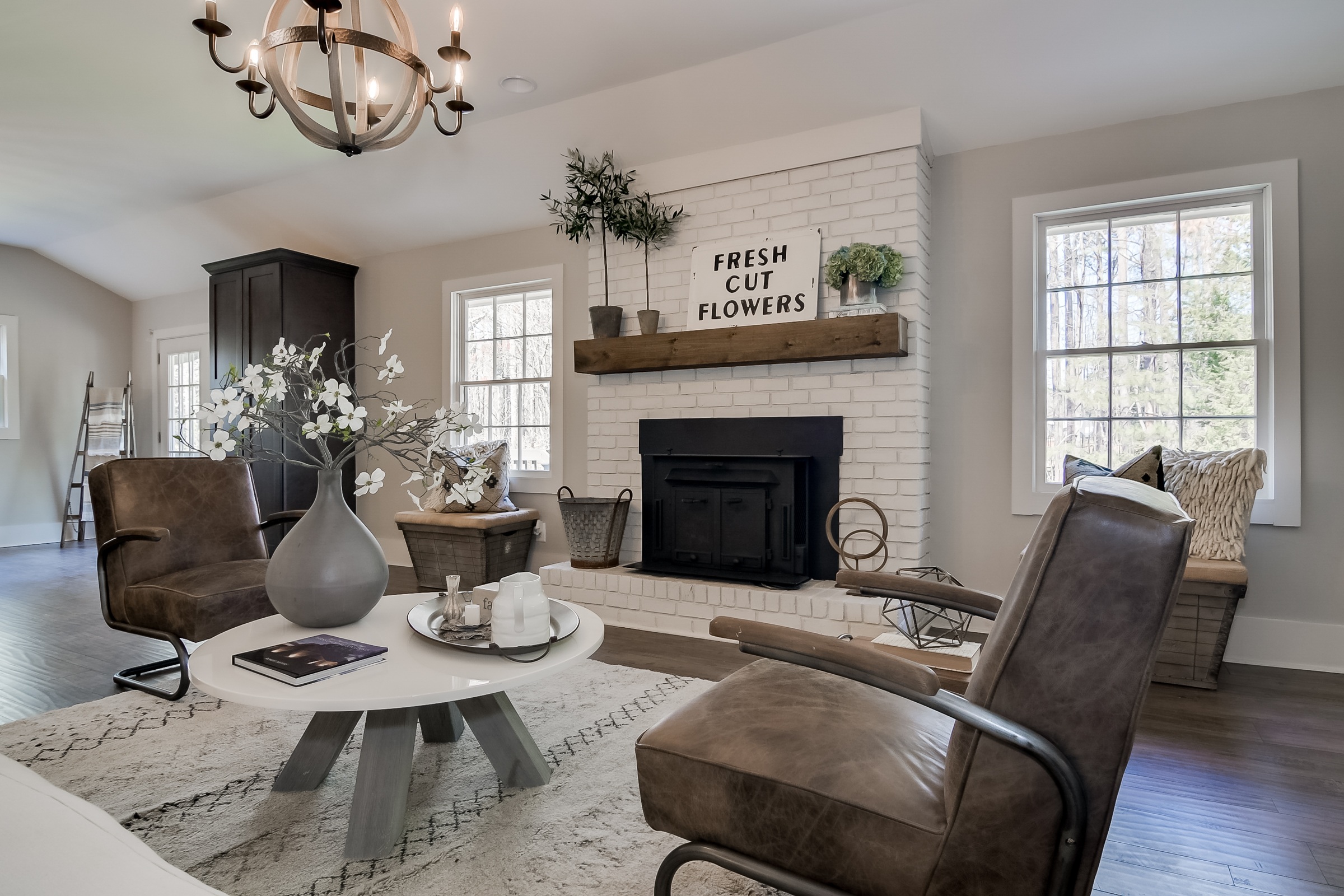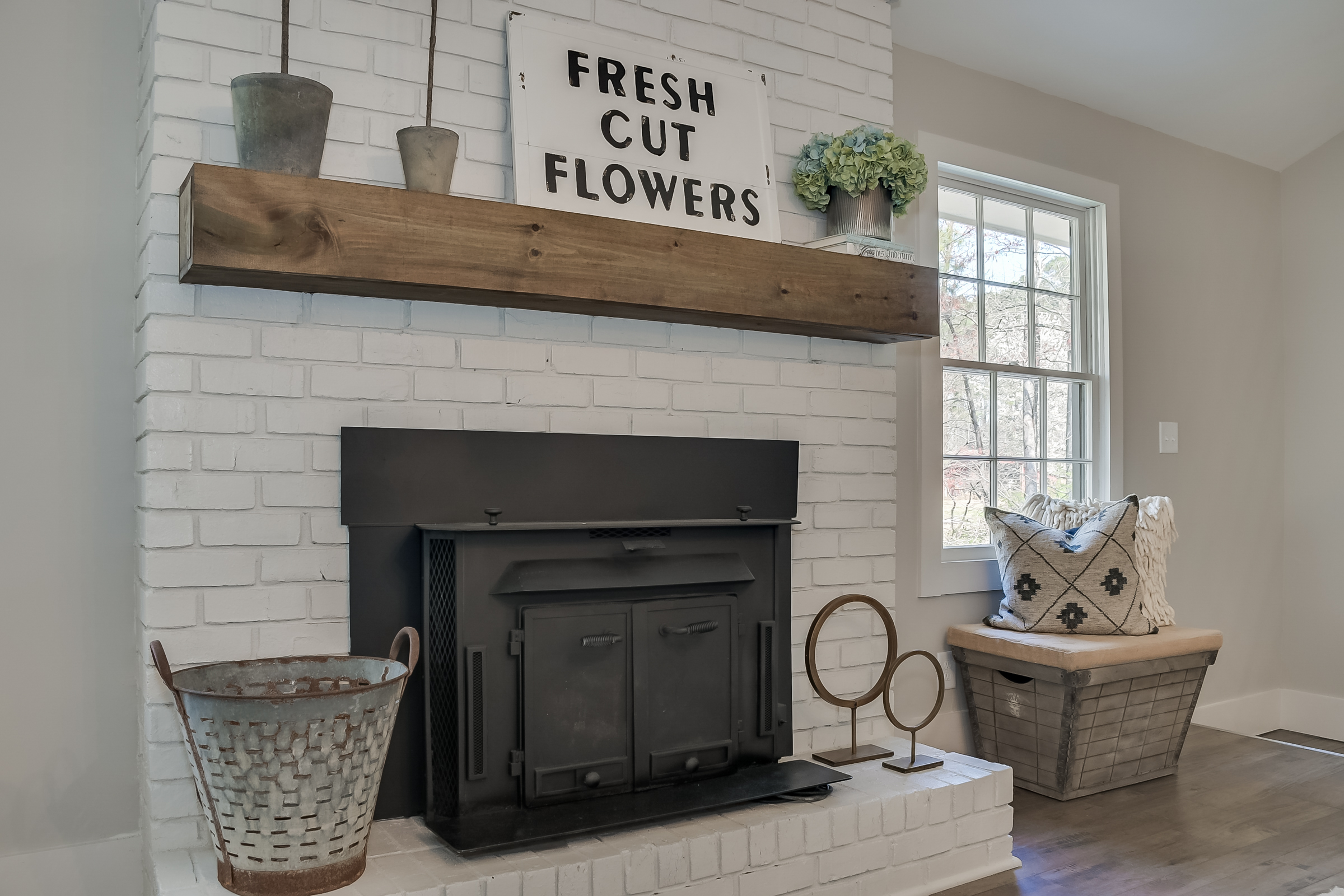 You know how I feel about painting brick, right? There is a time and place for every design aesthetic. In this case, painting the brick suited the new neutral palette best, and gave the other two stars of the fireplace the backdrop they needed to shine: a custom boxed mantel, and the original wood burning fireplace stove. Before the renovation, it seemed old, clunky and lost in the dark existing brick. Now, it's a focal point of the wall, and we love the stark black and white contrast.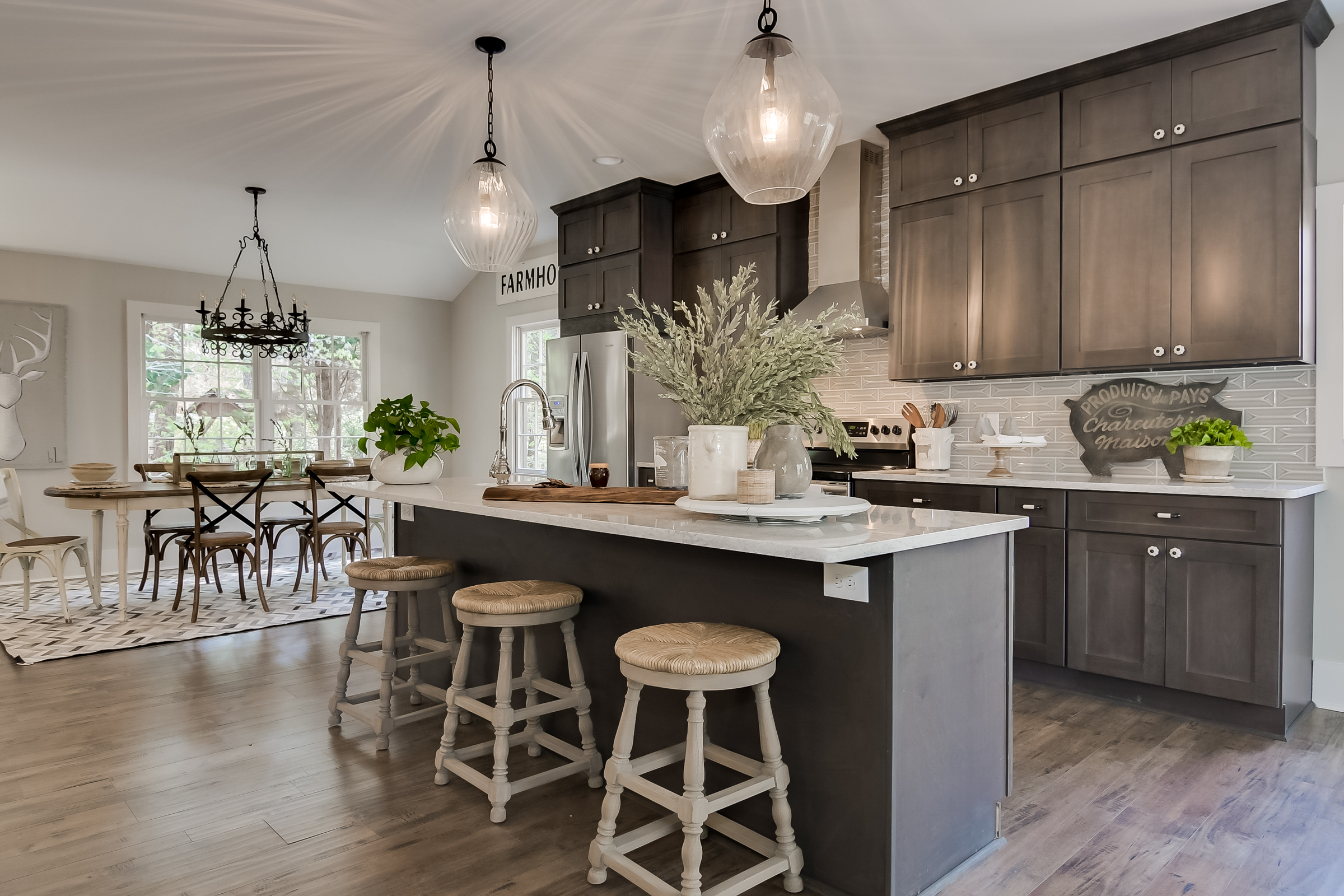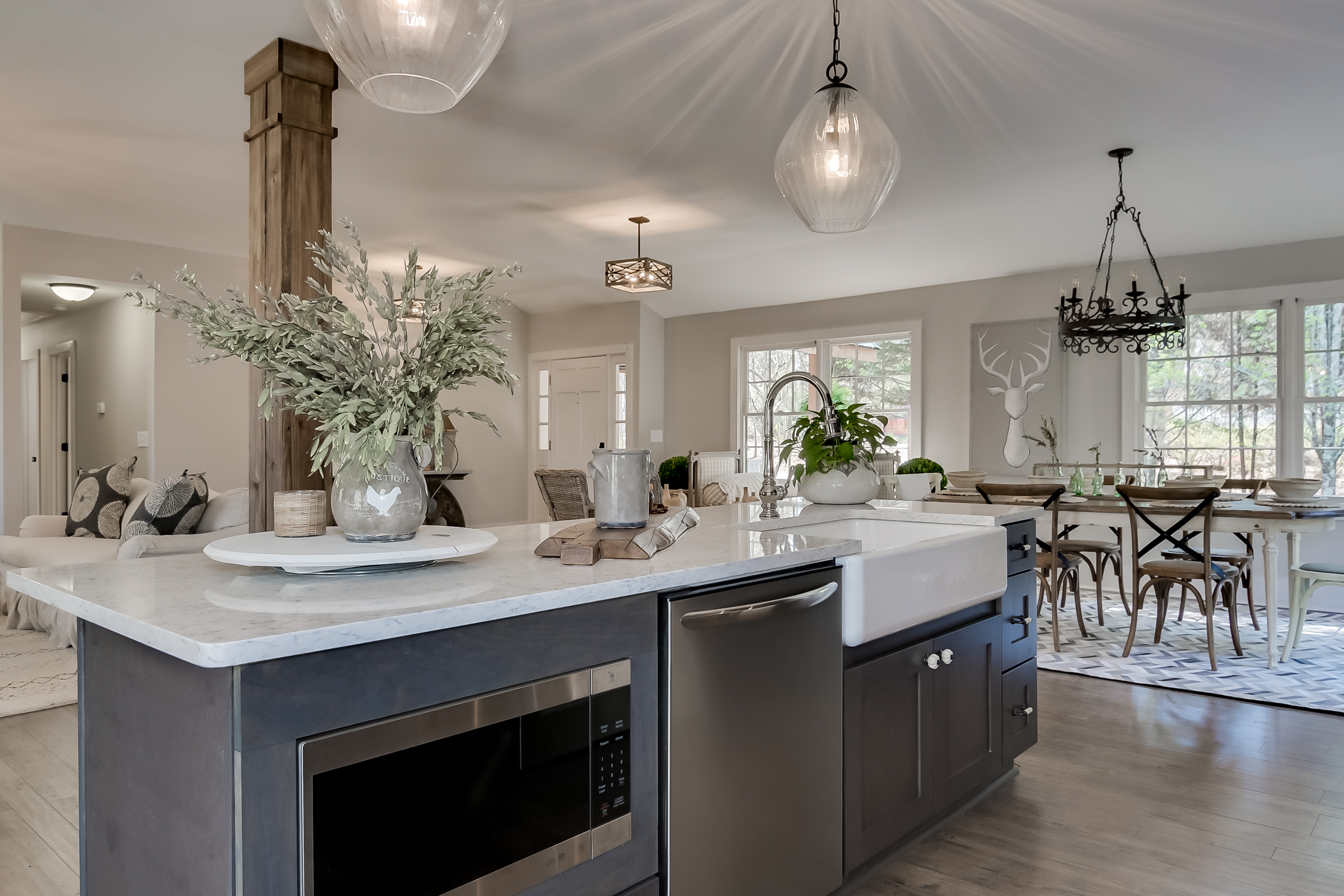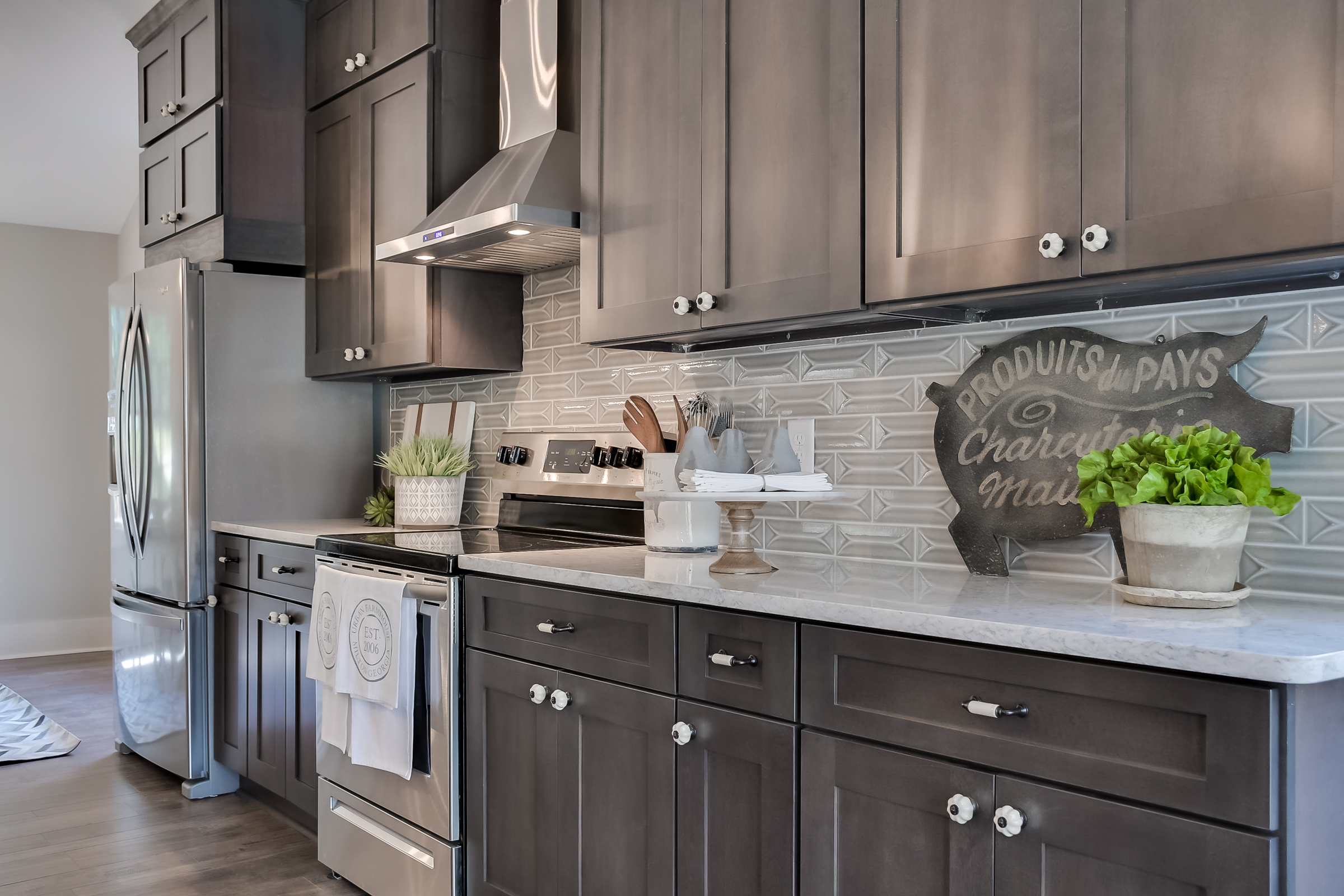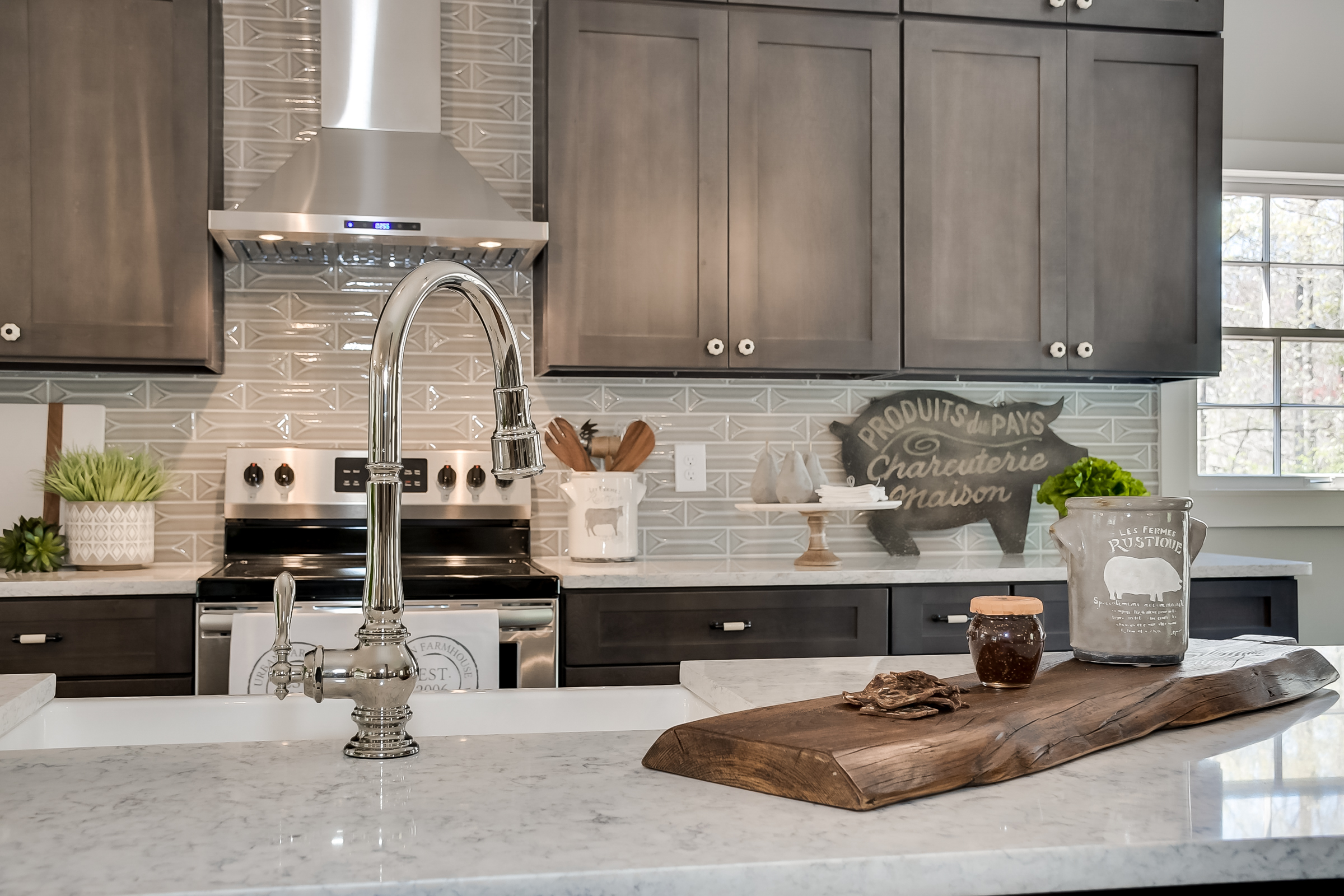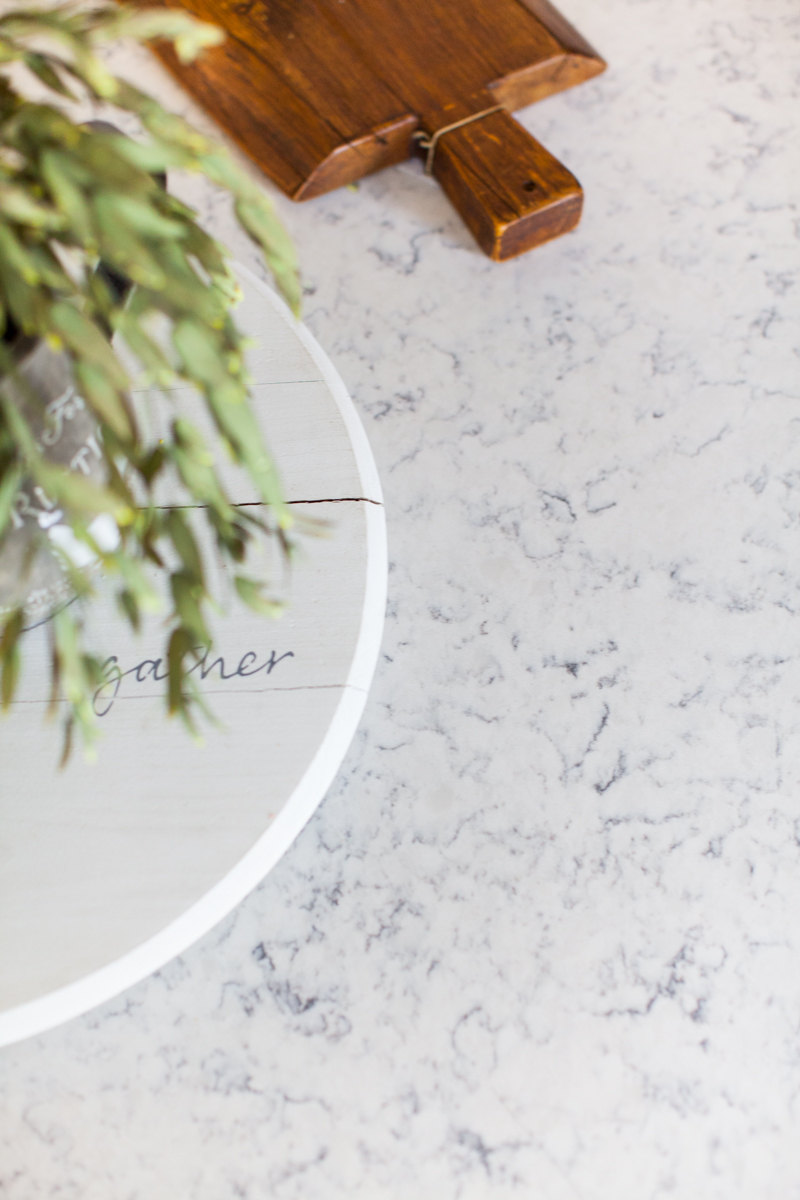 We love these gray wood cabinets from Forevermark Cabinetry. They are the perfect shade, and have a touch of the wood grain showing through. We added ceramic mushrooms knobs and drawer pulls in ivory to stand out against the darker cabinets, and give the kitchen a soft, slightly feminine feel to it. The quartz counters are bright and clean except for a subtle gray vein that ties in together nicely with the cabinets. The backsplash was quite possibly one of our favorites! We love how the pinched ridge in the middle of the tile gives this heirloom pewter tile some added dimension, and this house some added style.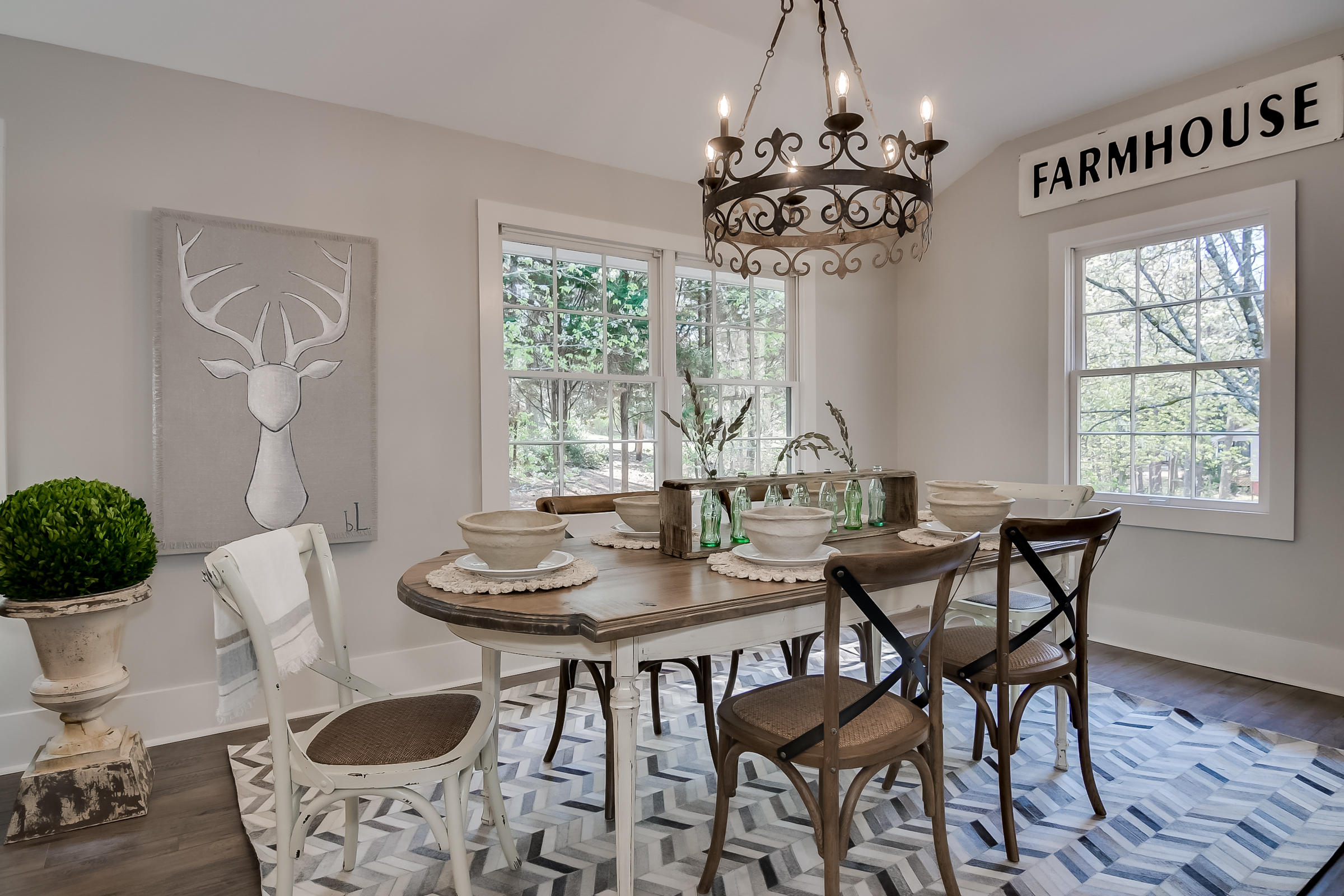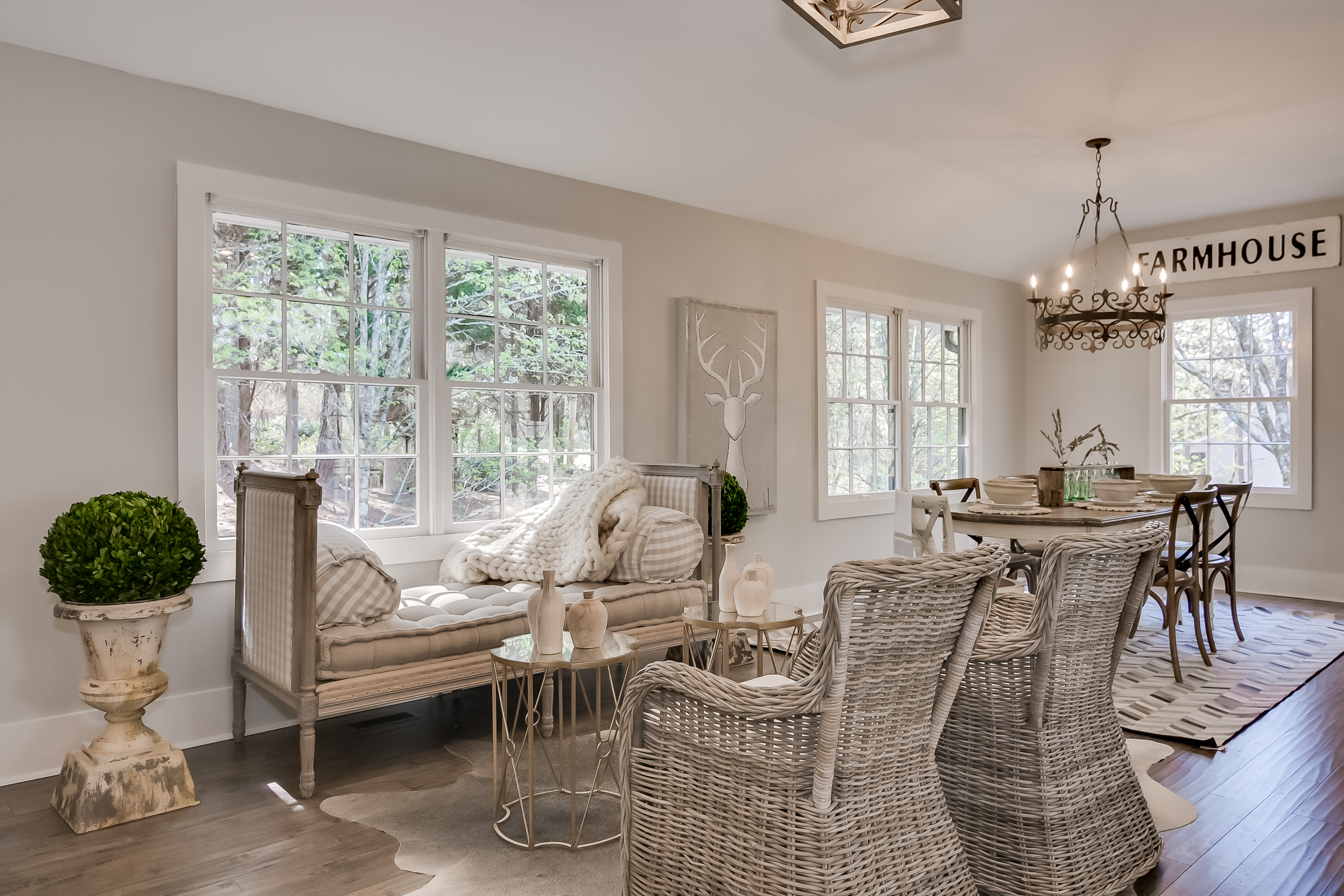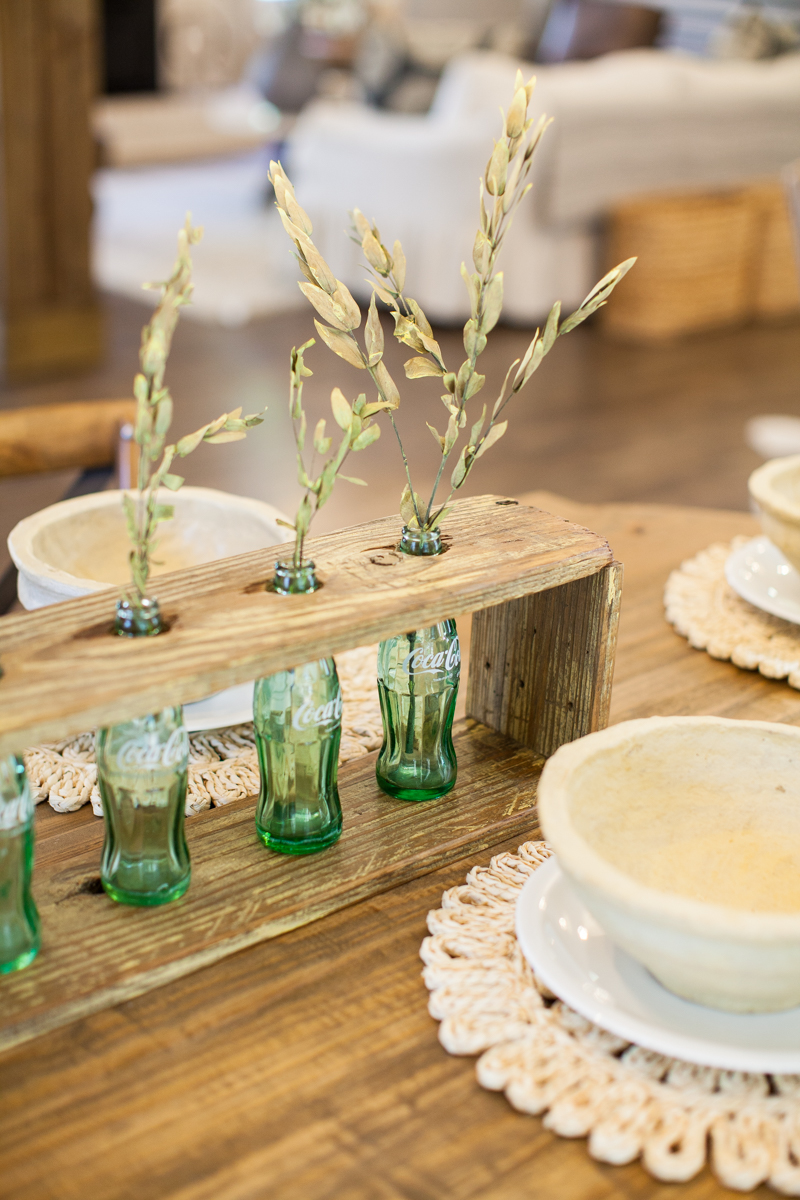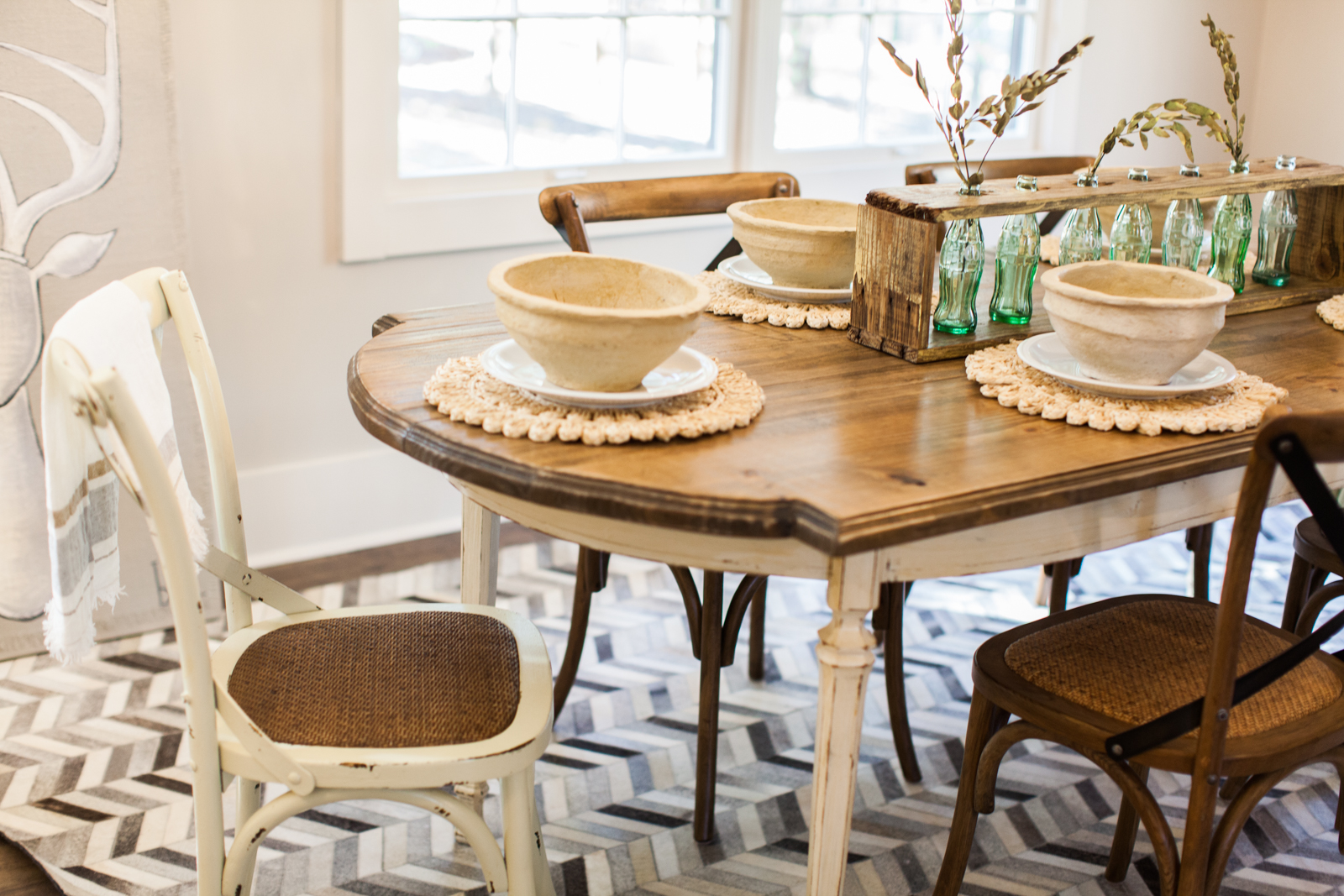 This house is full of beautiful custom pieces made by the talented Junc2Funkt crew! The best part is that the materials came from the original house. If you follow their site @junc2funkt, you can see how they transformed these discarded pieces into something special for this project. Their craftsmanship and resourcefulness reminds us all that beauty can be found in the most unlikely places! The delicate curve of the dining table, and the filigree pattern of the chandelier, are a few more of the design choices that gave this farmhouse the softness we were hoping to achieve. One last thing about this space - staging shouldn't be underestimated when it comes to selling a home. After we opened up the bulk of the interior, we were left with a blank canvas. Some spaces are easy to identify and put to good use, but others are more of a void - like this additional space off to the side of the foyer that Urban Farmhouse staged as a stylish sitting room. With adequate staging, a buyer can see the potential a space has to offer before they decide whether or not to buy.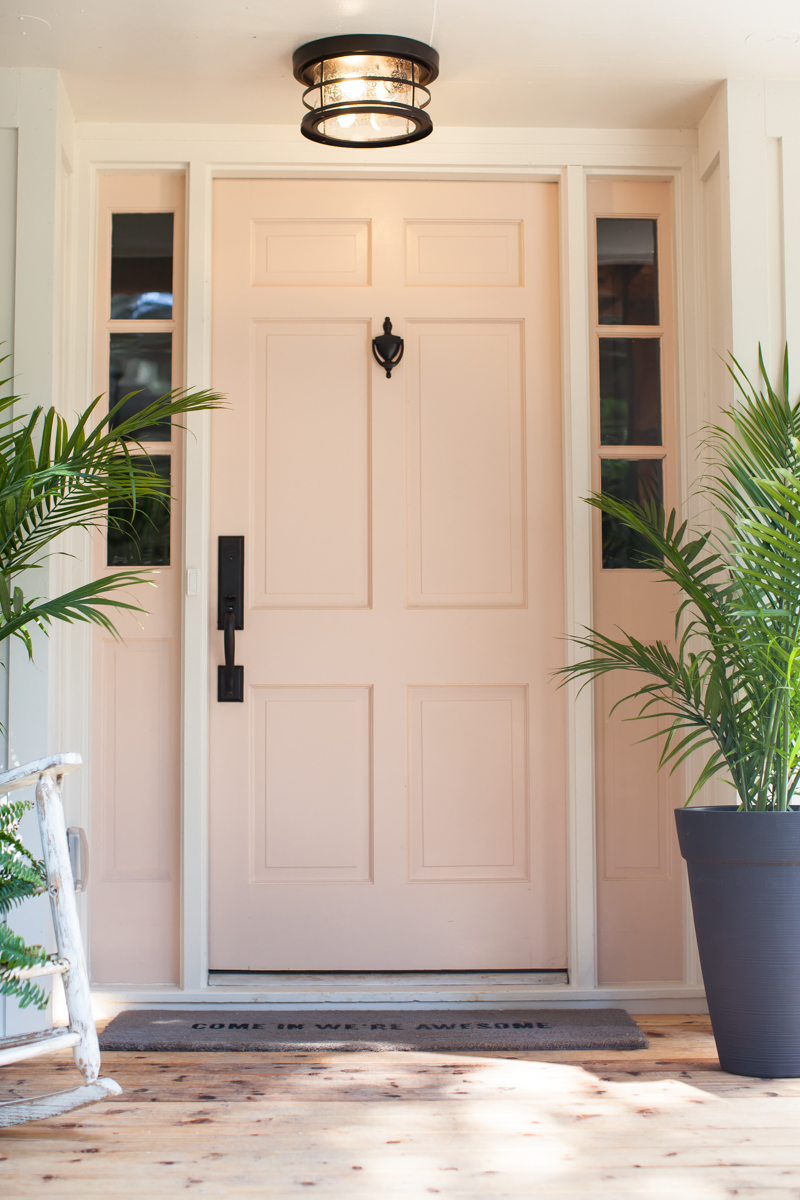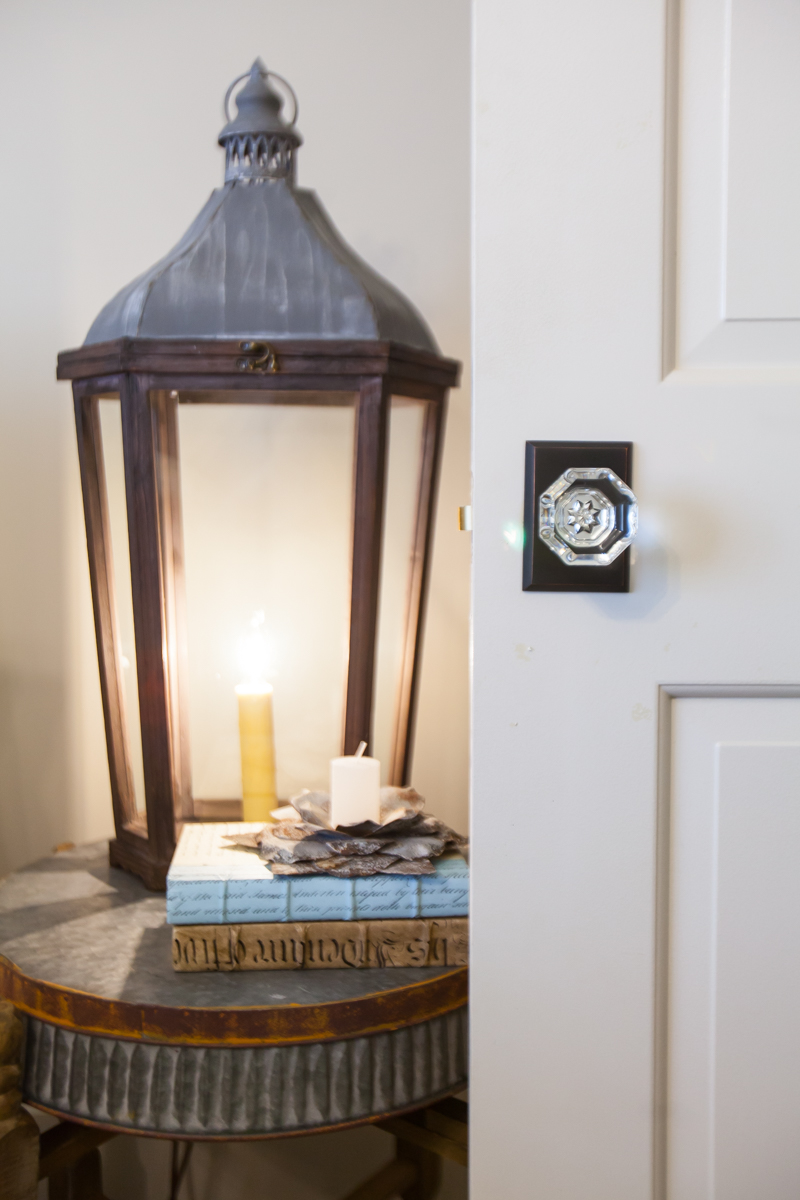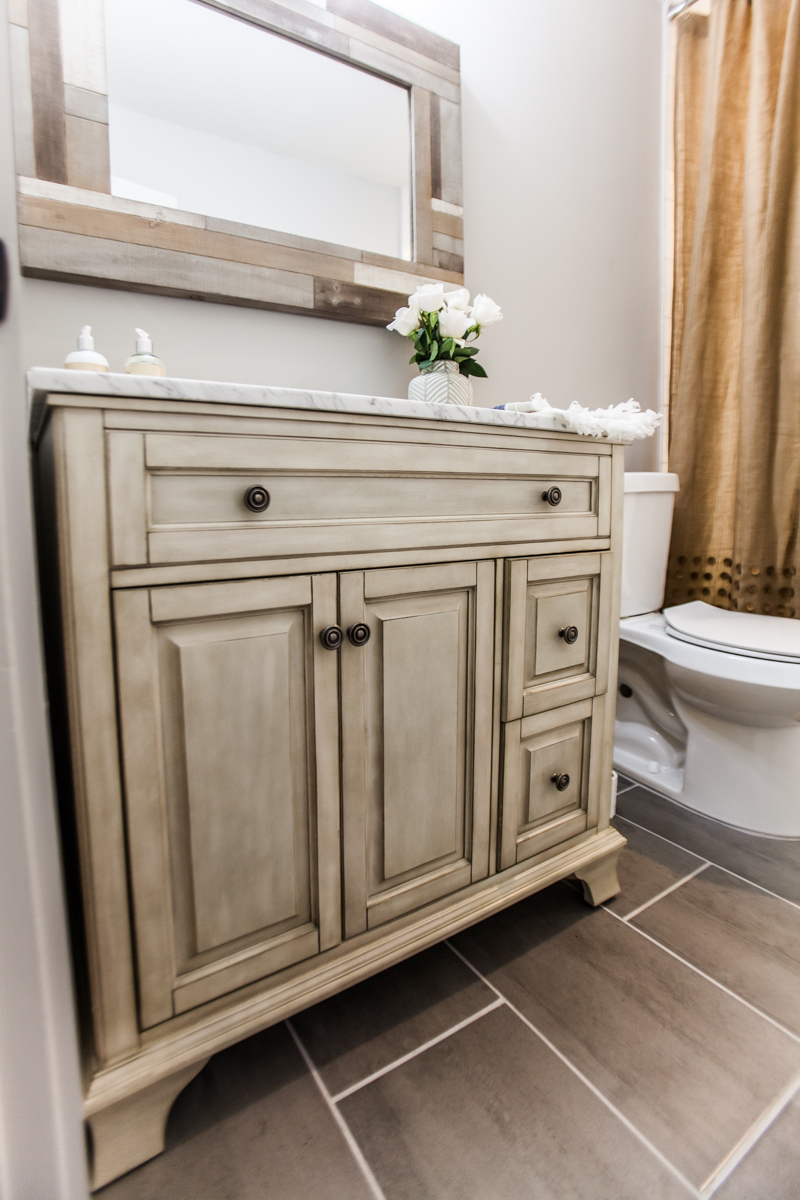 White roses, a blush door and crystal door knobs are scattered throughout this house to give it a touch of romantic charm. Tip: If you call it a blush door, and not a pink door, you are more likely to get your husband to approve.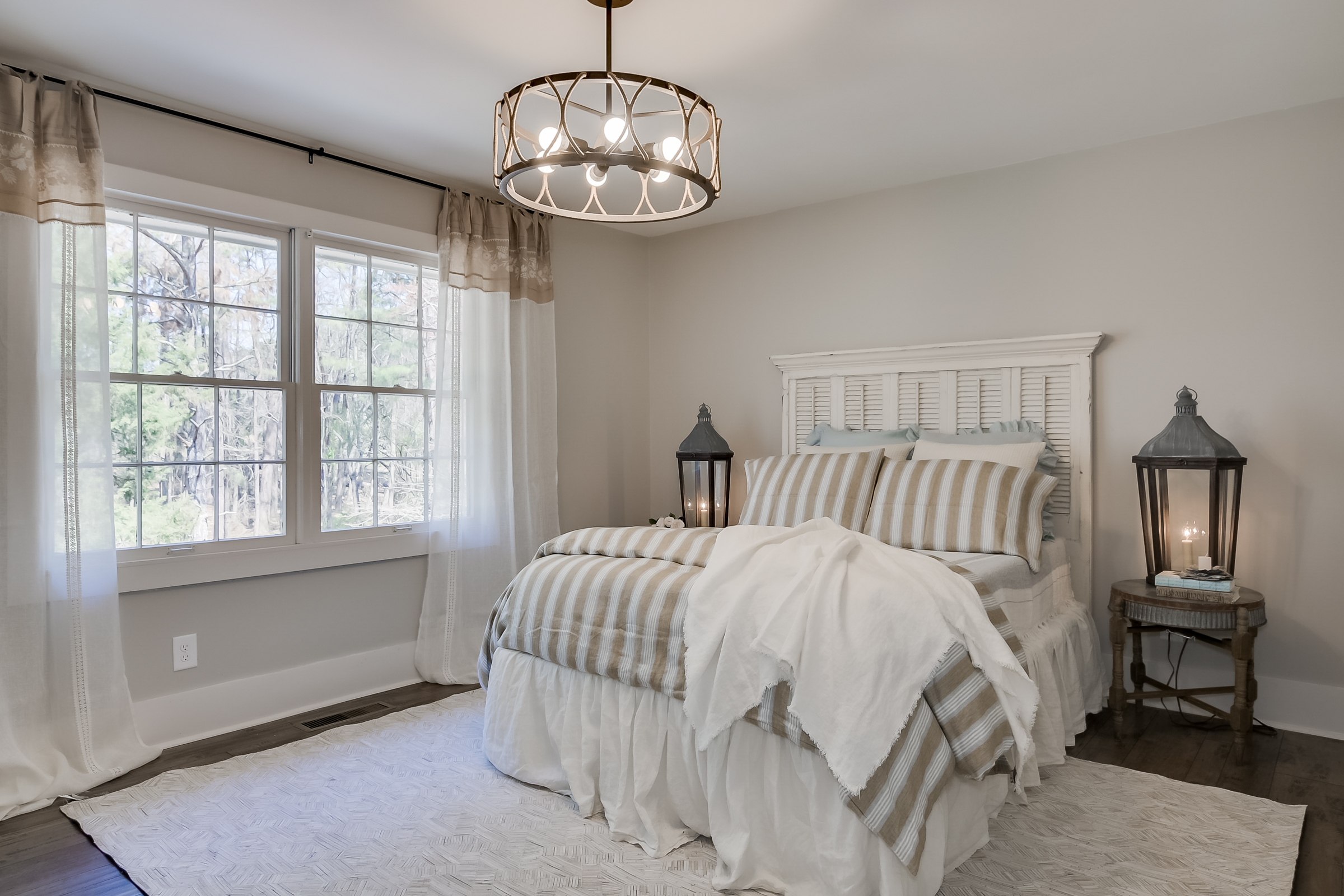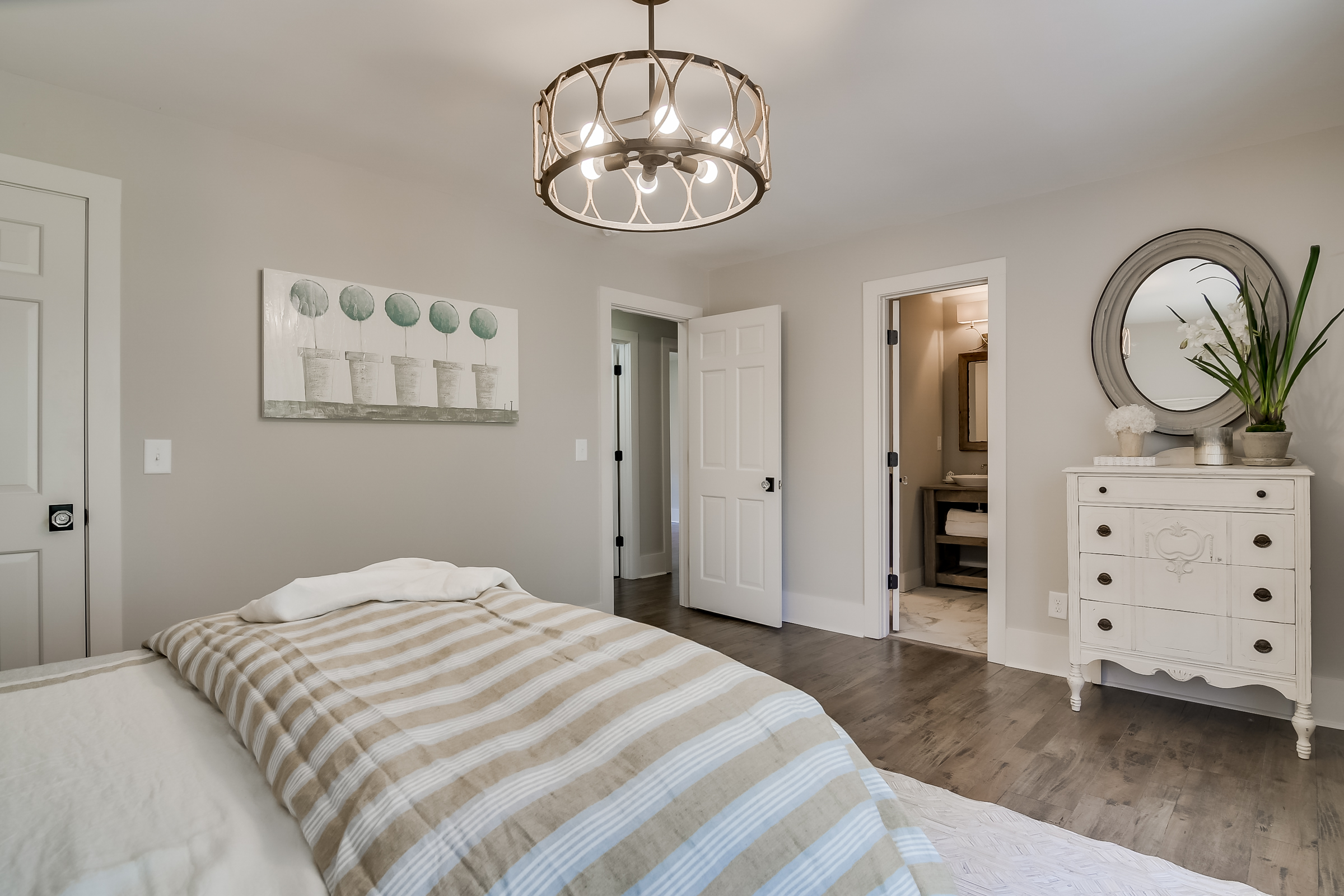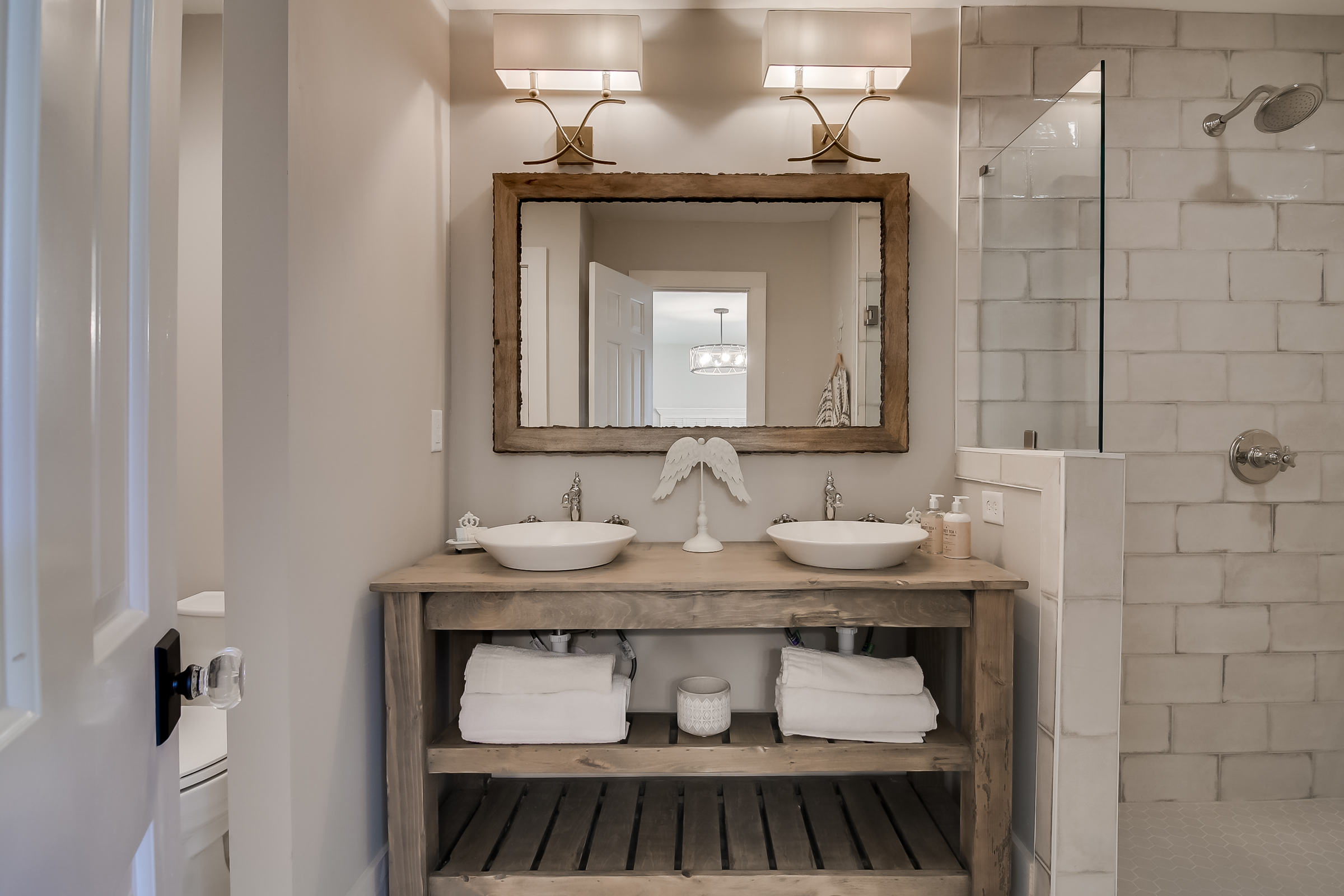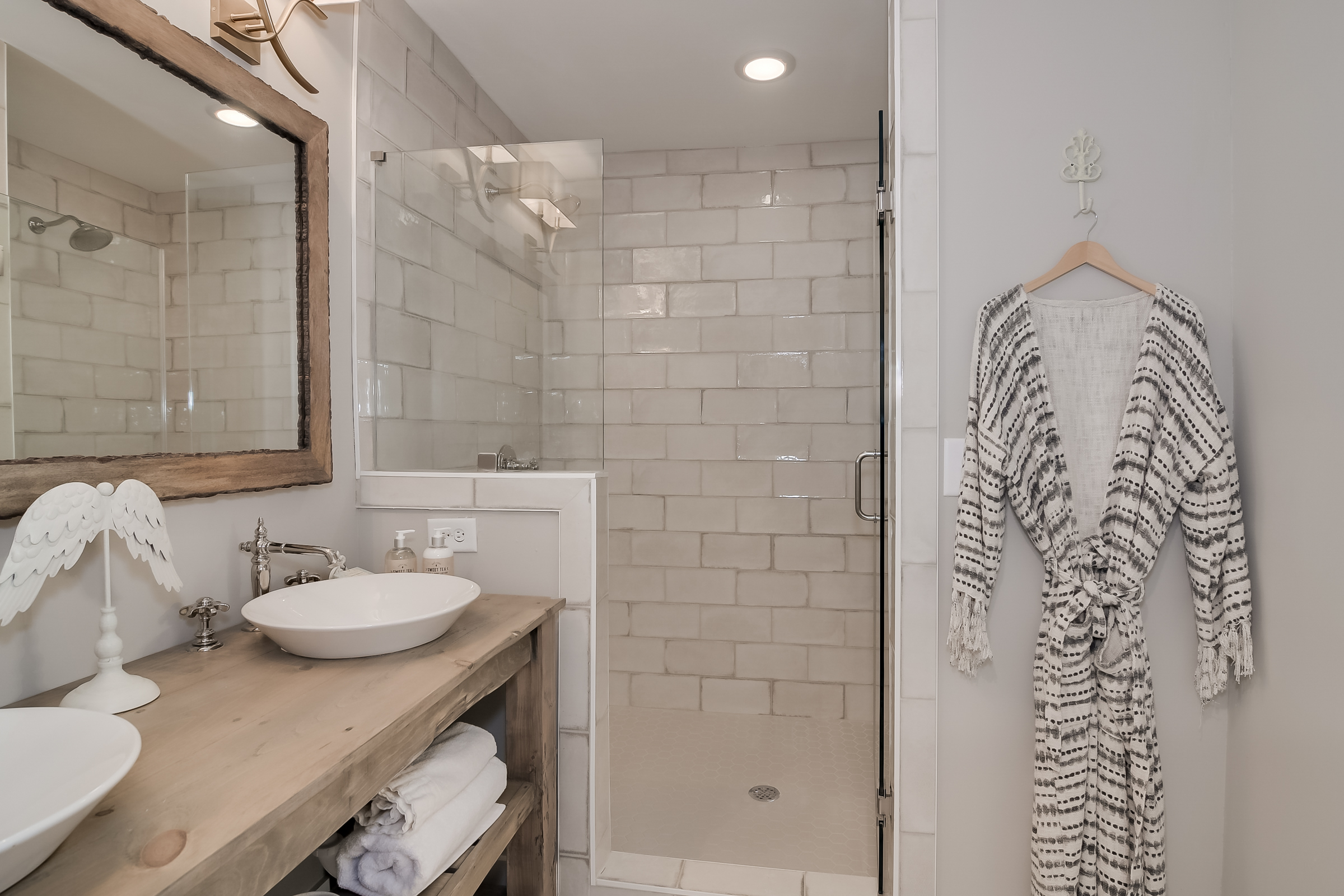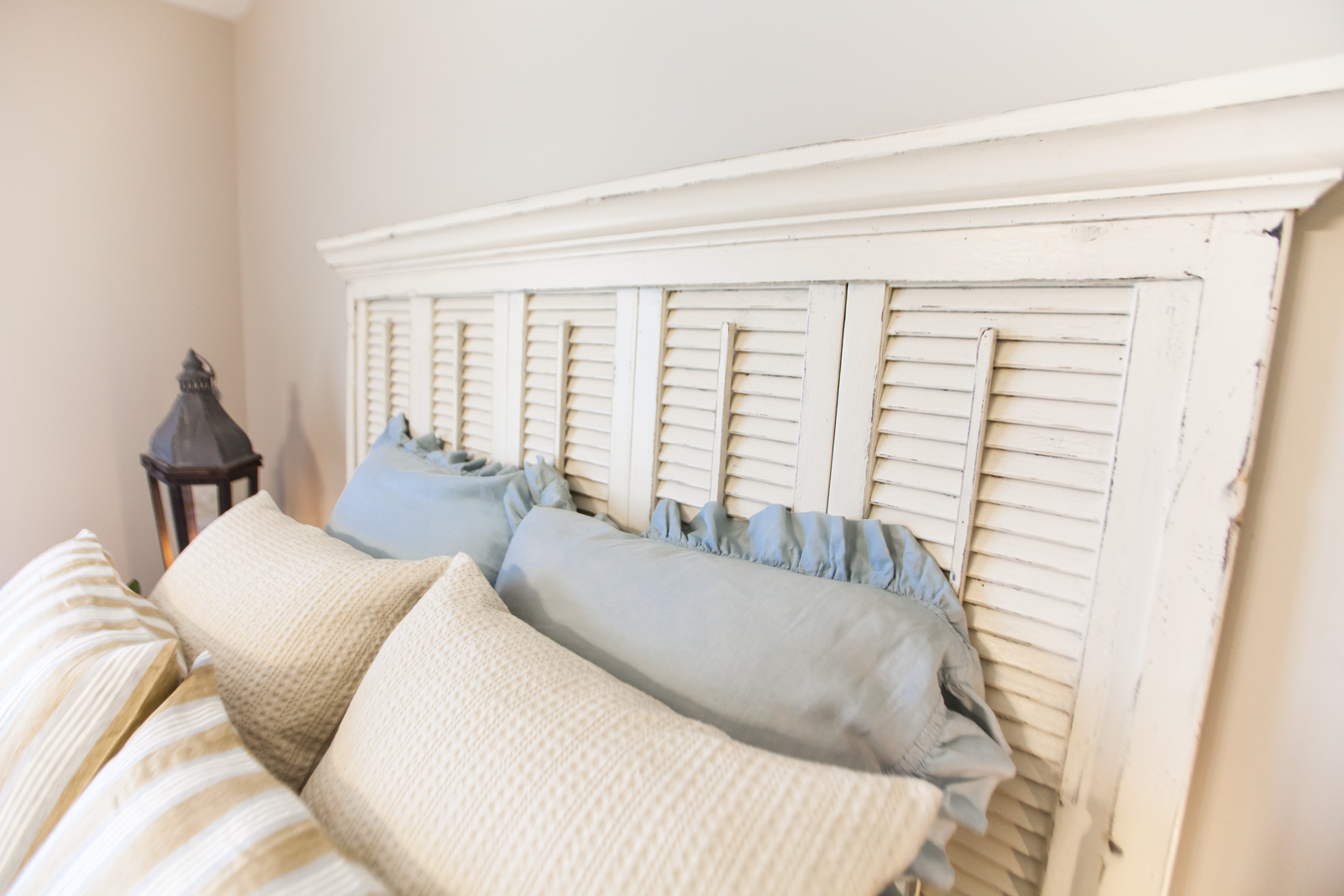 Sweet, sweet dreams await the new owner of this master bedroom suite. The headboard and master bath vanity are more of Junc2Funkt's masterful creations. The material from the headboard came from a closet in the original house, and now serves as a perfect backdrop for this comfy bed. Even though we were able to squeeze in a double sized vanity, and a double shower head, there was not much wiggle room in the bath so we gave it a light and airy feel with soft, neutral tile, and an open-shelf vanity.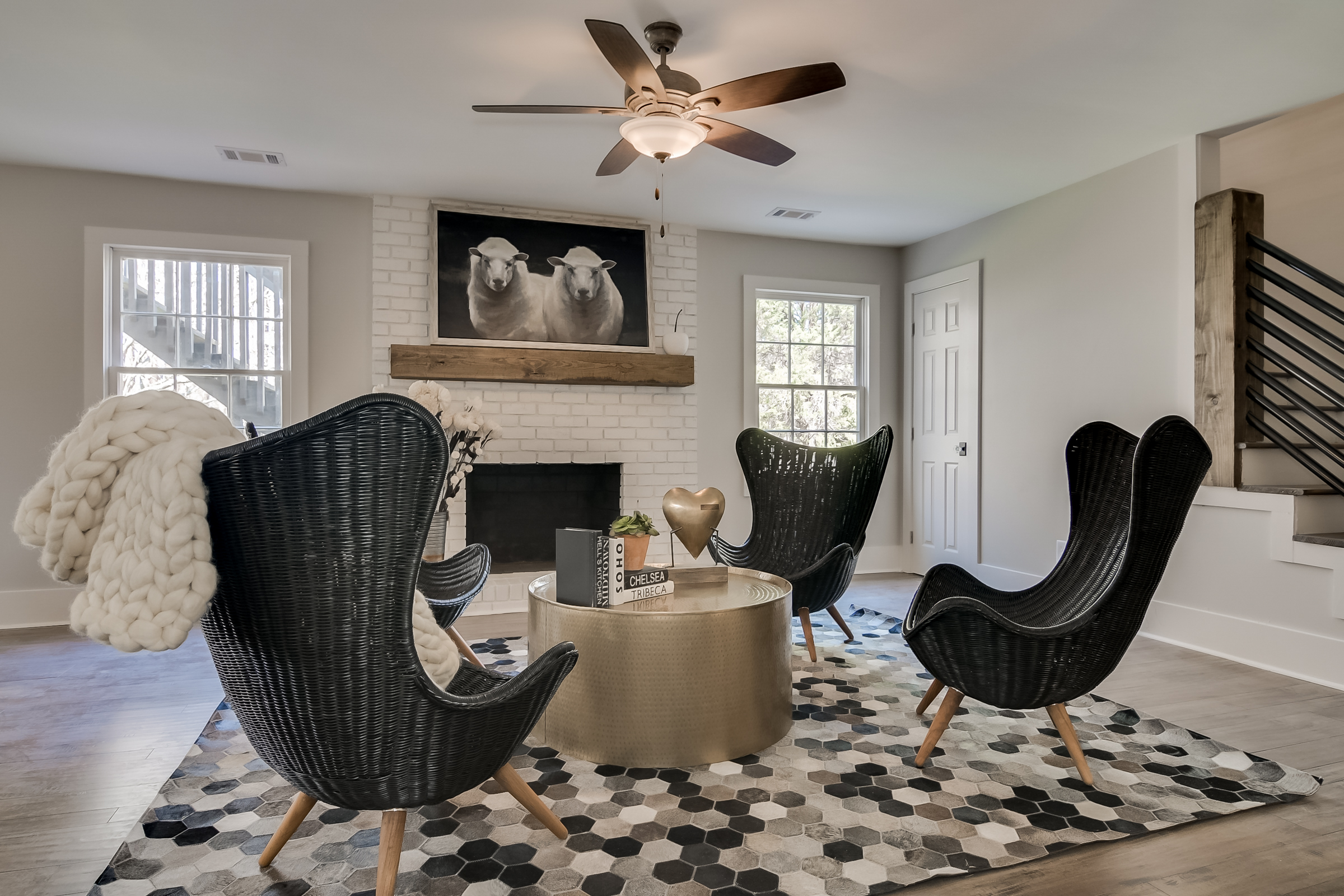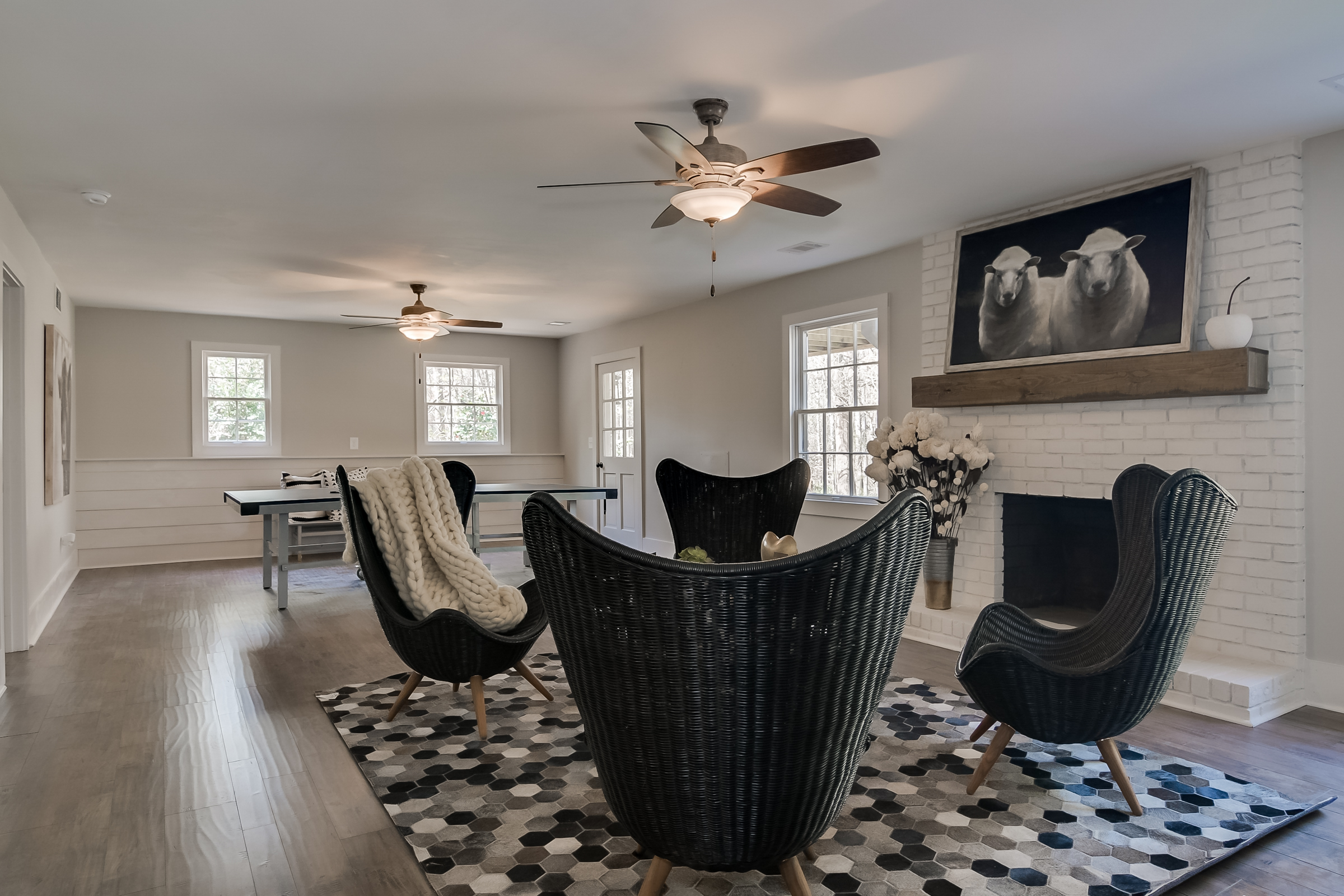 The basement in this house turned out to be a buyer's bonus dream space. There are so many uses for all of this added square footage - from a game lounge to an in-law suite - equipped with it's own fireplace, garage, and patio to the outdoors. It is so important to us to create a pleasing design for our buyers, but also to ensure that we are utilizing as much valuable space as possible so they get their money's worth!
Welcome to the twenty-first century, 70's House! Gone are the shaggy green carpets, the dark paneled walls, and the boring facade. What stands in its place, with its cedar gabled entry and blush colored front door, is a space that has been reimagined with all the southern gracefulness a farmhouse could possess.