Smells Like Trouble
Season 2, Episode 12
To say this house was trashed is an understatement, a BIG understatement. The smell of things I don't even care to mention were wafting out the front door before we got inside. I have never been in a house where the stench wasn't even contained. Not even episode 8, where the house was literally full of trash, did it smell this bad. I love to learn the history of homes we renovate, but this one, I didn't care to know about. Something really scary/gross/strange was going on in there. Nope. Don't need to know about that.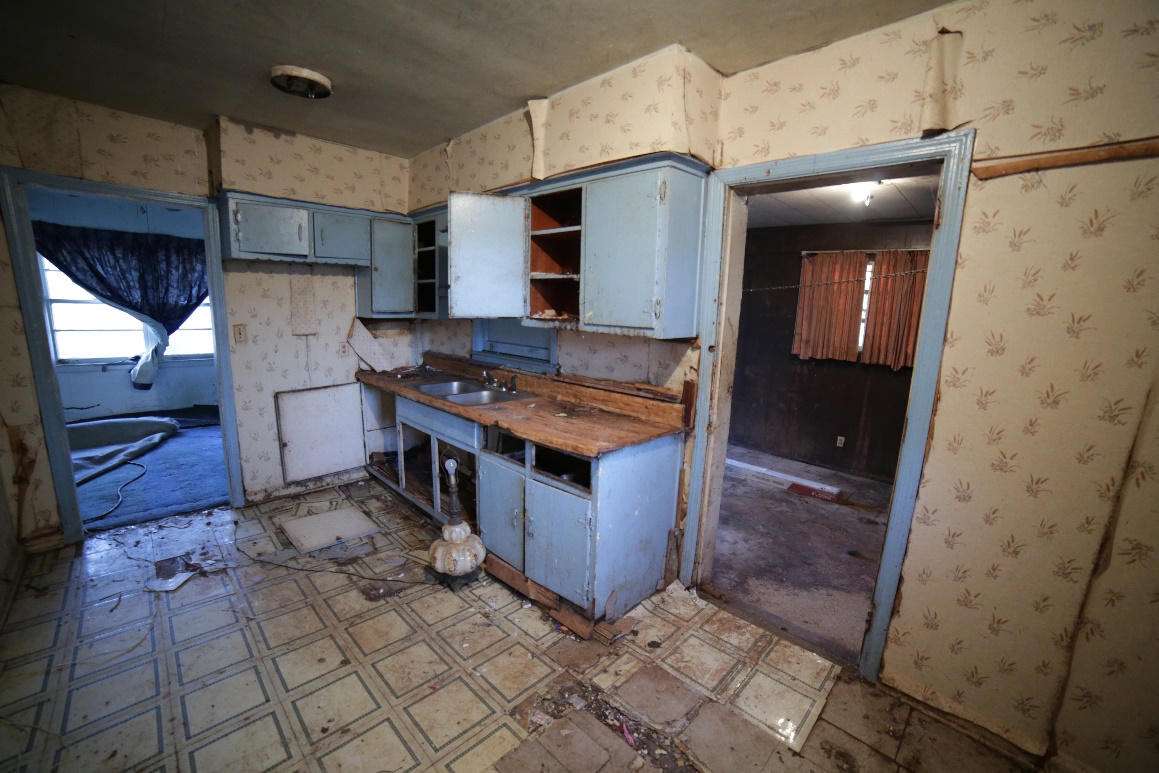 That said, this house was like a 'sleeper' house. What I mean by that is not every house can be a homerun. Not every house is breathtaking when you walk in. I don't know if it is because this one was so nasty when we began (zoom in on that picture above, ew) or if the design just pulled together really well. As we were finishing it up we shocked ourselves! This house was completed in the thick of the season as well, so we had so many projects going on at one time it was tough to keep up with what design went where. You might notice a different contractor on this house. This one was managed by our buddy, Clark Turner, of ProServe home solutions. Clark's claim to fame is that I was his math teacher my first year of teaching. He brags about that all the time. Kidding, he doesn't brag but I really was his teacher. We often use ProServe to help manage our jobs when we are juggling a lot of projects at a time. He and his wife are great family friends of ours.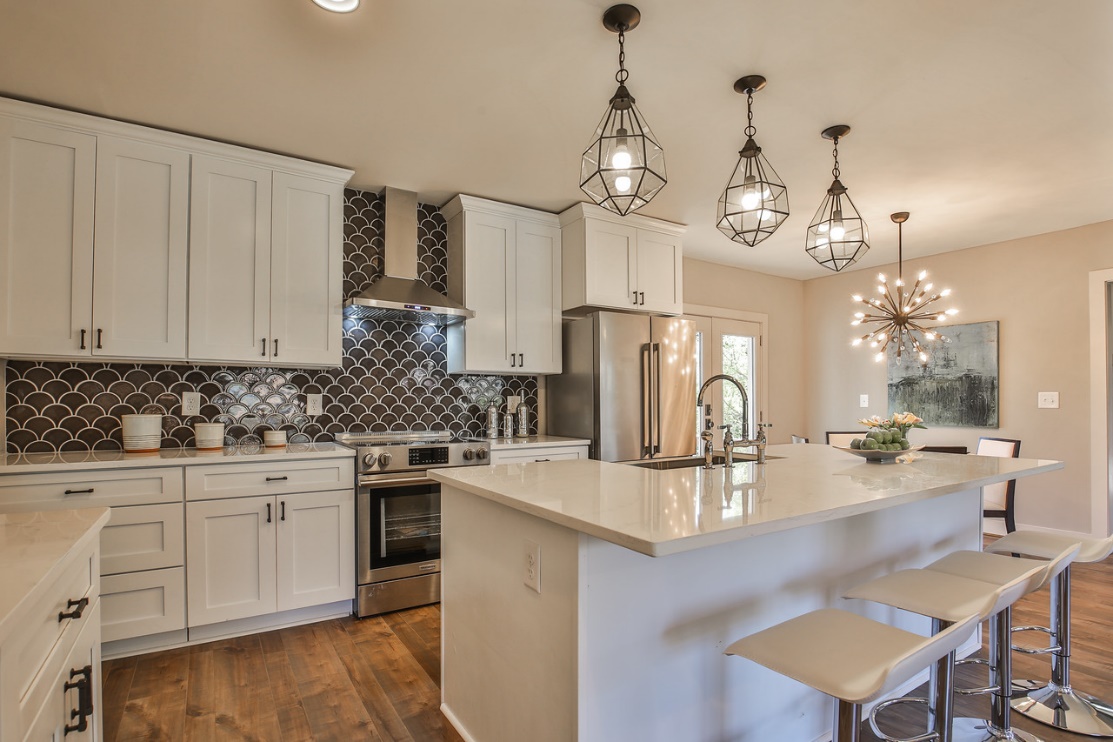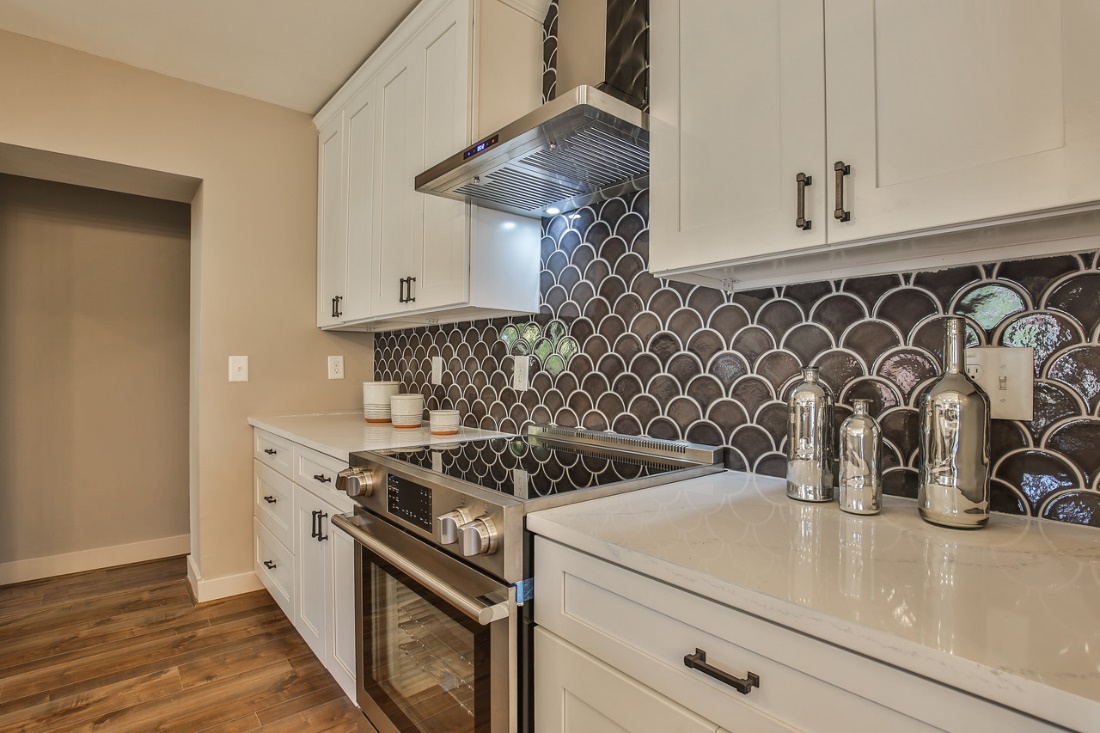 I would say this kitchen got a pretty nice upgrade. We moved it's location and added a side bar for more storage or, if it were me, it would be my coffee spot. Ken doubted the scaly tile initially, but man oh man, did it turn out fantastic. I adore the pattern and the light grout off sets the navy so well. Let's please talk about navy for a second. It really is a neutral. Any other accent color goes well with it. This was really well received, maybe because it was unique, but maybe because there is an alternative in neutral. I'm telling you #navyisthenewneutral – try it you won't regret it!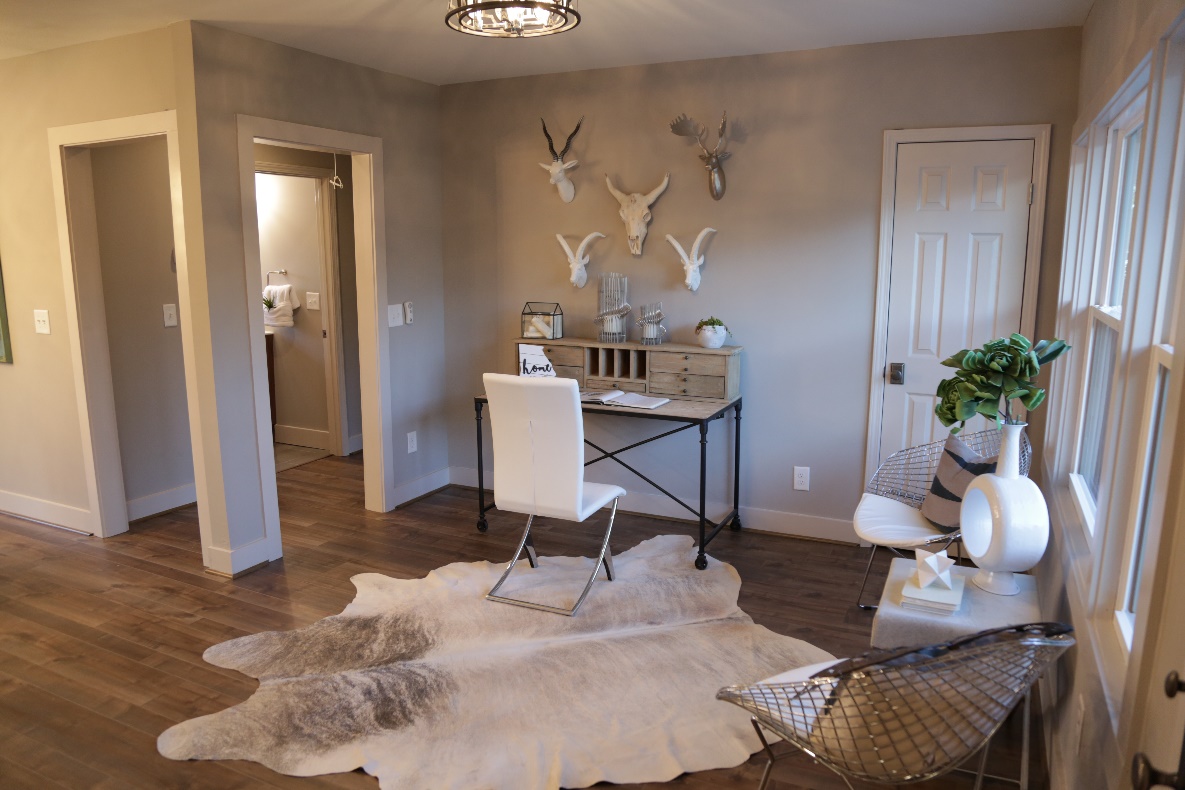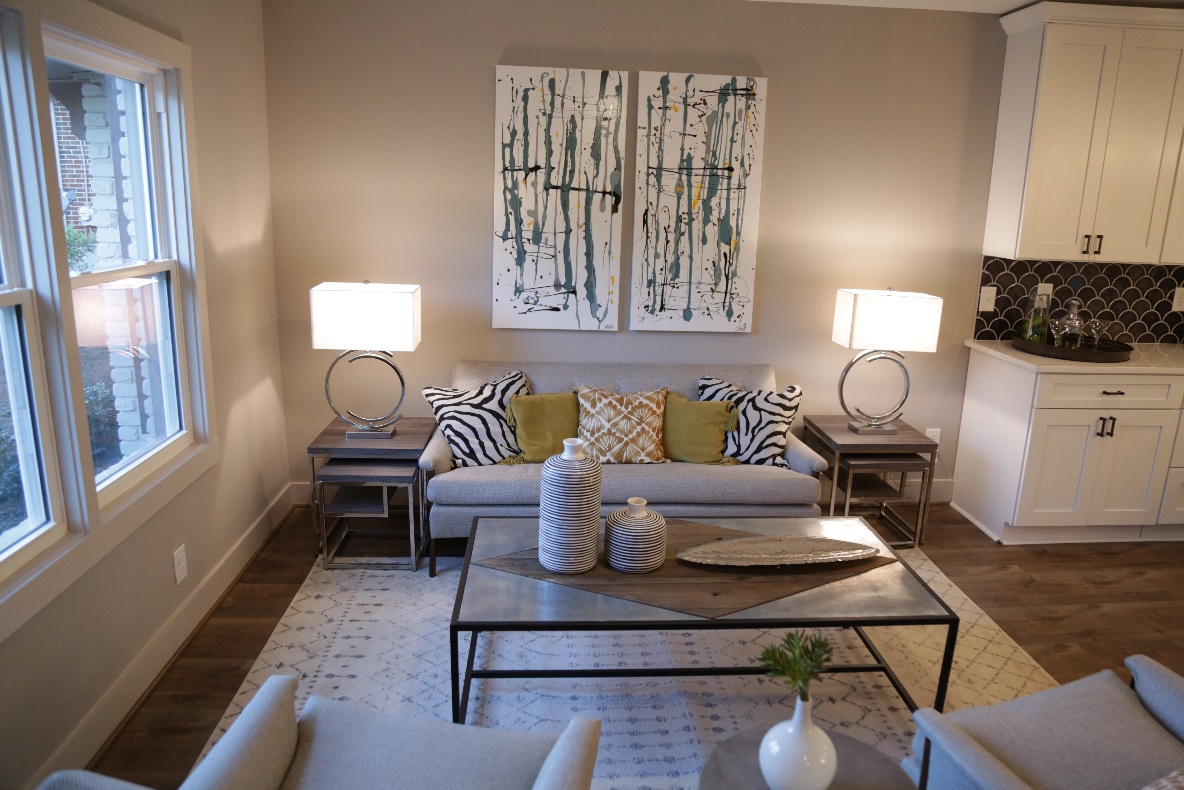 This was a pretty small house. Started as a two bedroom with the garage closed in for some seriously scary living space? That was questionable. We were able to open up some walls and create two large living spaces that opened up into the kitchen. This gave the buyer a lot of options. If they wanted a formal dining space, they had it, if they wanted an office space, done, if they wanted a huge living room – it was ready and waiting. This gem was so versatile when we were finished! Before I show you the afters of the master bedroom, I need to show you some befores of the bedrooms and baths just so you can appreciate how far they came. This is so satisfying!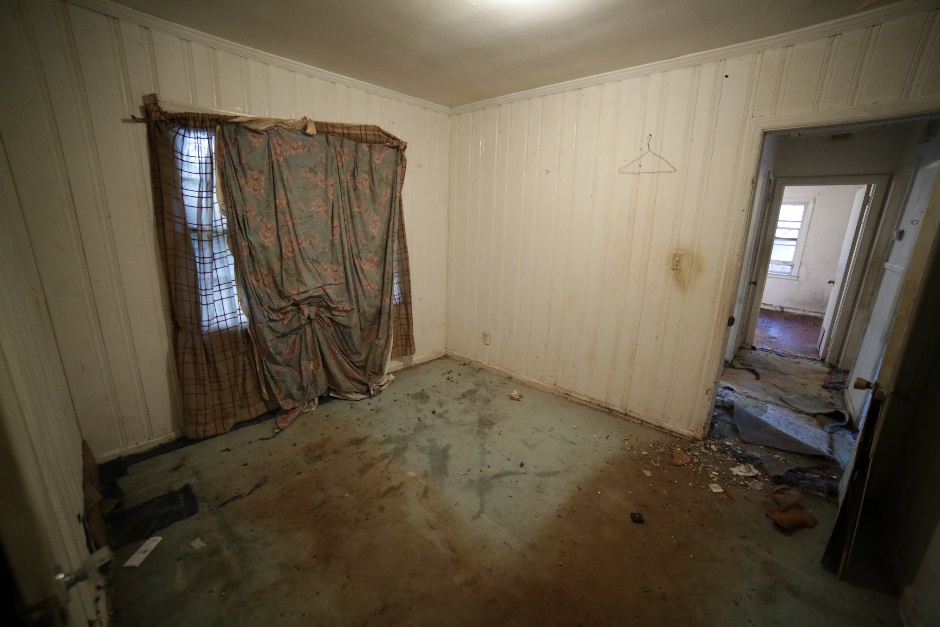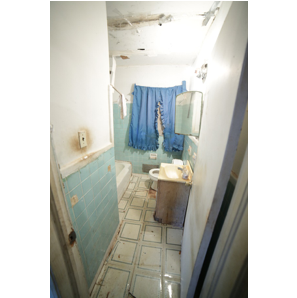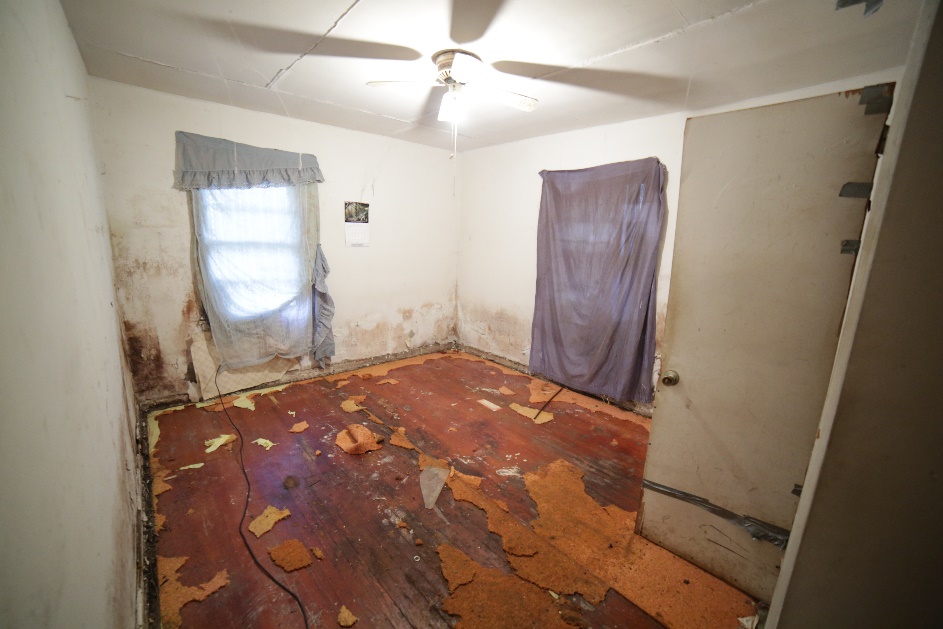 These befores are pretty striking. Here are a few of the afters of the master bedroom and bathroom.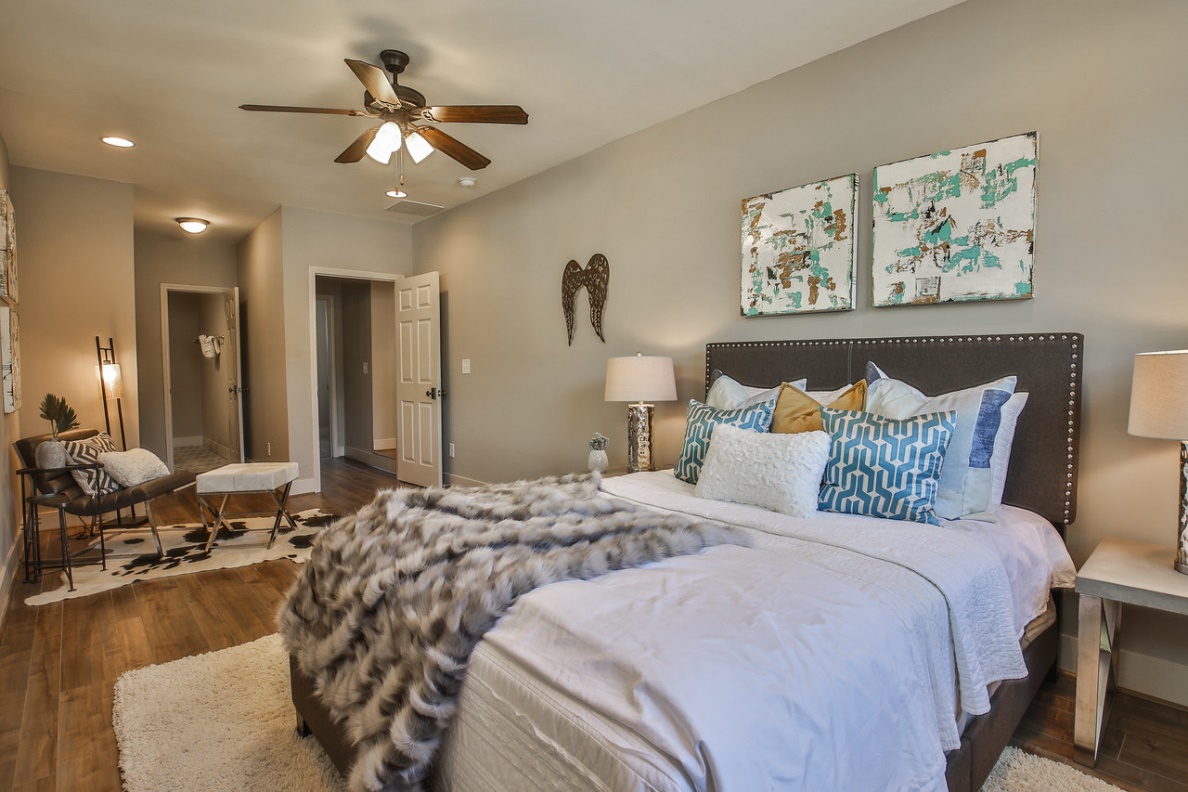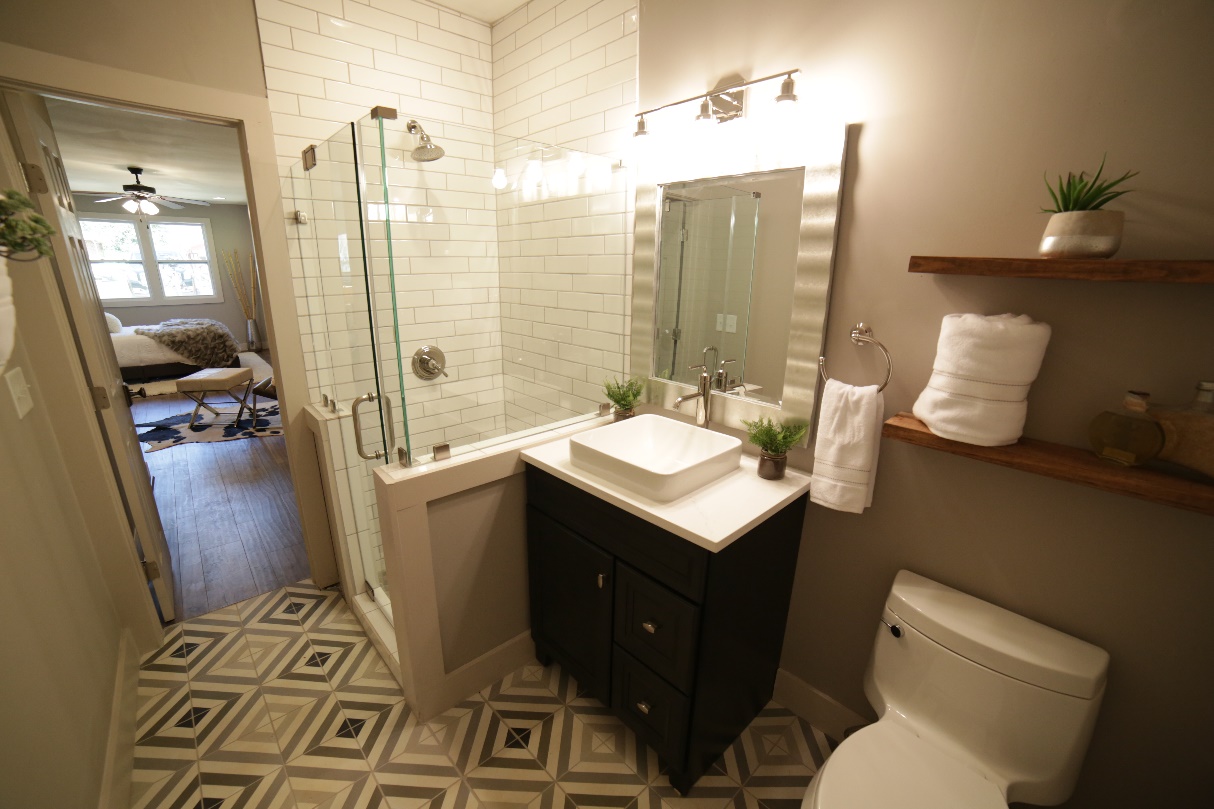 Makes me want to curl up and read a book. This master bedroom turned out pretty large because it was a one-car garage originally. This bath, well, I didn't want to show you the before so you are going to have to trust me on this – this is a home run in comparison.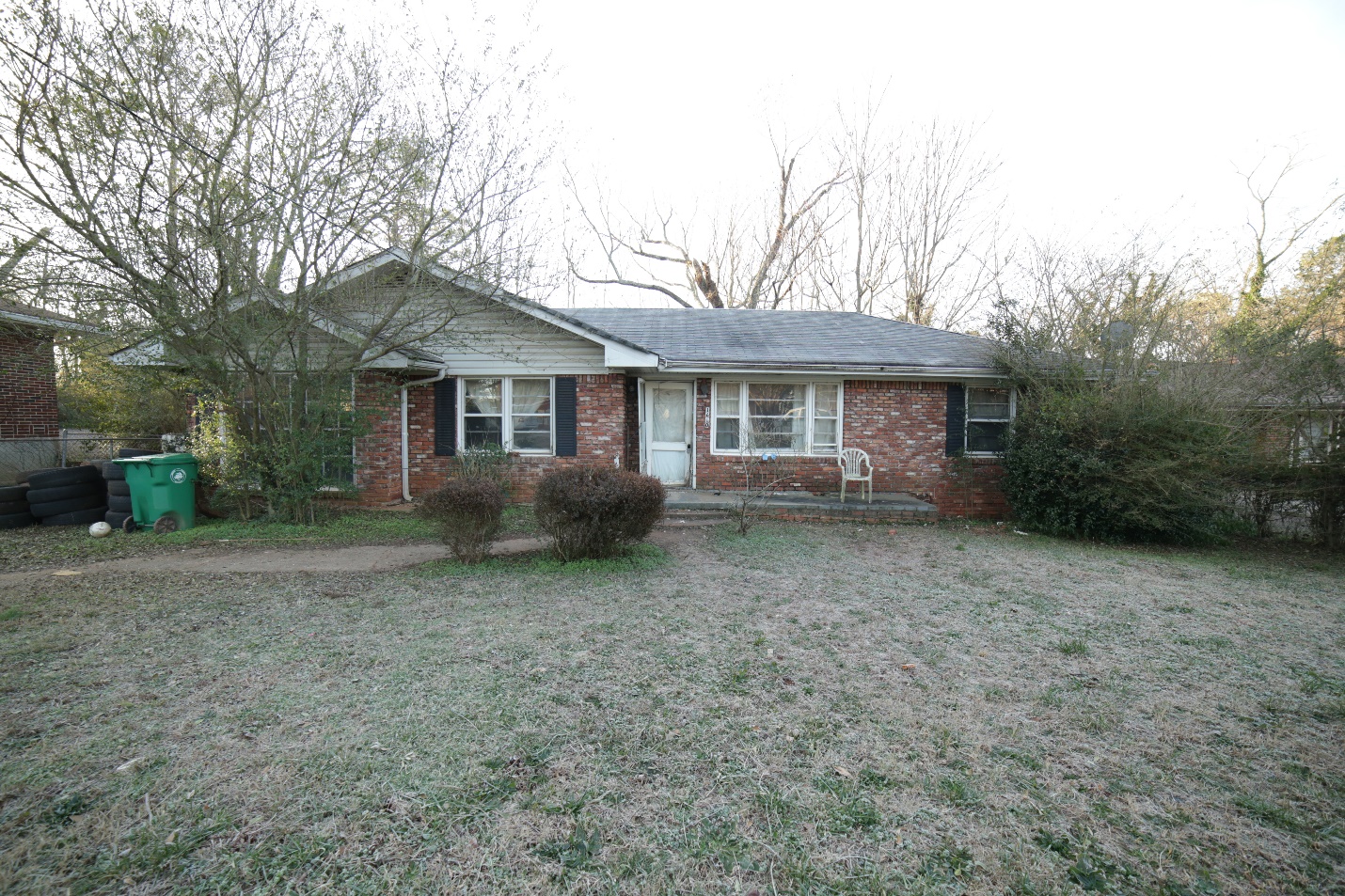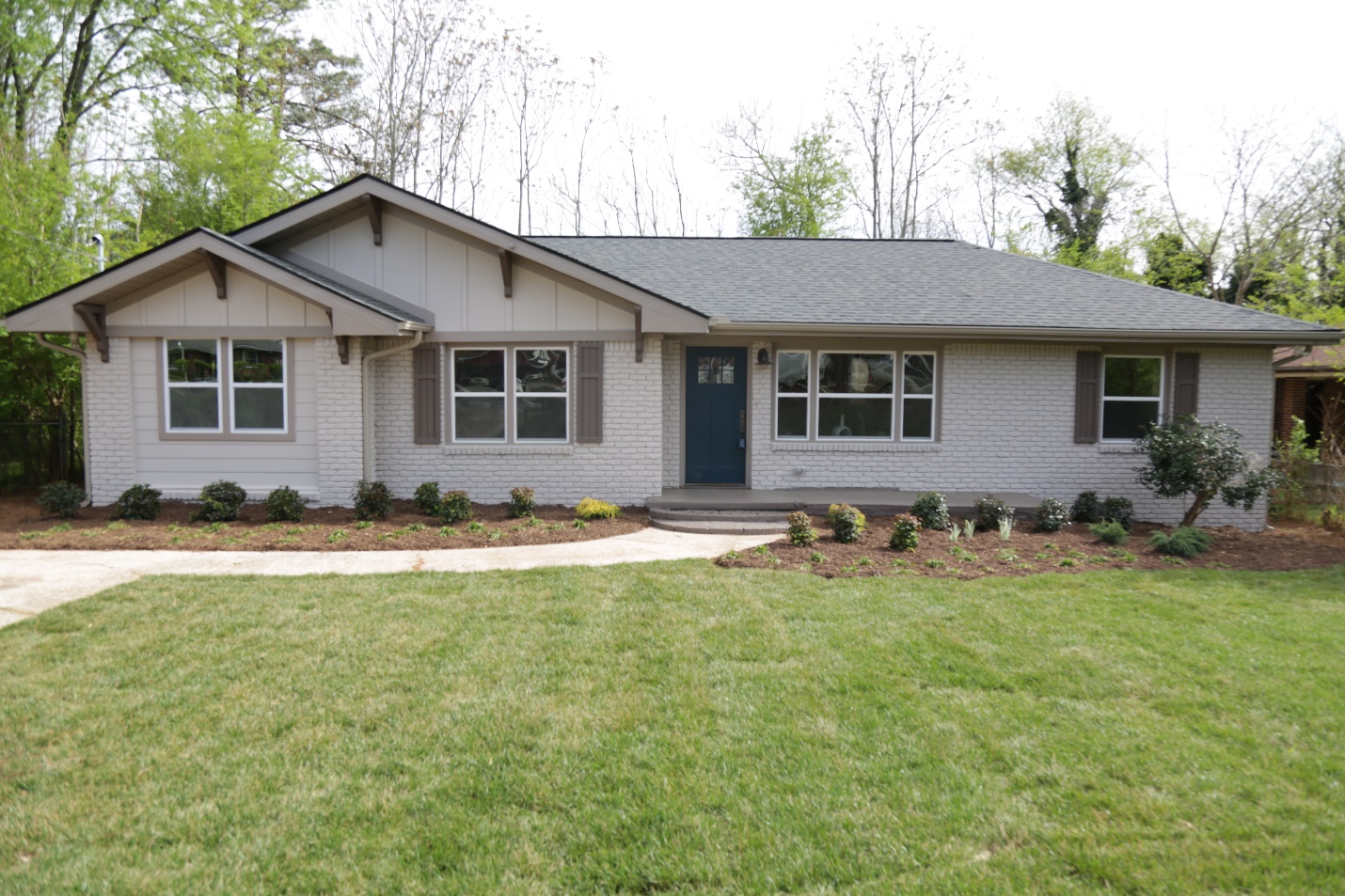 Some simple exterior updates and she was ready to list! I really did not want to paint this brick. It was so gorgeous as it was, but impossible to match. There were many places that needed repair and to find a brick to match it was close to impossible and very costly. I basically took three colors and went light on the body, just slightly darker on the trim, and darkest on the accents. You know me, I love a good color on the front door and this blue was calling my name. Batta bing, batta boom, and you have a fabulous exterior!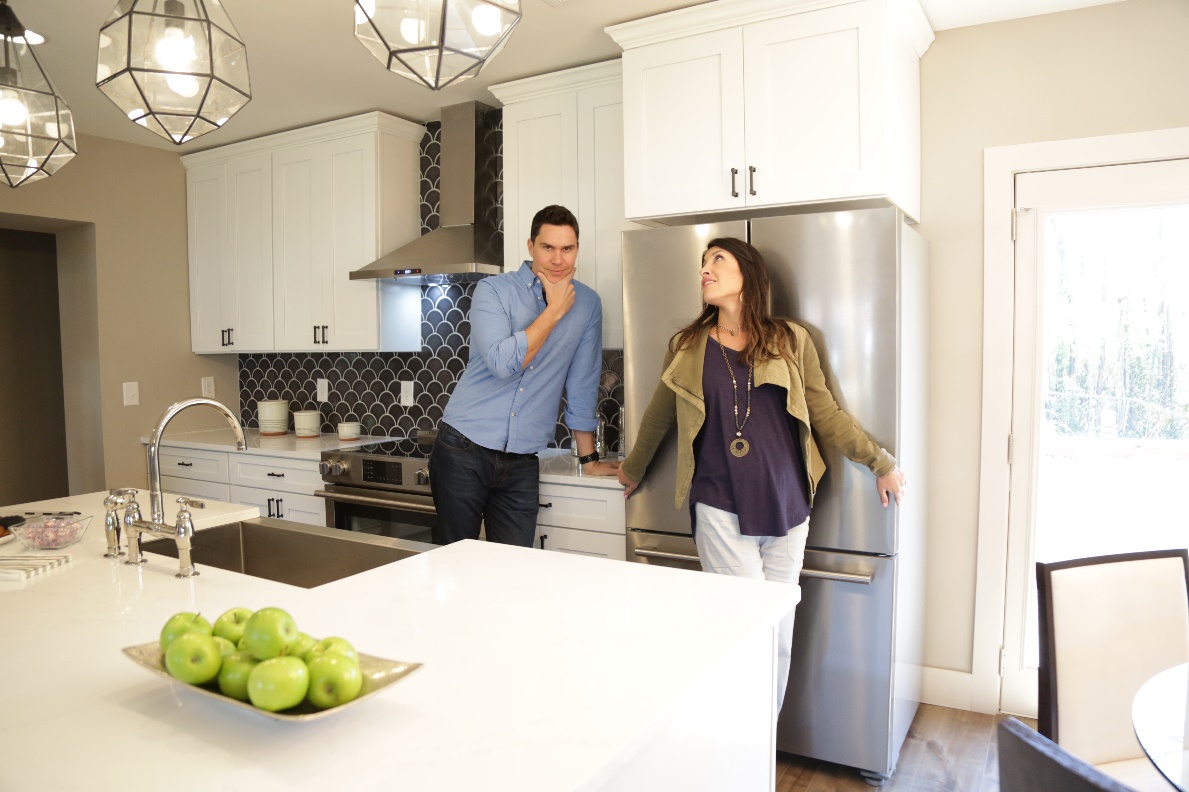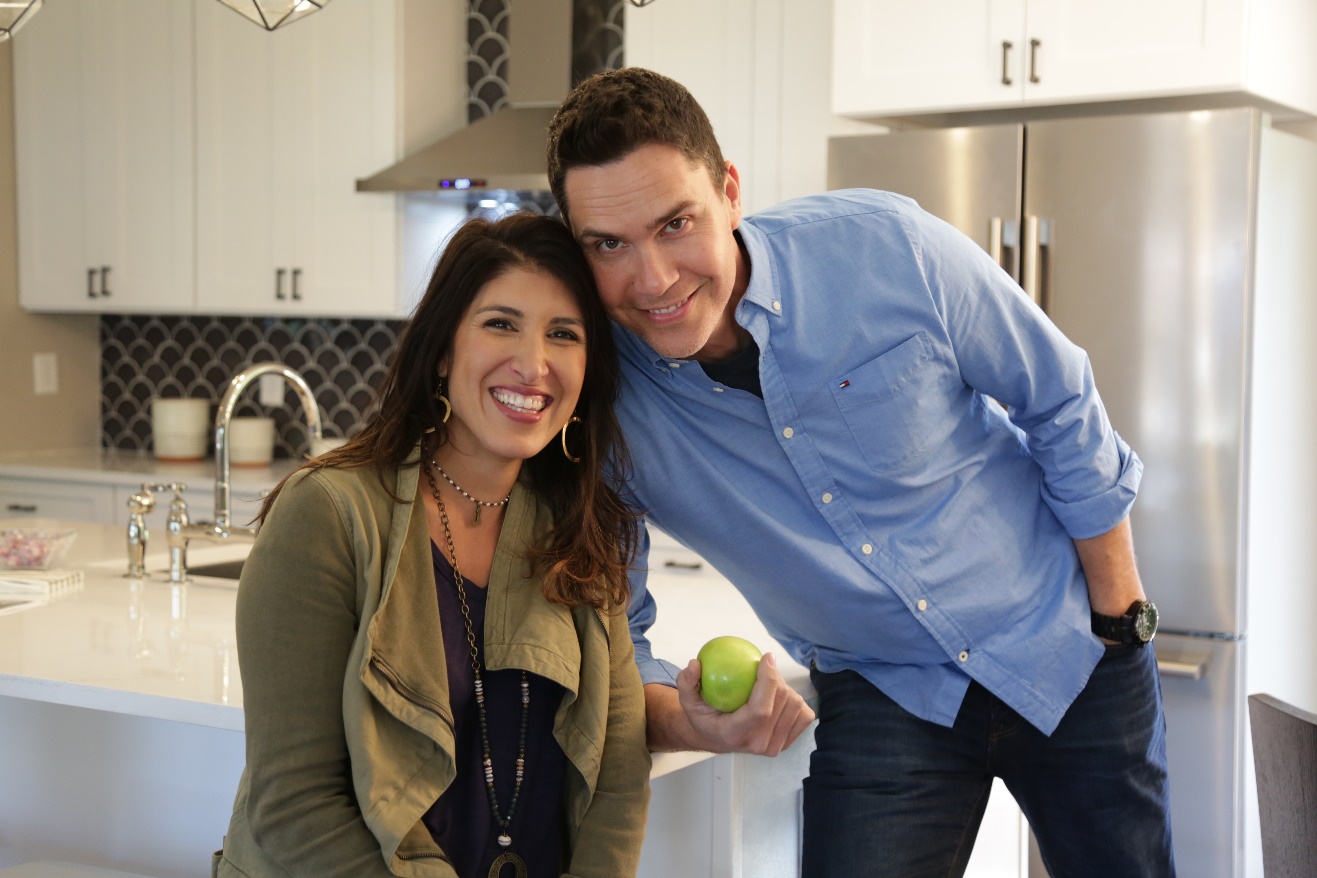 We were pretty happy with how this house turned out, wouldn't you say?!