No Strikeouts in Mozley Park
Season 2, Episode 10
When Ken and I undertake a new project, it is never a question of if there will be challenges or if we will find surprises lurking around every corner. It is always a matter of when! Every project has its hiccups on the road to recovery, and this was no exception. It was obvious from the "Stop Work" order posted on the door, that we were not the first contenders to attempt a rehab here. The exterior was scratched and bruised, lacking any real curb appeal, but its potential was apparent. The interior, however, was a total mess. It was a shell of a home - missing floors, drywall, plumbing - not to mention some extensive rot from water damage. It is tempting to walk away from such a headache, but where is the fun in that? Besides, the more challenging a property is to renovate, the more rewarding it is to reveal a finished product that we are proud to pass on to the new homeowners.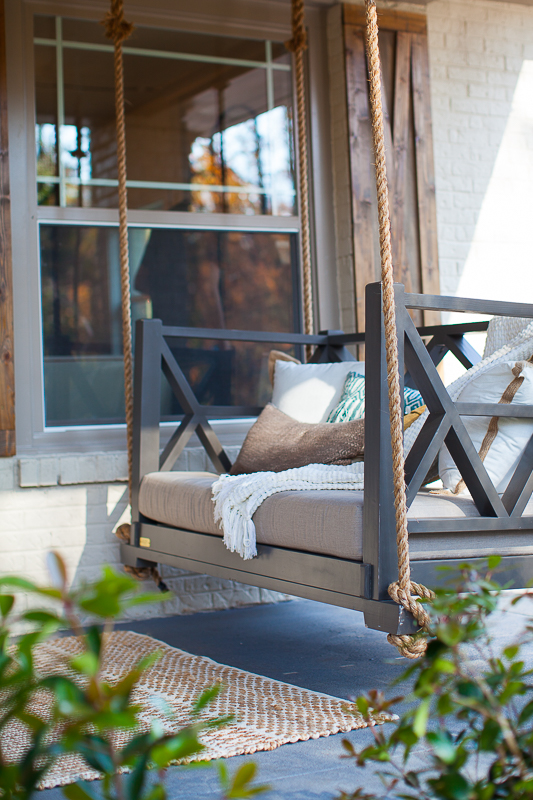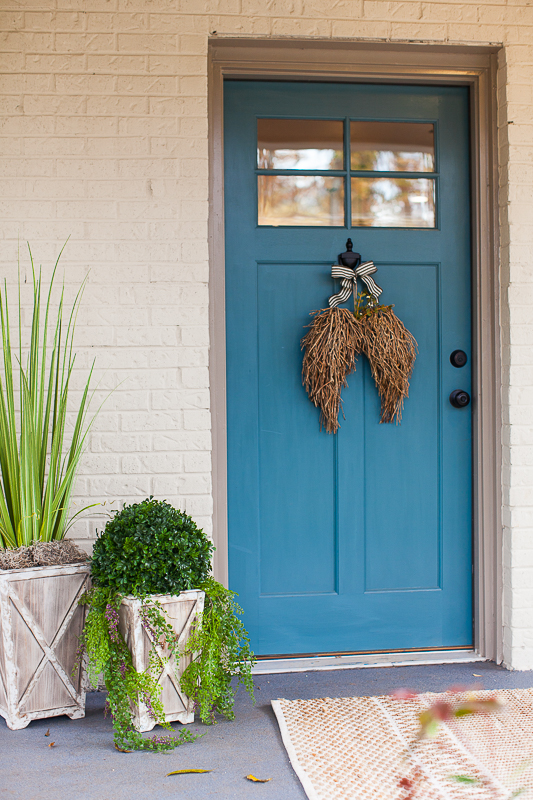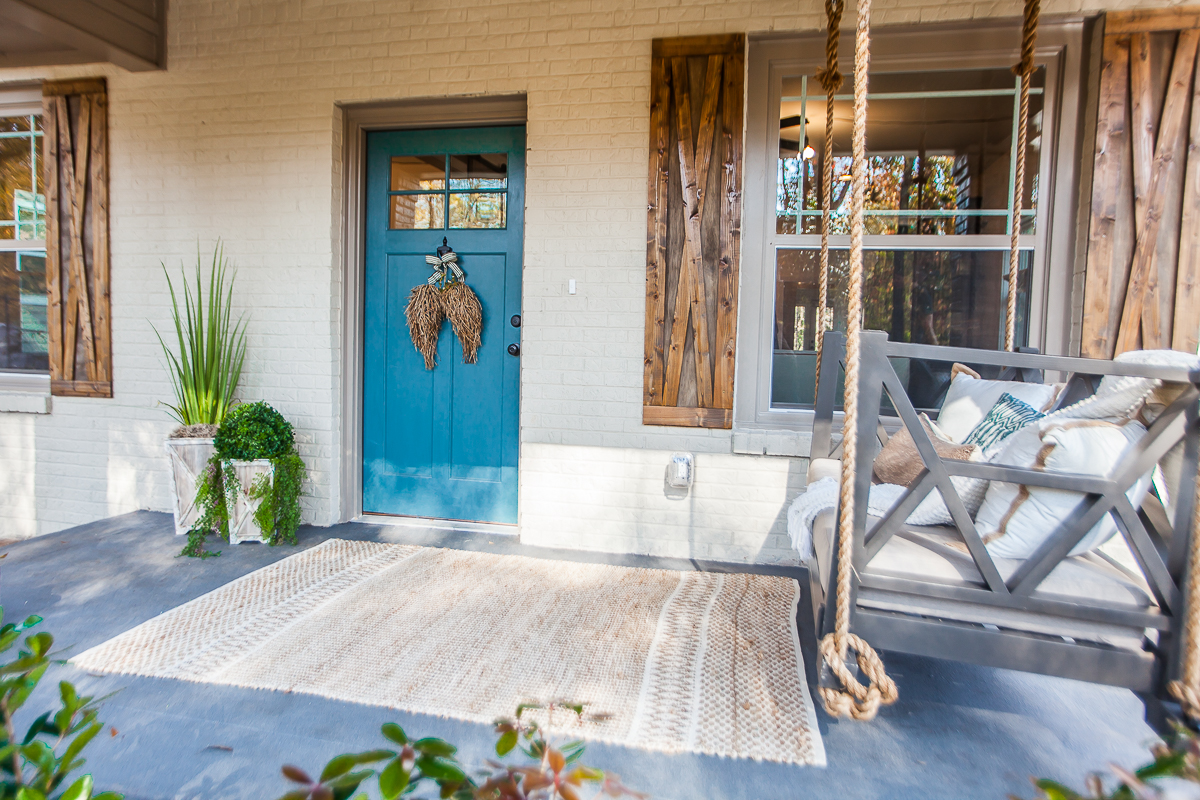 Everything about the front of this home is inviting - from the warm, wooden shutters to the cheery Mediterranean SW7617 front door. A front door is the perfect place to add a splash of color! It grabs a buyer's attention from the start, but it's also easy to change if it doesn't suit their taste. The original brick could have been a lovely option, but it was damaged enough in several spots that trying to match and patch was not an option. In the end, we chose a light, neutral paint so that our stained, rustic, x-brace shutters would really stand out. The rope swing bed says, "Come, sit a spell. Enjoy a piece of life with me." Is there anything more one could ask of a front porch?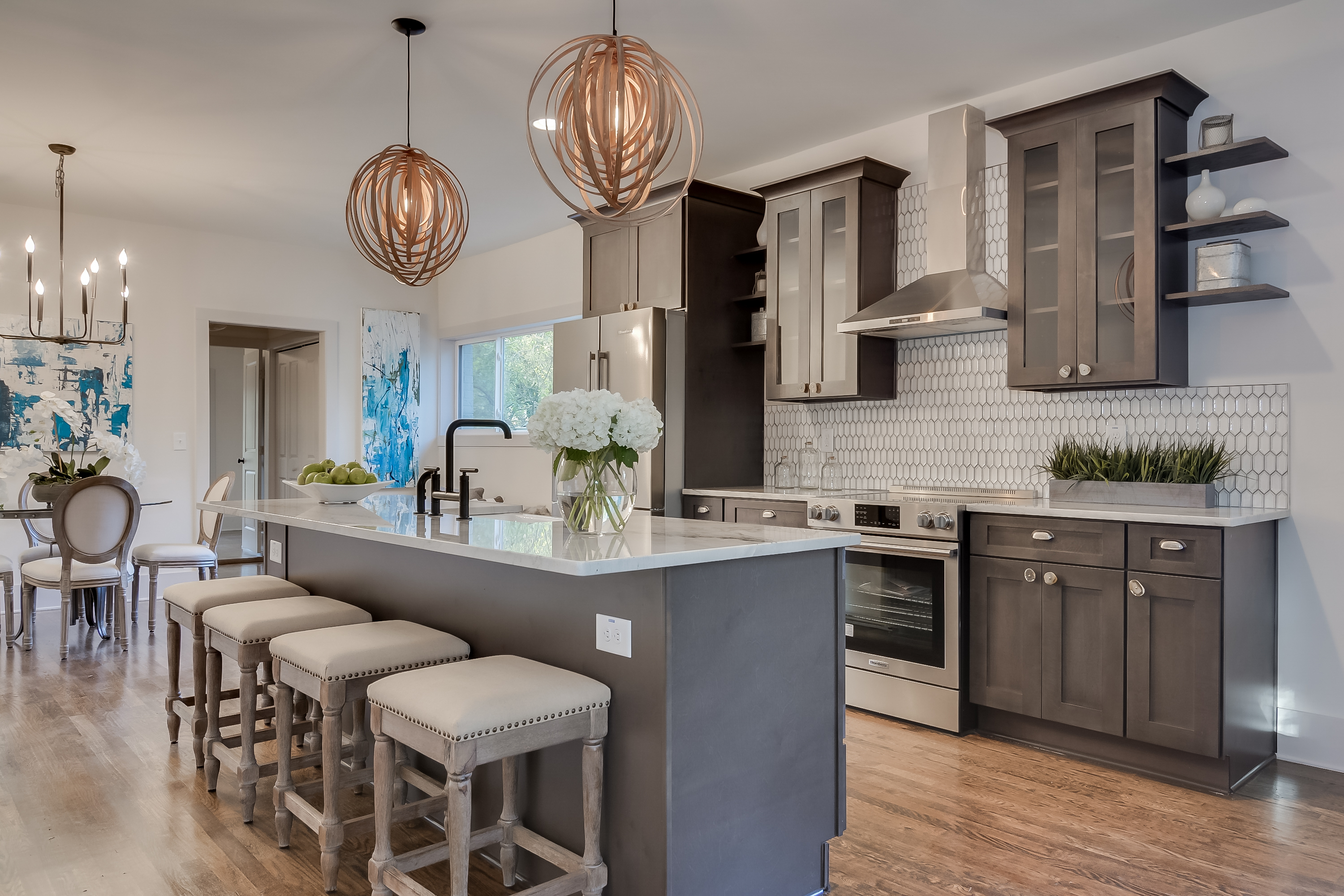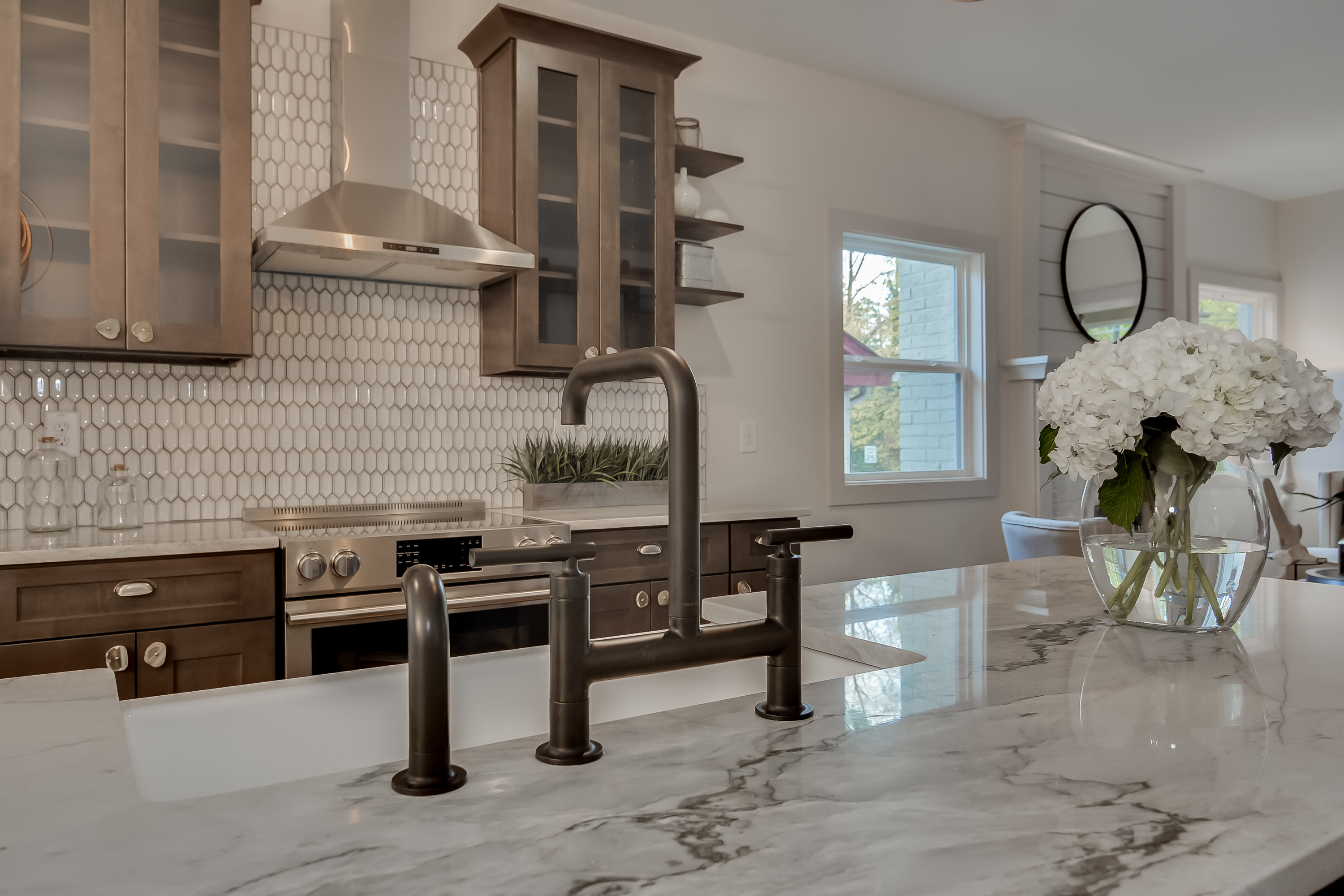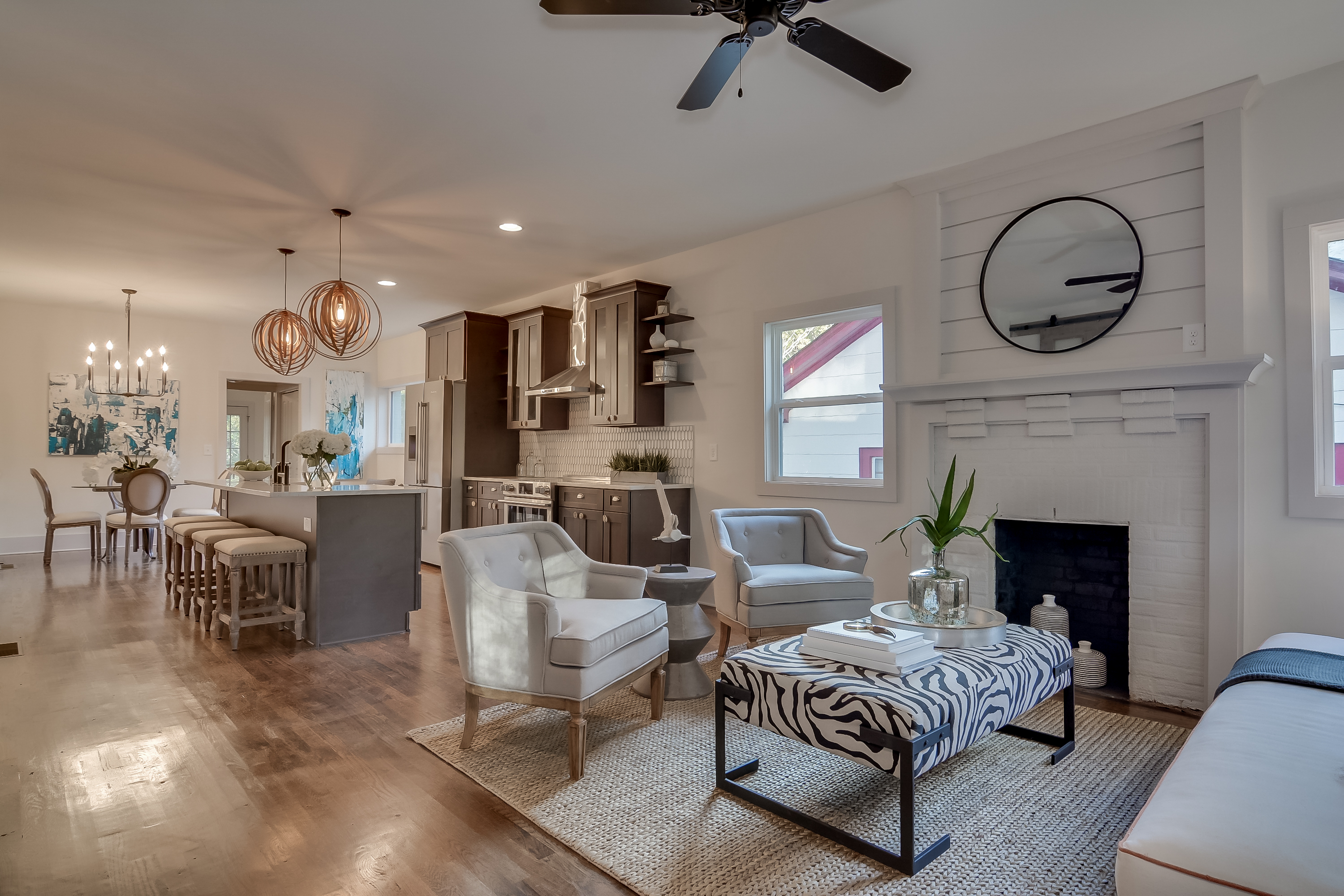 This kitchen turned out beautifully! Clearing the right side of the house to stack a living room, kitchen and dining room was a great idea. The high ceilings, light paint and large windows made this space feel so grand. The tile backsplash was on point - that is, after Ken so kindly removed the newly installed backsplash, and changed it from a horizontal to a vertical orientation. Oops. Truly, this tile looks great either way, but in this house I wanted the picket pattern to reach for the ceiling! He didn't even complain - much - because he's a great guy, AND he knows we only have one shot to impress a potential buyer.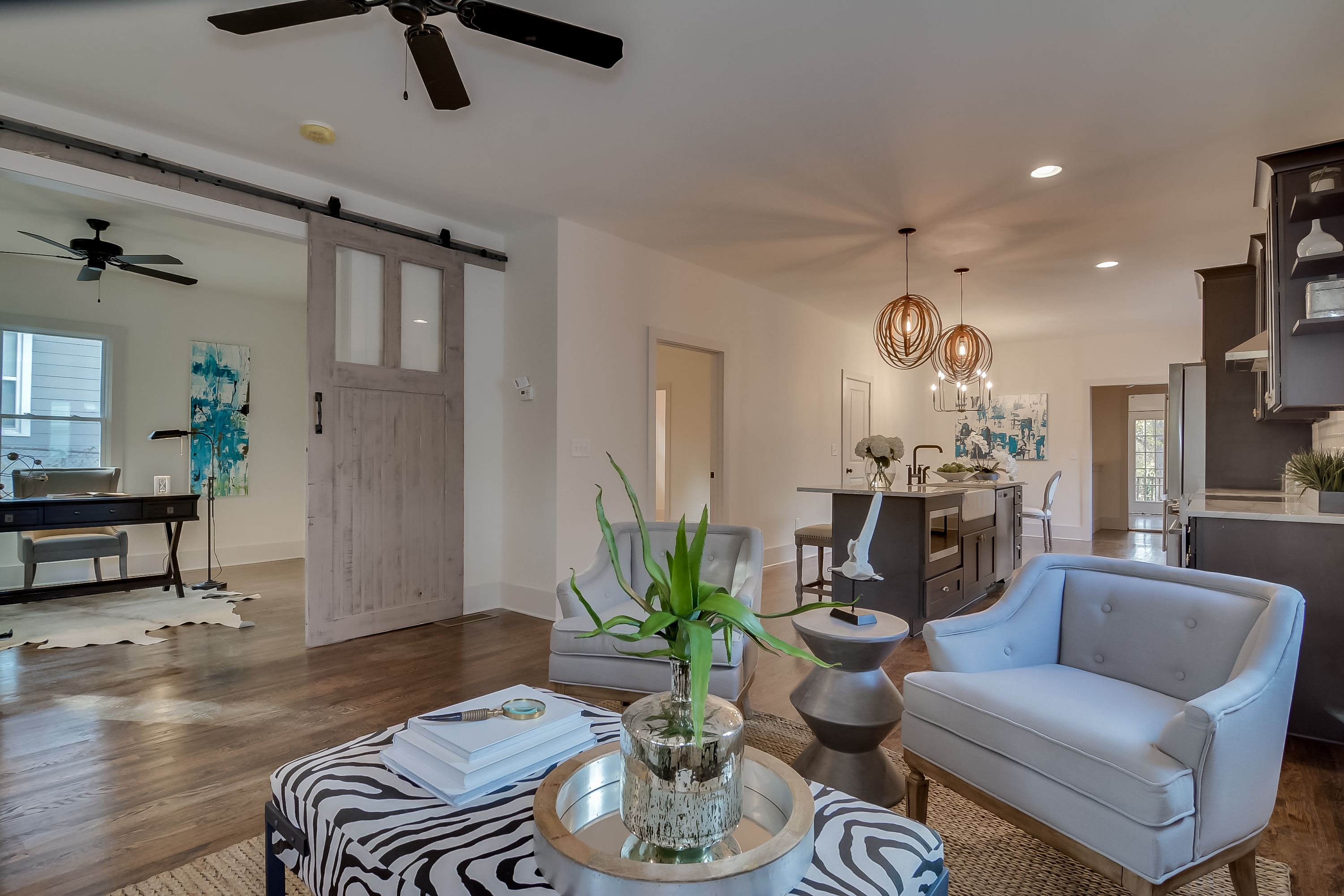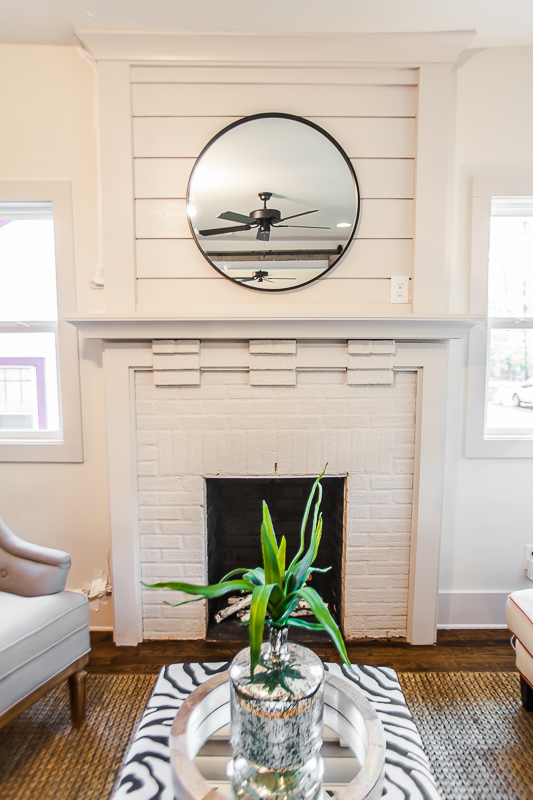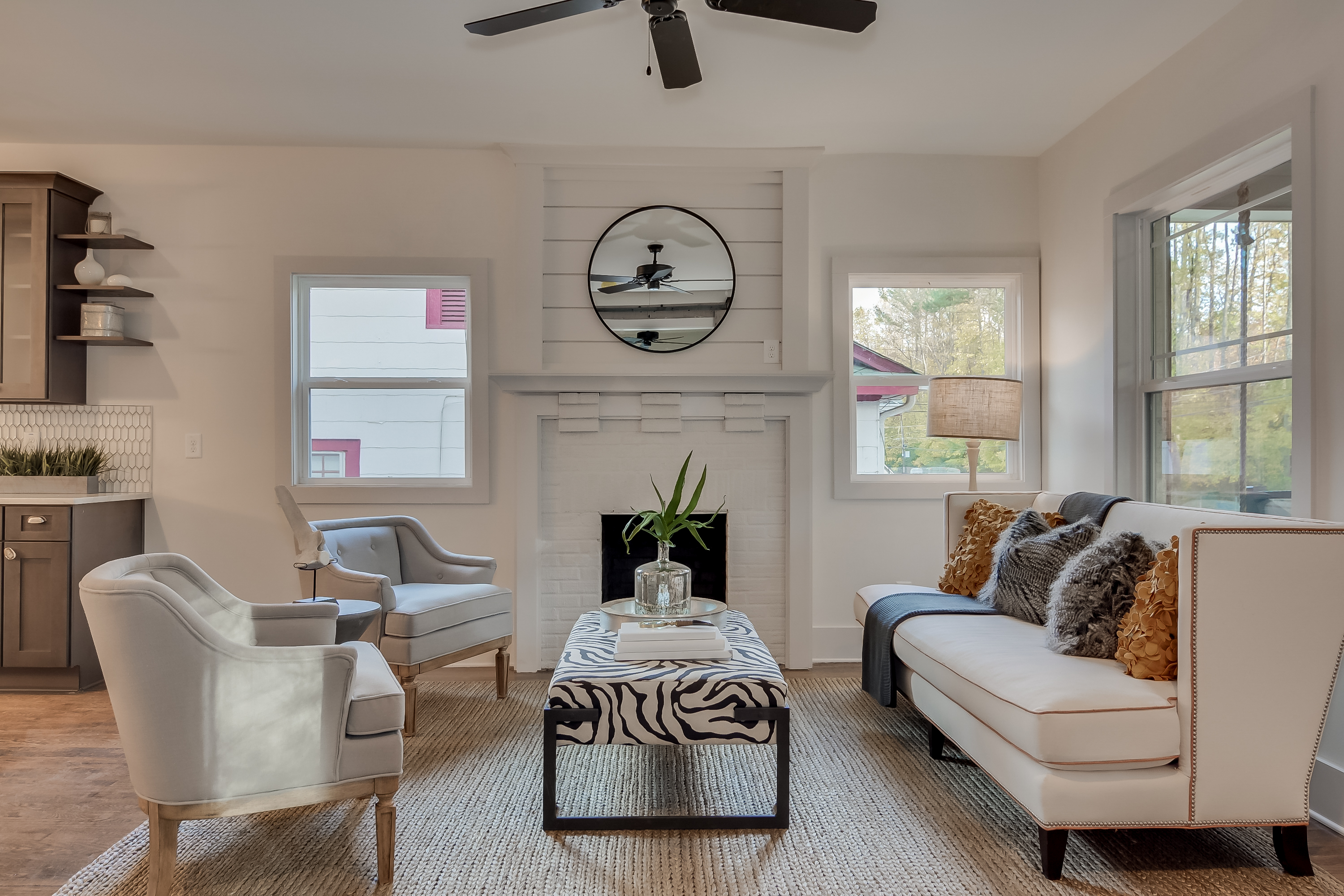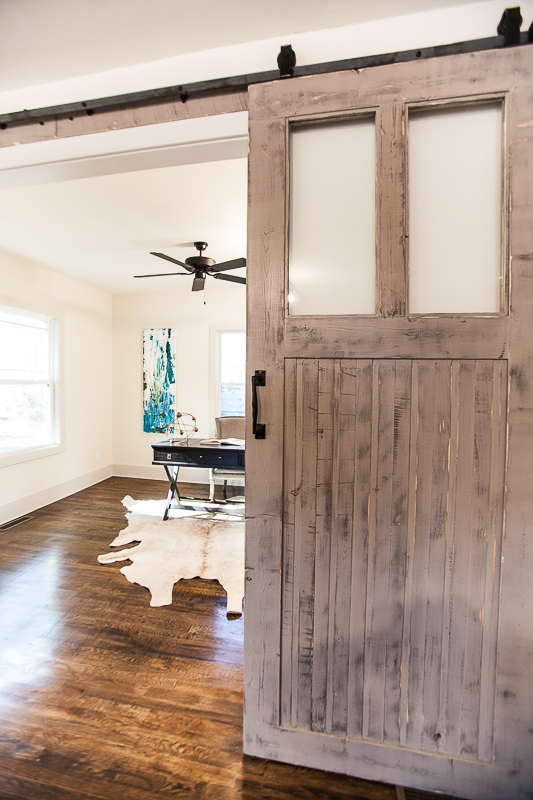 These gorgeous sliding doors were a major focal point of this house. Opened or closed, they provide an artistic architectural element that really stands out. Junc2Funkt used the interior trim color (Sherwin Williams Pediment 7635) to custom stain these doors, and the glass was a great choice to relieve some of the heaviness of the door - which also gave more natural light to the living room and study. The fireplace was original to the house, but we gave it some substance by installing shiplap detail framed in by additional trim pieces.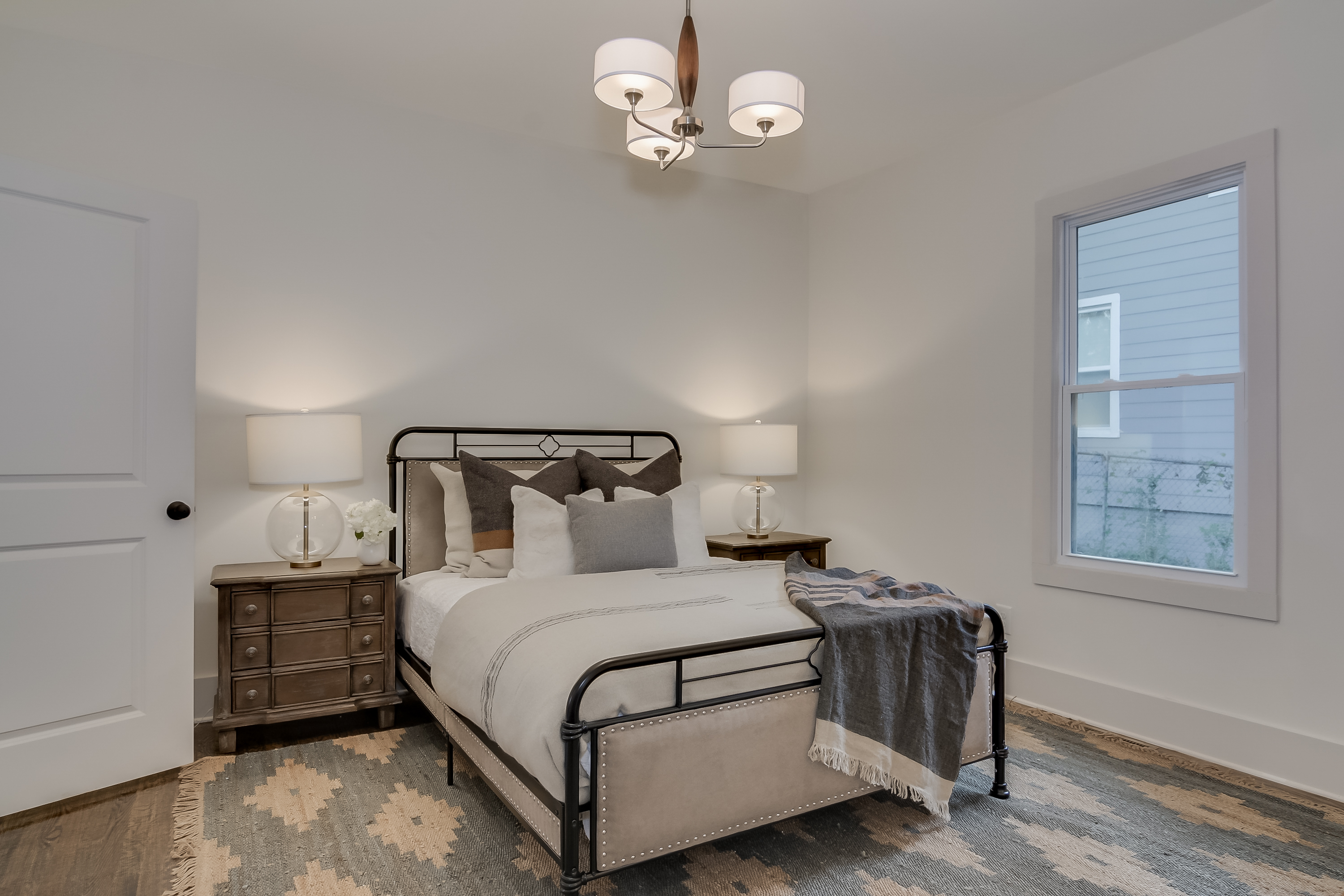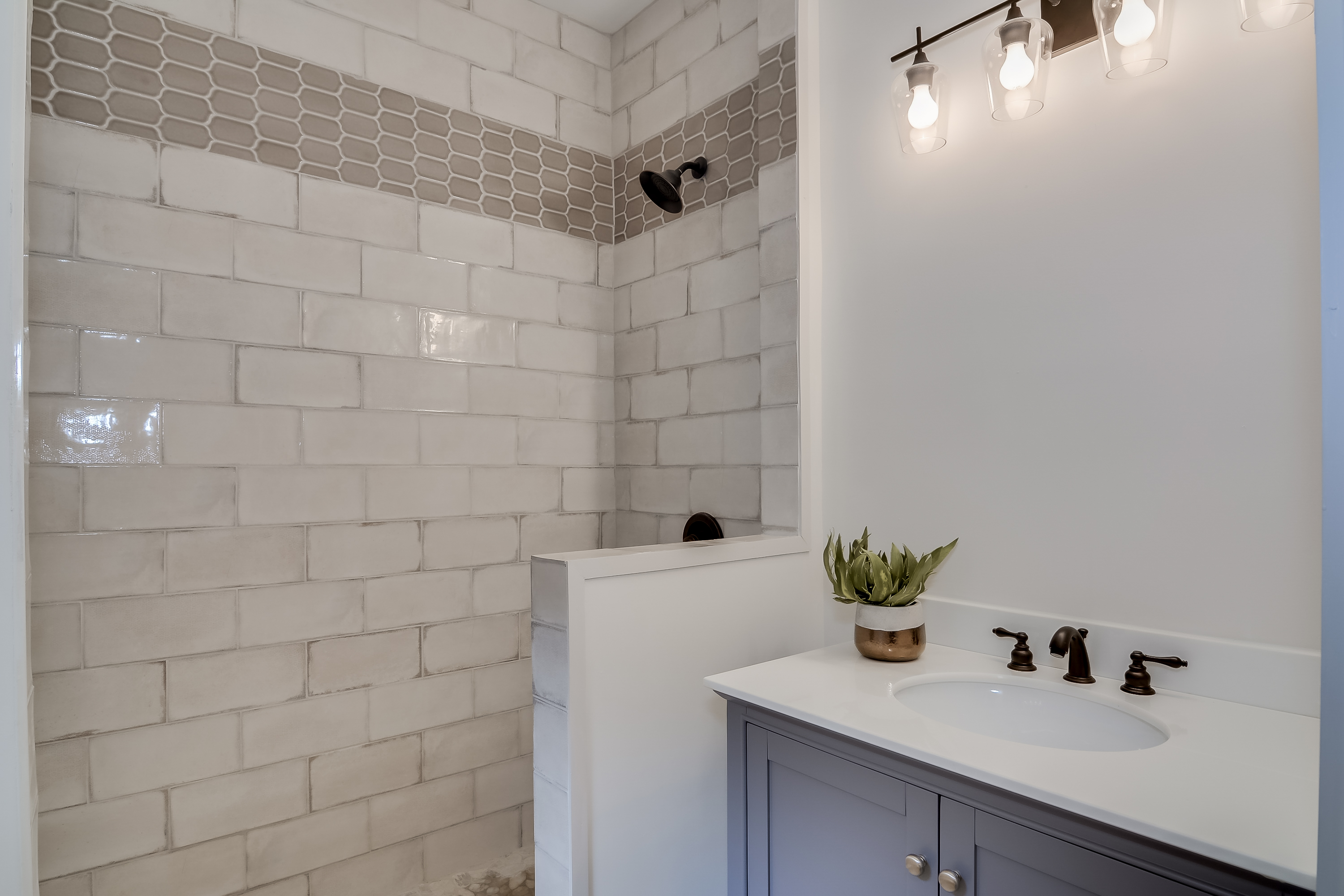 The master bedroom and bathroom are as inviting as the rest of the house. The combination of the distressed brick tiles and neutral rock shower floor were a great combo. Looks like we didn't get our glass door and mirror up in time for picture day - it's always a hustle! - but by open house it looked fantastic, and our guests agreed.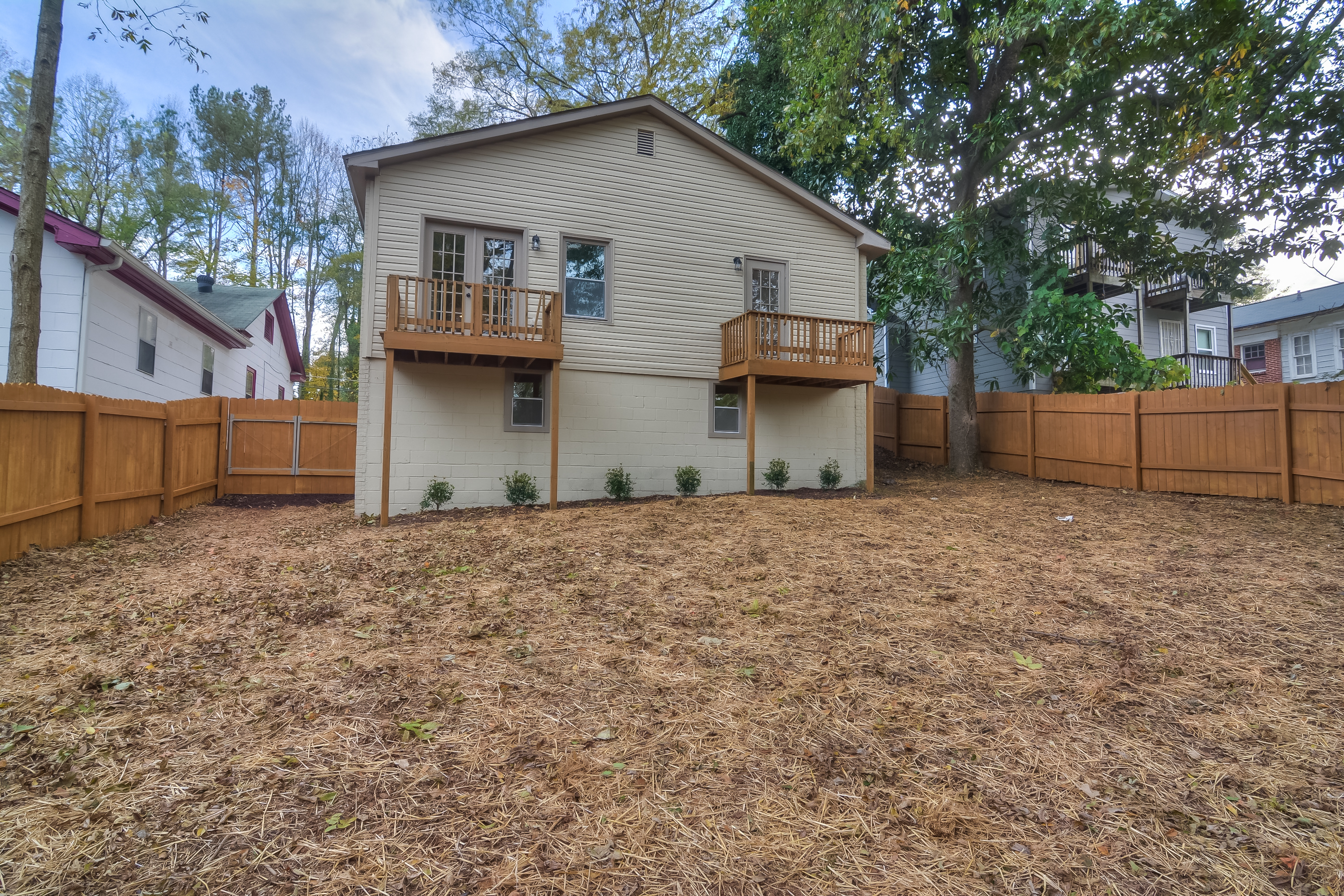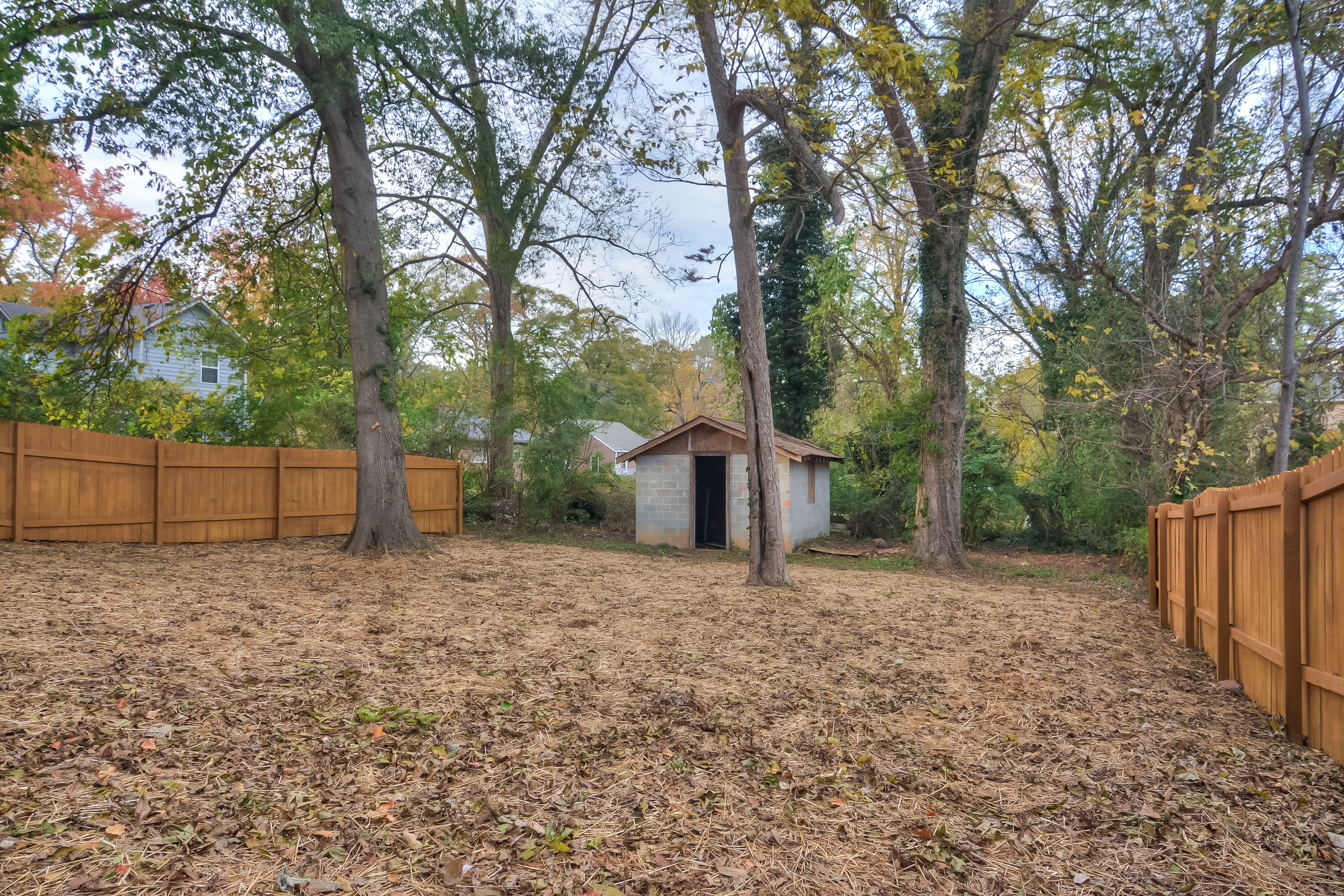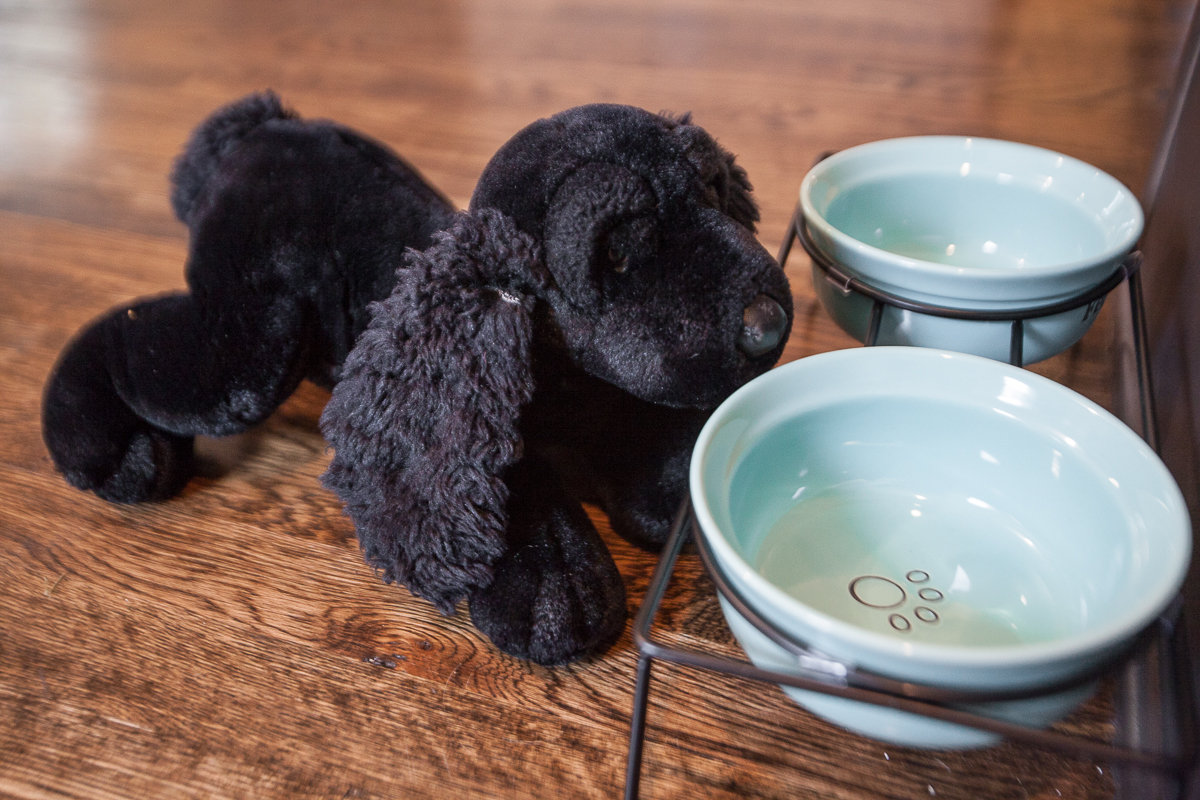 Who could forget this little guy!? Unfortunately, this house, and it's puppy-perfect backyard, do not come with a dog. We are really hoping the new homeowners bring their own, or have plans to get one. Speaking of getting a new puppy, I'm still waiting to hear back from Ken on that one….
Victory! What an overwhelming sense of accomplishment we feel for this house. Tearing off the old "Stop Work" order pasted on the front door was just the beginning of a marathon makeover. After we gave this house back all of its missing parts, and fine tuned the design with some buyer-loving upgrades, we think it's fair to say that we knocked this one out of the park.