Manor Makeover
Season 2, Episode 3
What a house! Can you believe we had the opportunity to flip a house of this magnitude?! I was in shock and disbelief as we drove up the driveway to walk the home. It truly was as gorgeous as it seemed. It is very unusual for us to "flip" a house in this condition; I love that our audience had the benefit of seeing such variety of styles and sizes this season. I can attest that this is the biggest home we will renovate for season 2. Typically when a home only needs updating and  doesn't have a lot of damage we call it a "lipstick" renovation. (I do love me some lipstick!) This one, would fall in that category, but it required A LOT of lipstick because of the square footage. So this lipstick renovation had a hefty budget.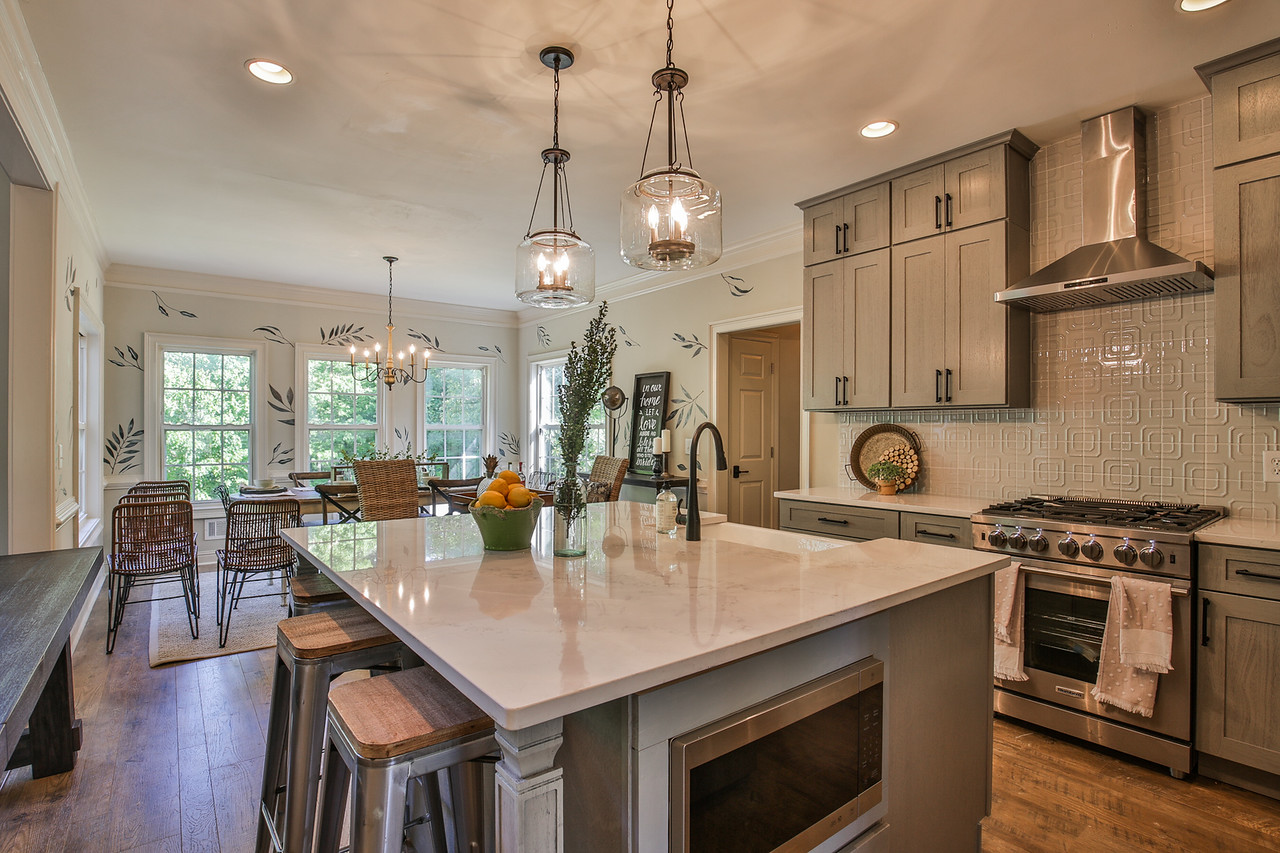 We all know the heart of the home is the kitchen and this kitchen takes the cake. I love the dimensional backsplash that adds an extra detail of texture. The color is subtle and not far off from the cabinets but it is certainly noticed. Not to mention the pendant lights, amazing island, and the botanical decals on the wall. I have never been a big fan of vinyls, which is why Ken was shocked when I pulled out all those rolls! However, I have never seen vinyls this elegant! I have always seen the cartoon character ones which is a "no-way" in my book! When flipping a home it is critical to have mass appeal to buyers.  The goal is for a buyer to love it but not feel locked in to a certain style. These vinyls provided a great pop-of-wow but if a buyer came in and felt differently, they can easily remove them with no damage to the walls.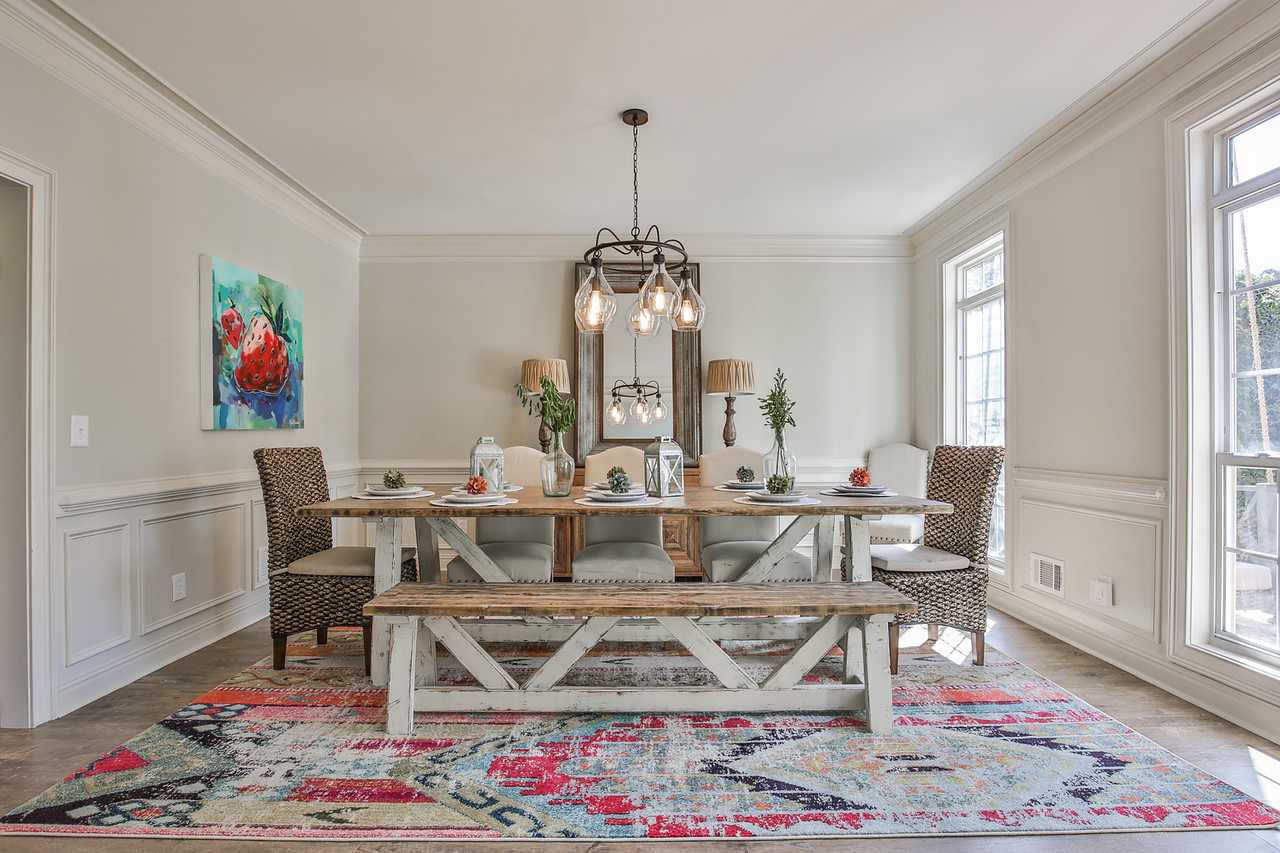 Let's all pause and take a peek at this dining room. Before it was lovely, but very dated. Look at what a fresh coat of paint can do. The trim and the walls were painted two shades that were very close to one another. It was elegant and beautiful.  Anchoring the room is a funky rug with a solid custom built table on top. Add a beautiful chandelier, some custom art (I requested that strawberry because they are my favorite), a beautiful hutch and wa-la you have a dining room fit for a king!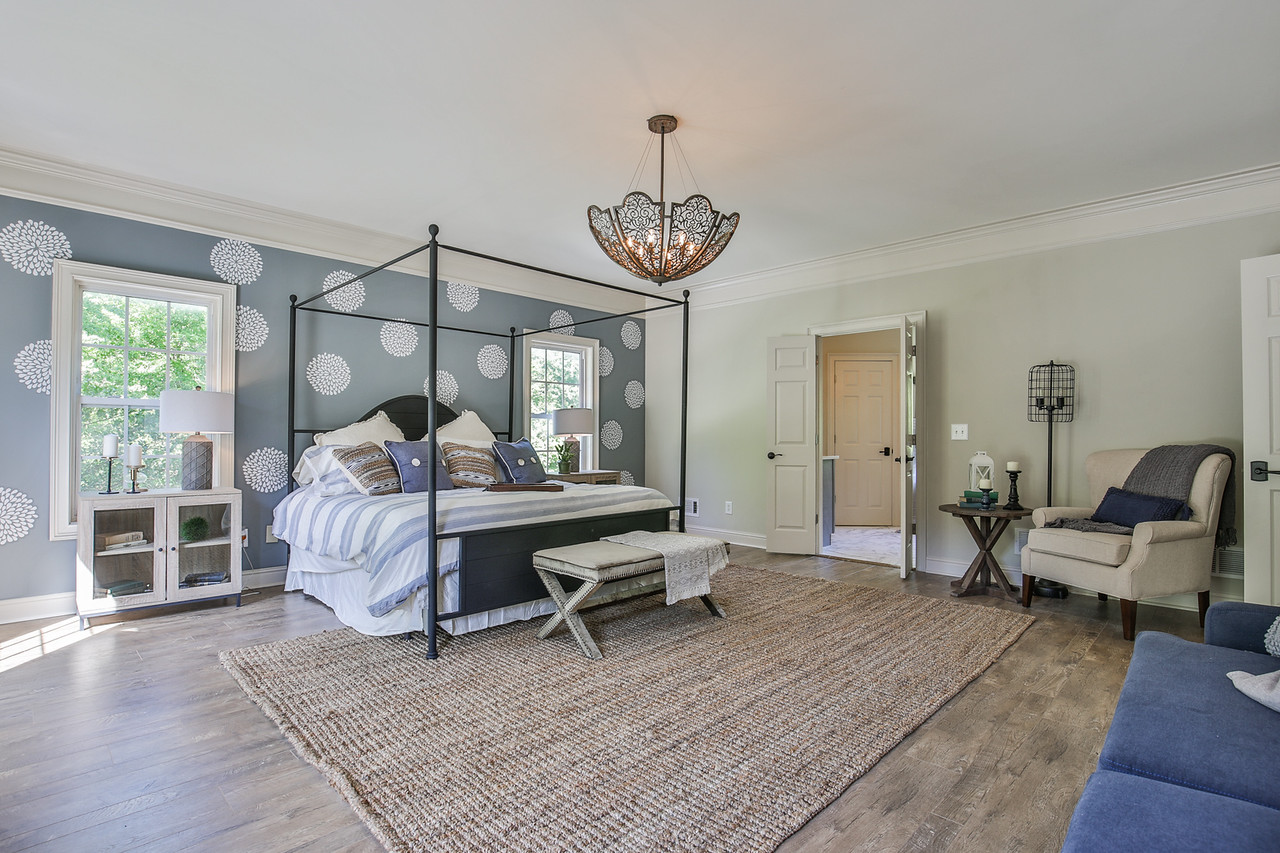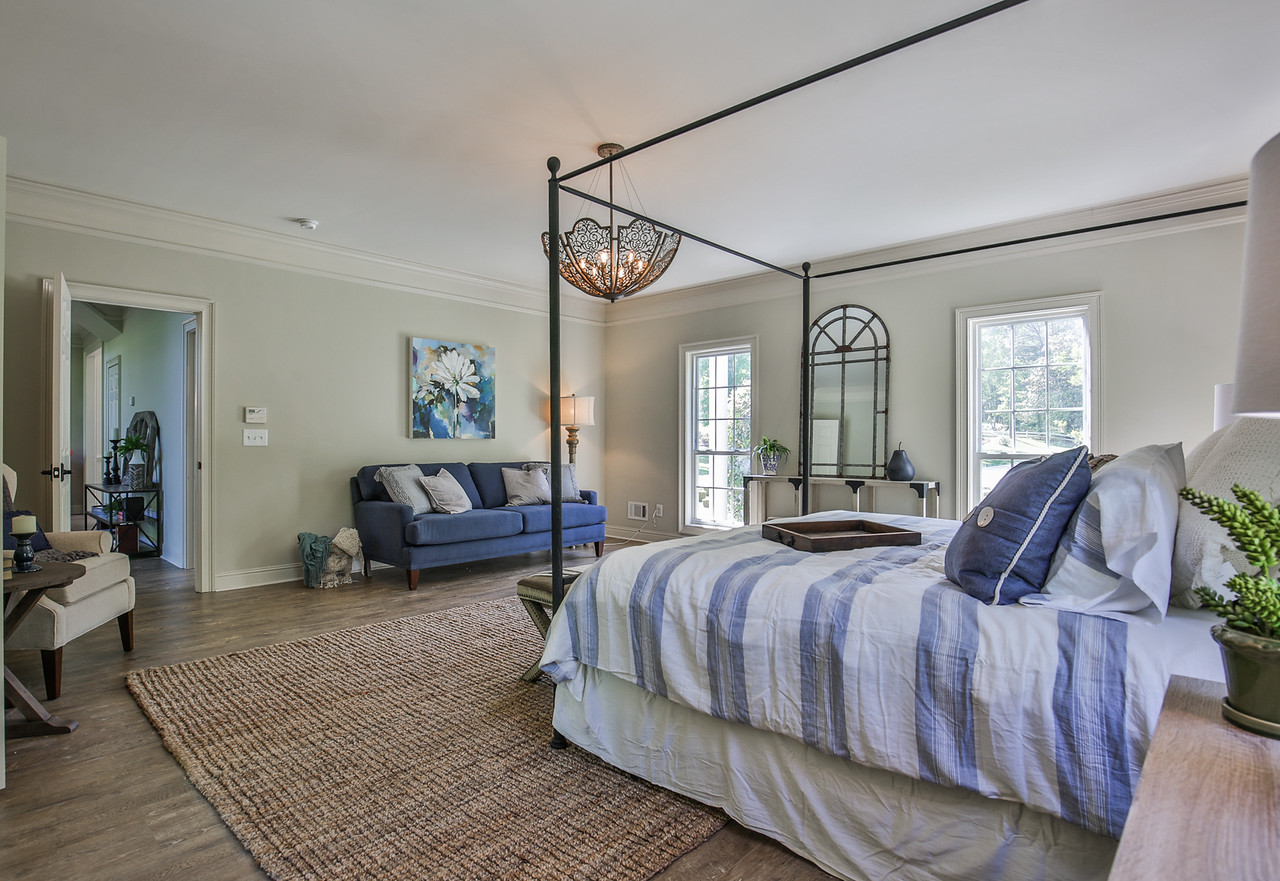 Ahhhhhhhhhhhhh, this master bedroom was the things dreams are made of. A king size bed with a fluffy striped cover is the star of this room, not to mention it was so big we could fit a large full size couch and chair in there with it. How about that light? It is so gorgeous! It is more feminine and dainty that I usually put in homes, but I really couldn't resist in this one. It had such a hint of romance and this house was screaming for it. Literally. Just kidding.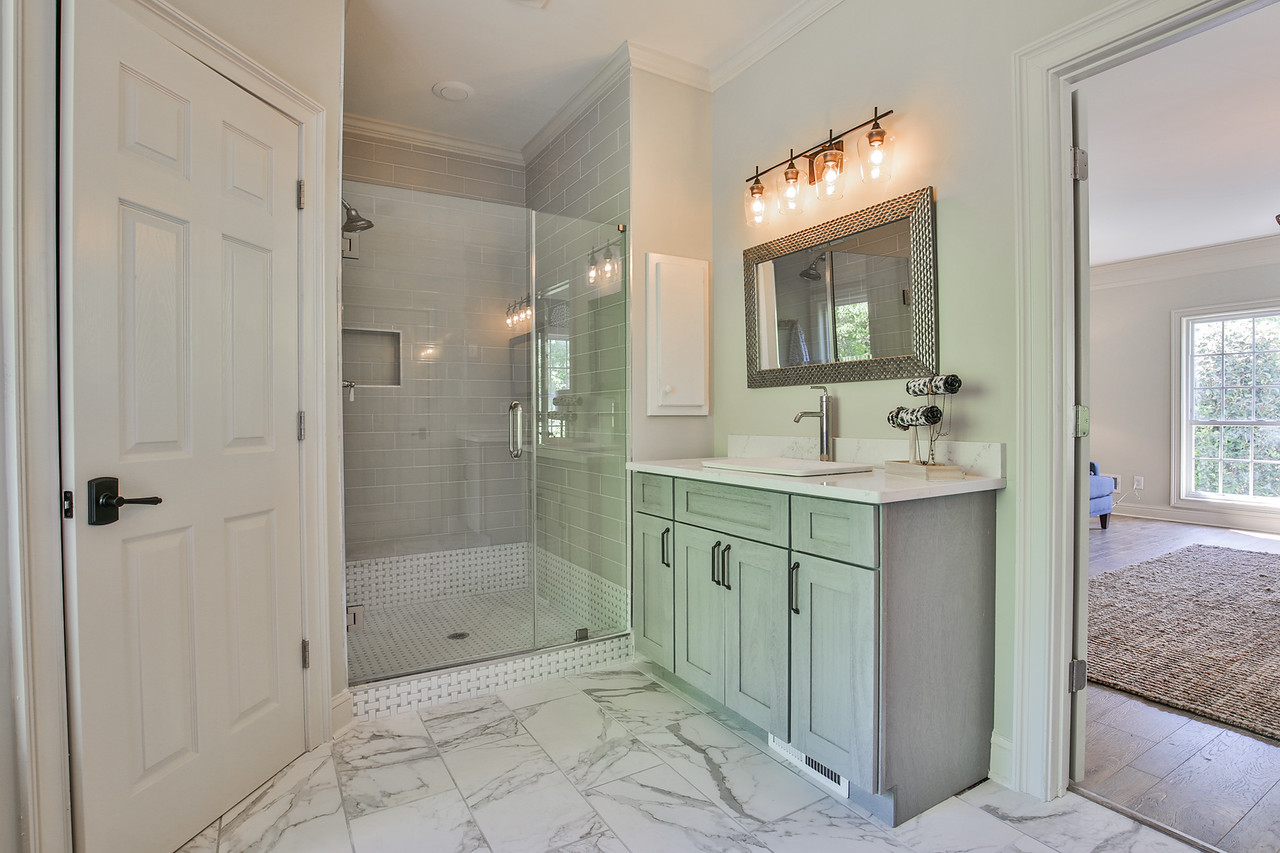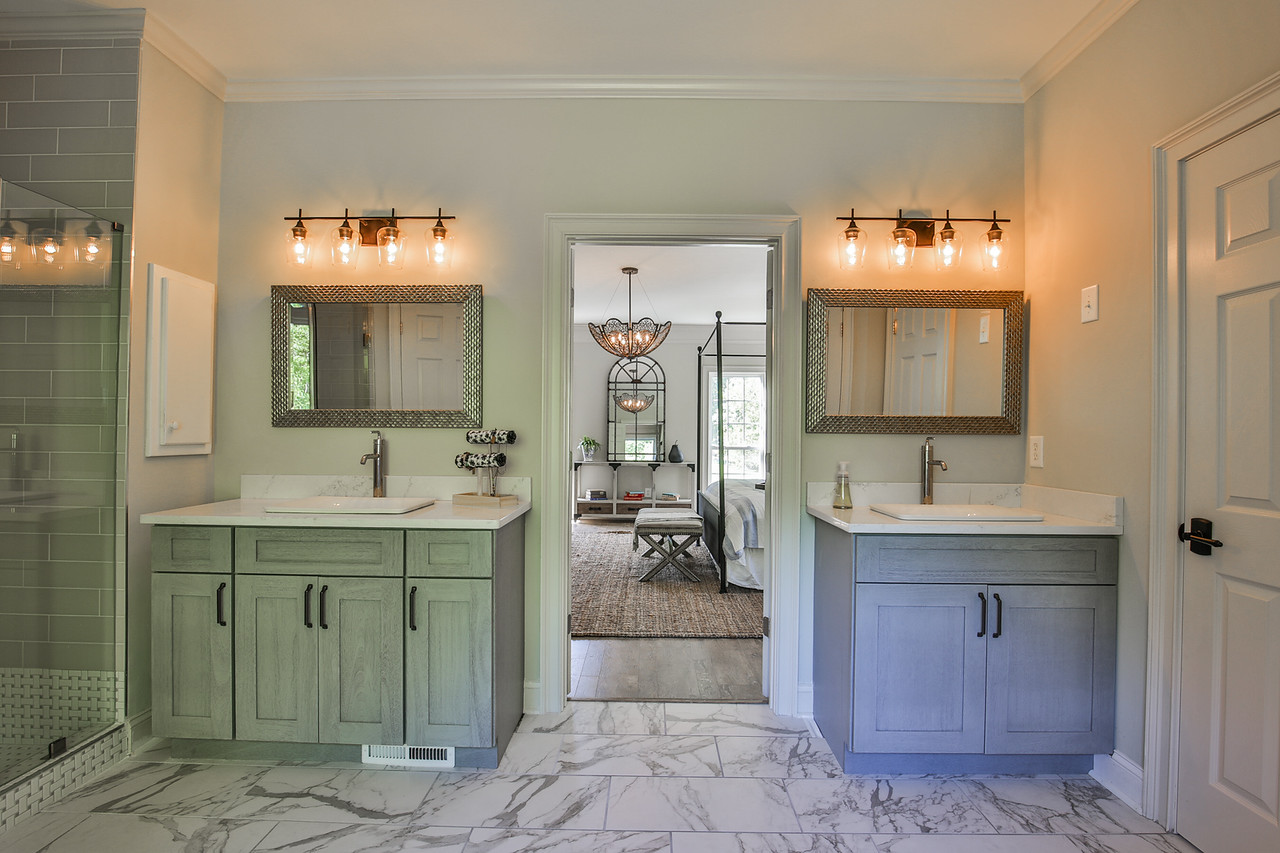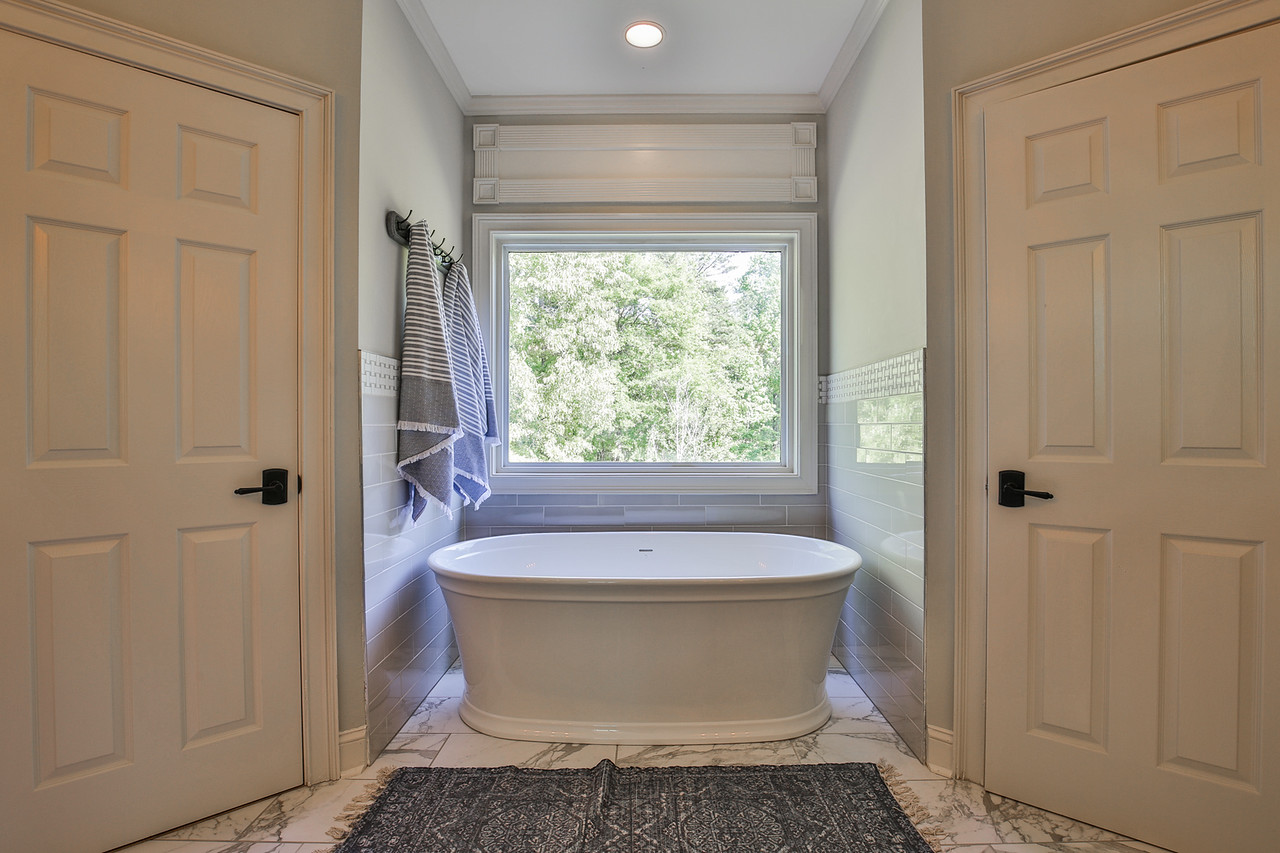 Remember how excited I was to renovate this BIG bathroom?!?! This was a total dream - some simple updates made a HUGE impact. Adding a porcelain tile that resembles marble was a great for the budget and for the look. This tile is about $2-3 a square foot and looks like you spent a lot more. The shower tile is simple and clean with just a little bit of a basketweave on the floor and skirting the perimeter.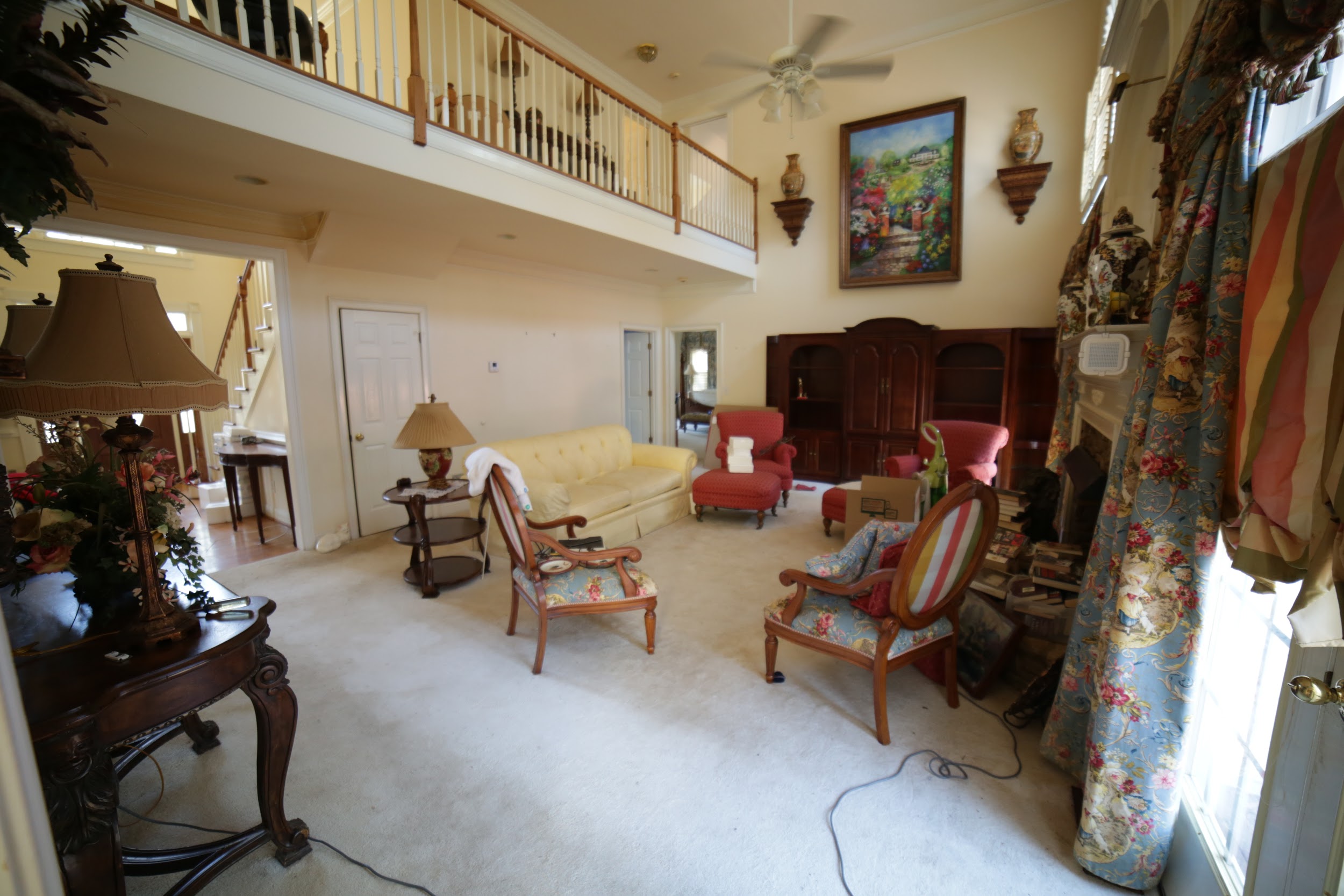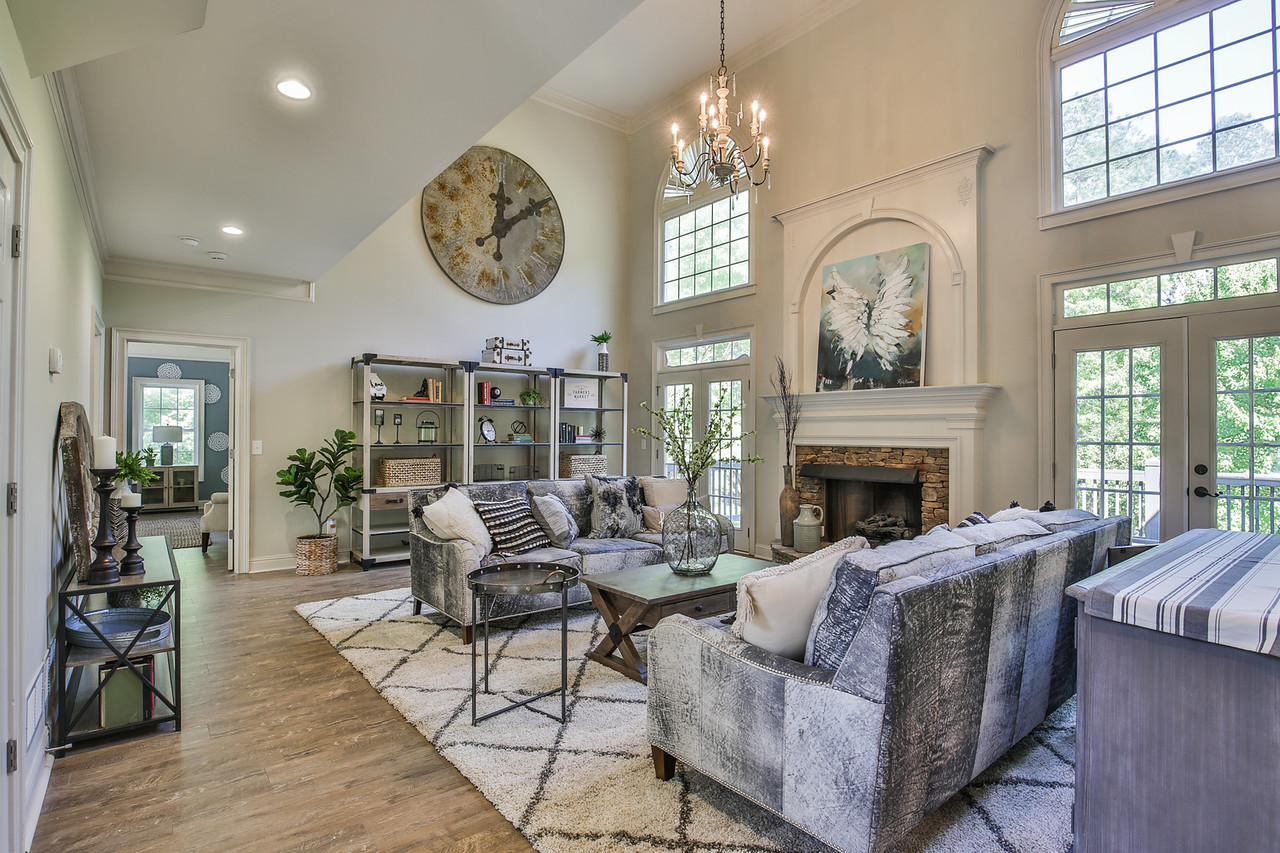 Living room before and after. Removing the drapery was a big help in transforming this room - look at how much light can come in now! There are a lot of things to notice here - first of all the angel wing art. Hold the phone, those wings are stinkin' gorgeous. These are placed to honor the children and families connected to childhood cancer. This painting capture the warrior spirit within each child fighting. The artist has agreed to sell 11 by 14 prints on our site and the proceeds go towards Roc.Star Kids, a foundation we started to support families and research. The majority of the furniture in this room was supplied by England Furniture. I will be honest, I had never used their furniture before and it surpassed my expectations. These distressed leather couches are so gorgeous flanking the fireplace, not to mention the coffee table and bookcases lining the back wall. Talk about a drastic change in this room! I think it is screaming for a cup of coffee and a good book!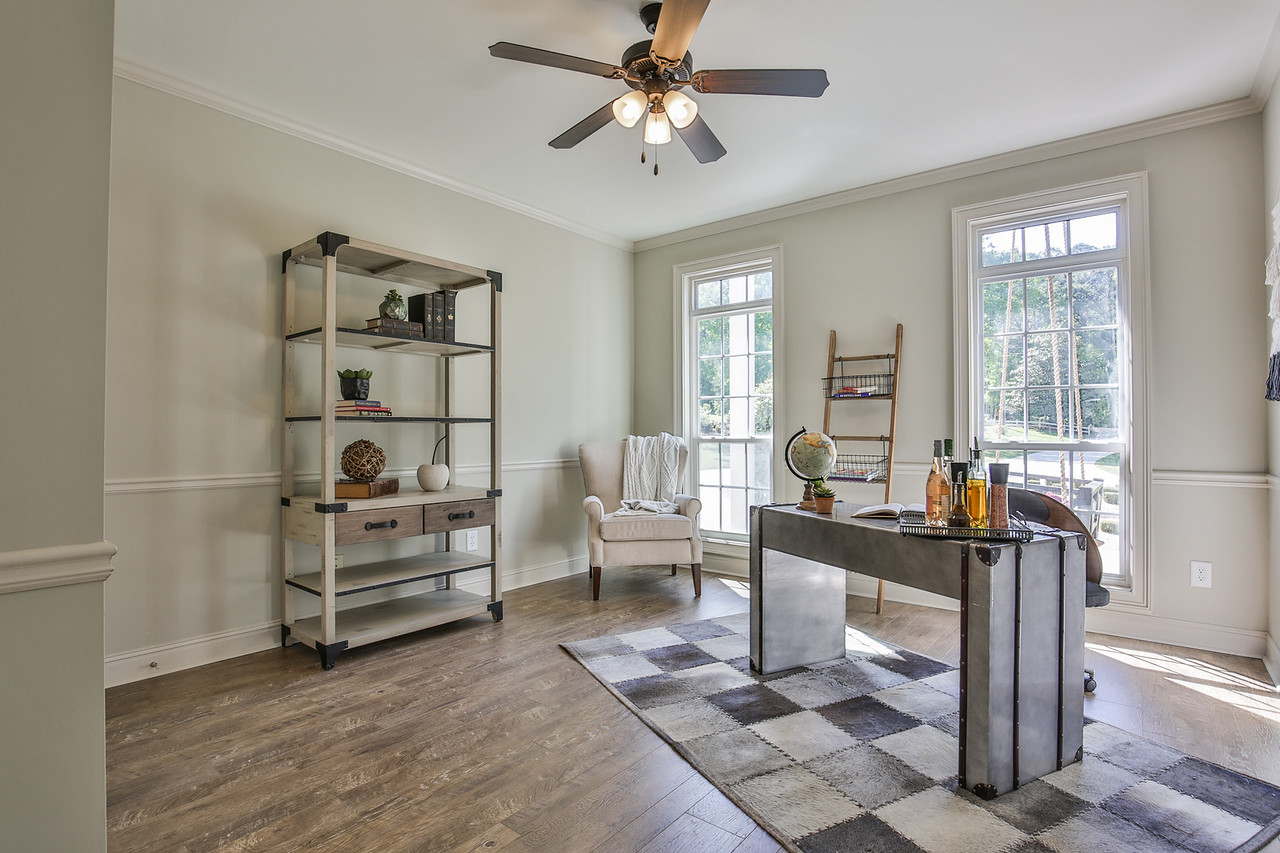 If I remember right, this office wasn't shown on air. This is the downstairs bedroom that we staged as an office. I love this suitcase desk - the metal is chunky and sleek, and the far wall that you cannot see in this picture has four different patterns of macrame lining the wall. An office that I would for sure enjoy - just fill it up with more pens.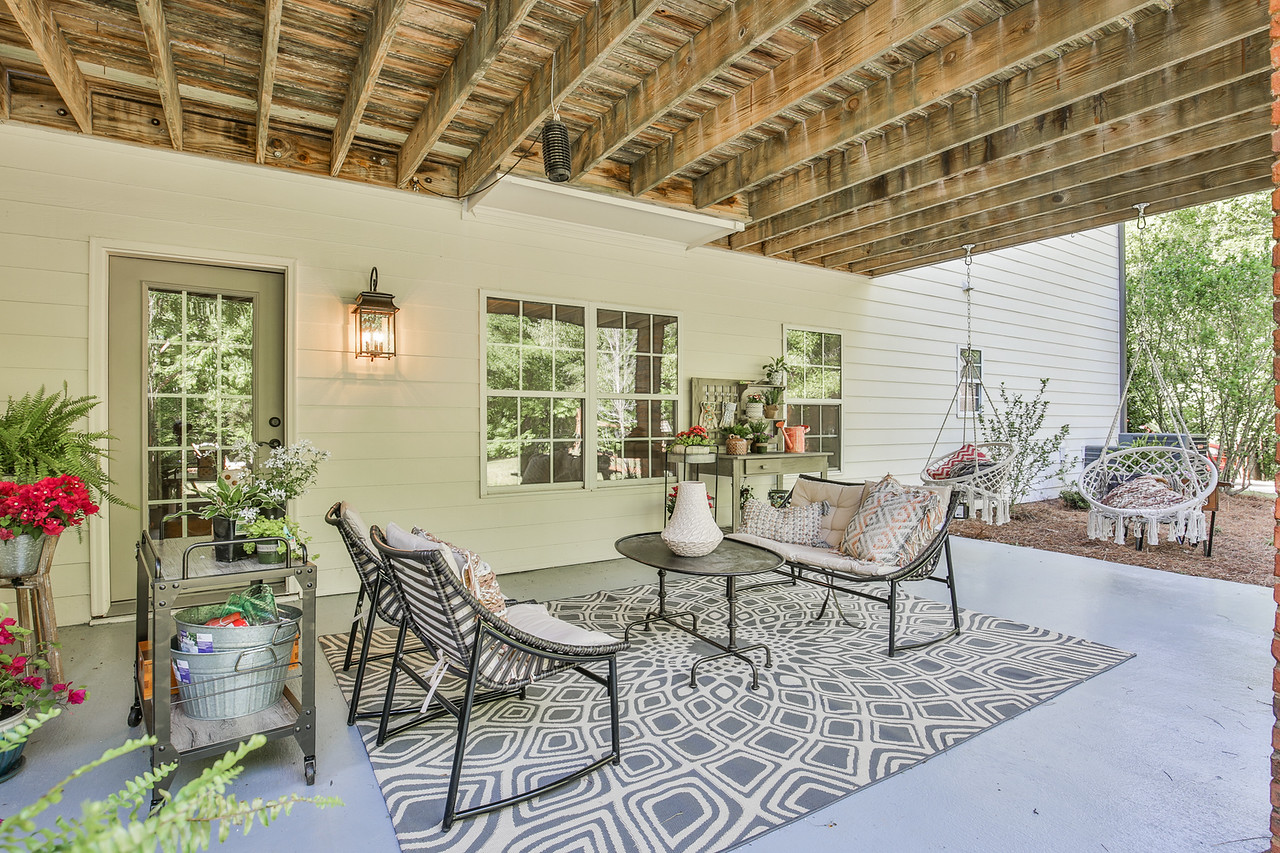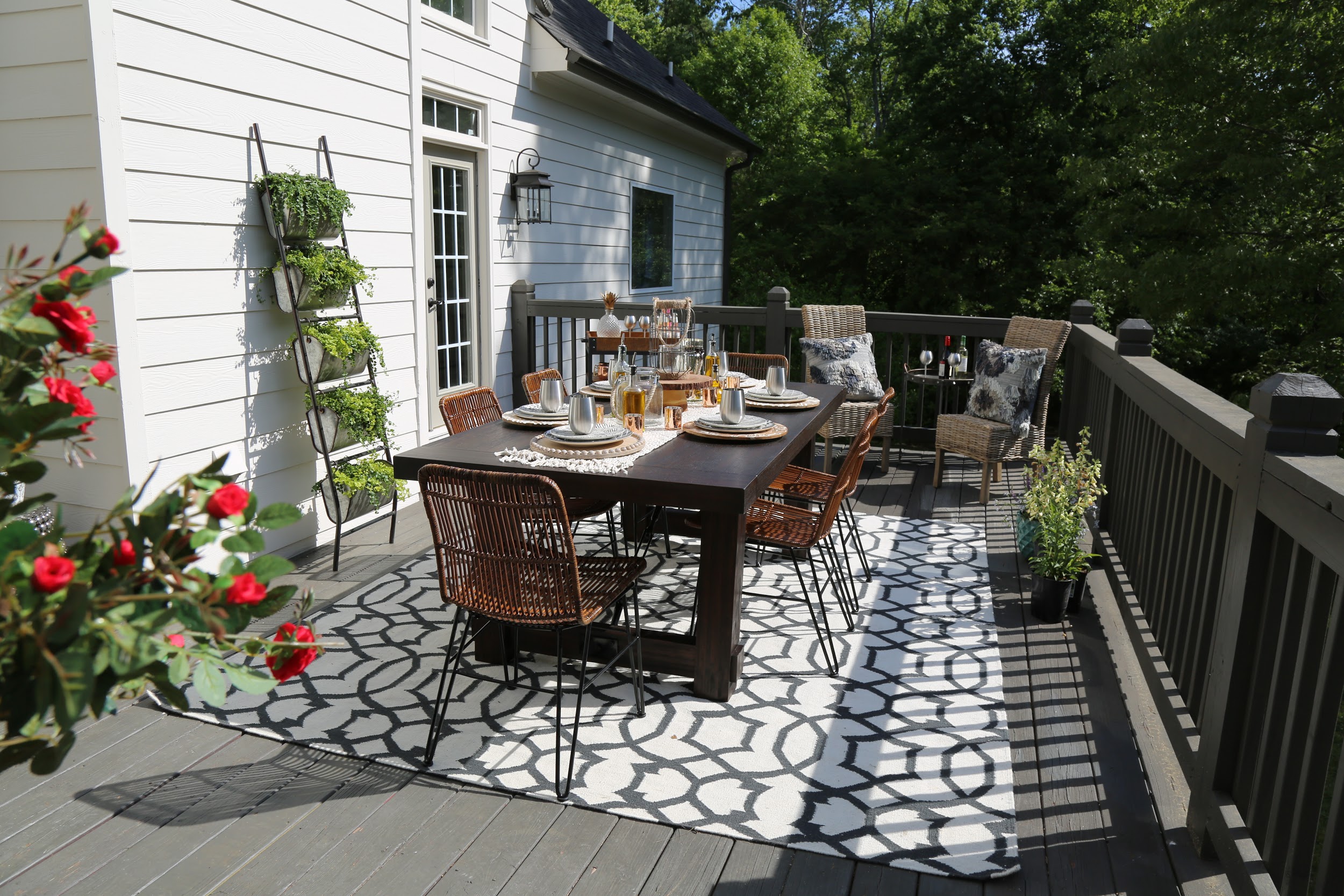 Just two of the lovely outdoor space we were able to create at this house. Staging the exterior of a home makes a difference - if you are selling a home remember to spruce up the outside. Curb appeal and functionality are important to today's buyers.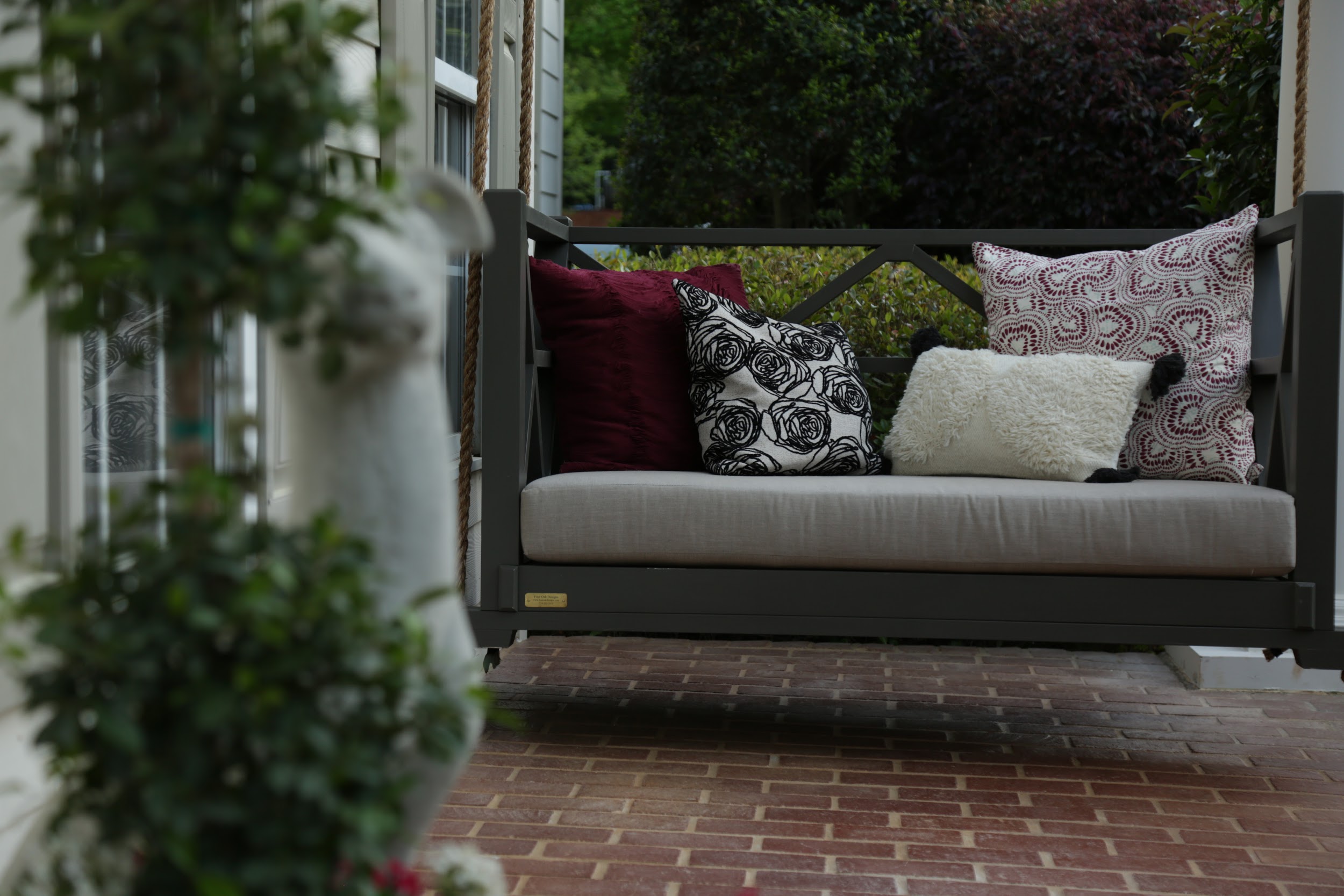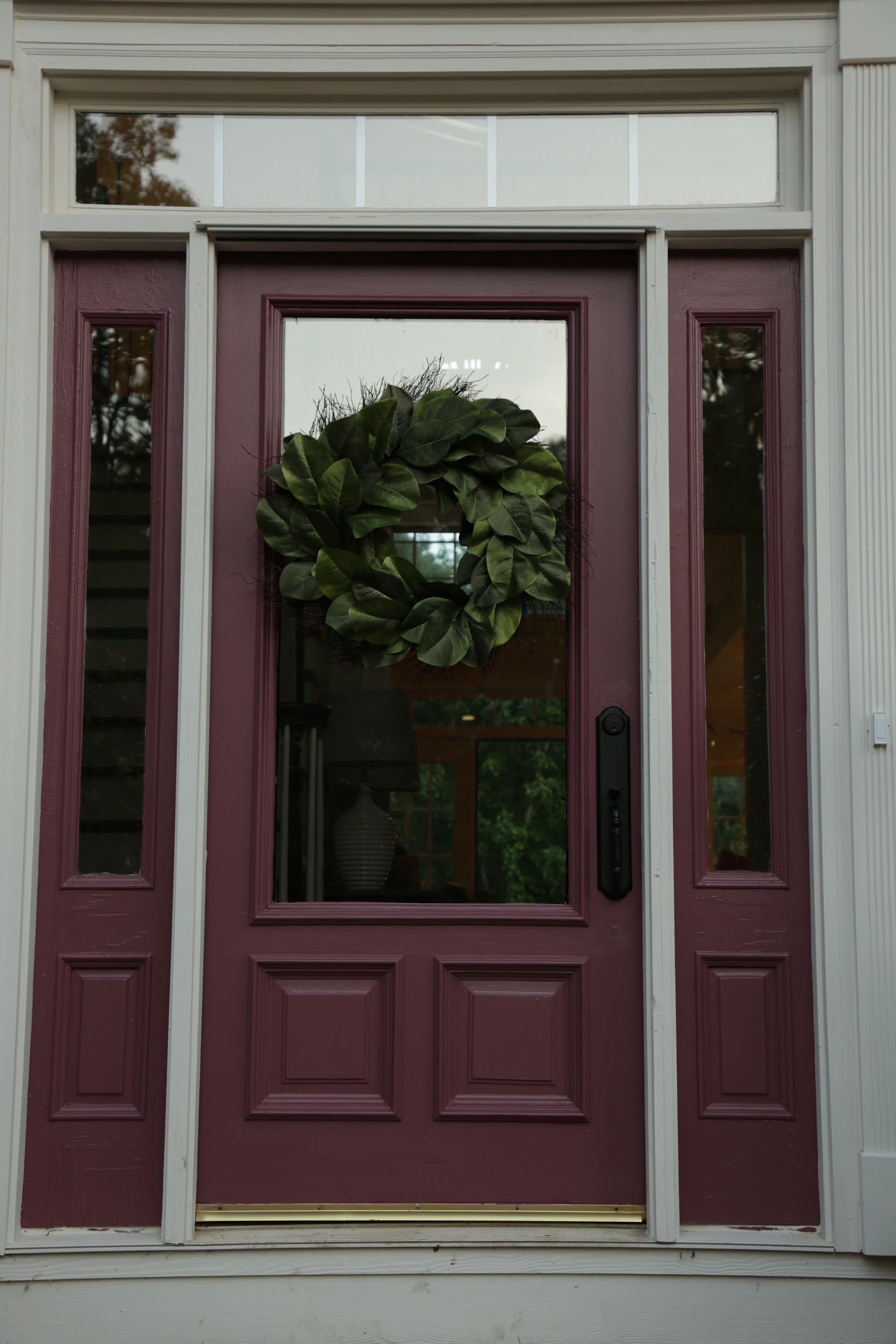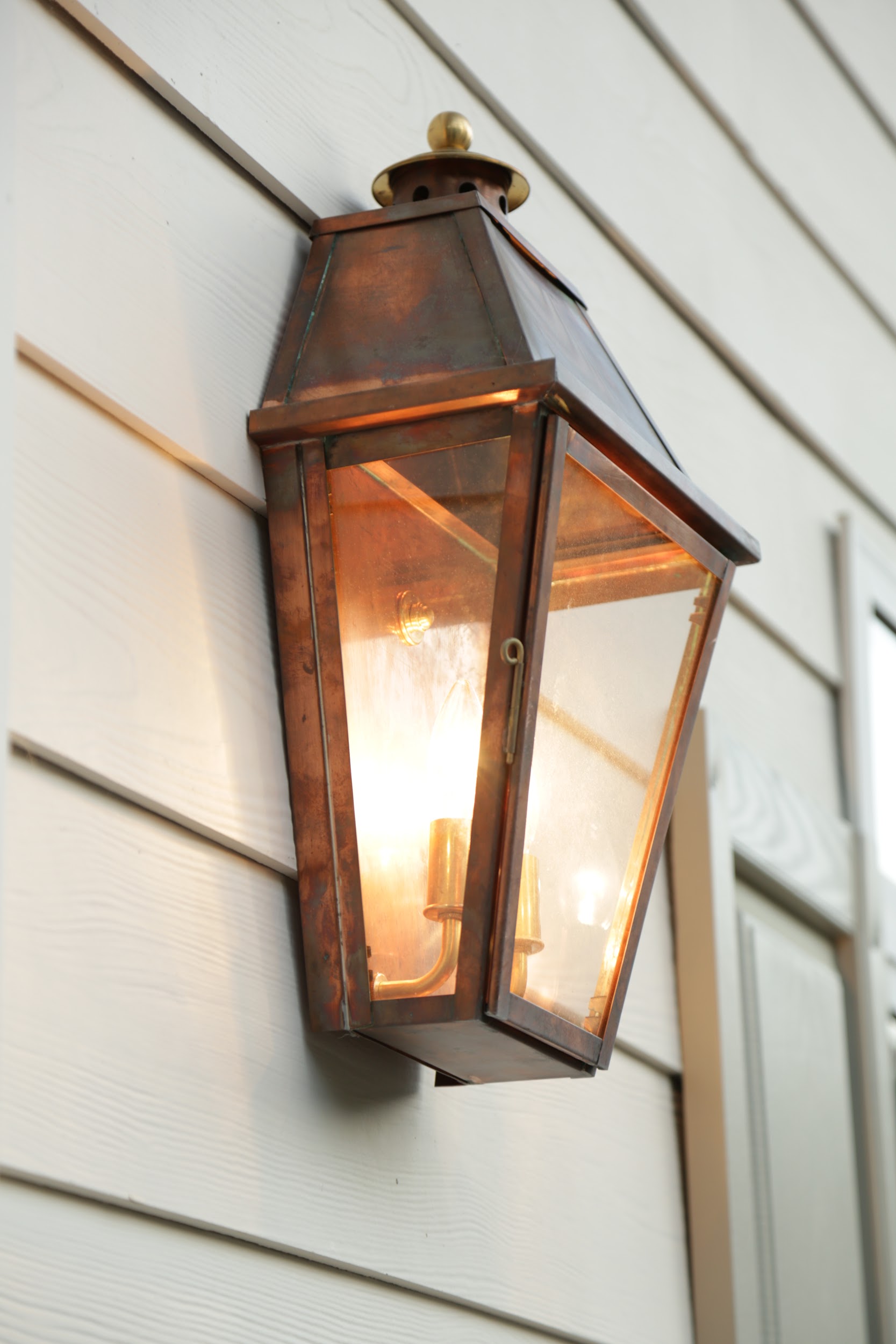 How about this place?! I loved the exterior from the minute we pulled up. We didn't change much. I warmed up the white paint on the house, painted the shutters grey, and I really wanted a berry colored front door. Y'all - I went a little too berry - even my sweet sound man was like, "Really?" At least he was honest - so I re-painted the front door a different not-as-berry at 9:00 at night barefoot, the night before open house. You gotta do, what you gotta do. We used copper exterior lights on the front of the house as well, it gave it such a stately and elegant feel.
This is the Manor Makeover folks! I sure hope you enjoyed the home, we sure did!