Making History
Season 2, Episode 11
There's nothing like a "National Register of Historic Places" plaque to kick up the pressure on restoring a property! That's what we found when we purchased this brick beauty in College Park. That means, in addition to typical rehab challenges, there was the added complication of complying with the ordinances prescribed by the program that deemed this house "worthy of preserving." Luckily, we had our friend and contractor, Clark Turner, from ProServe Home Solutions to help us navigate our plan of action!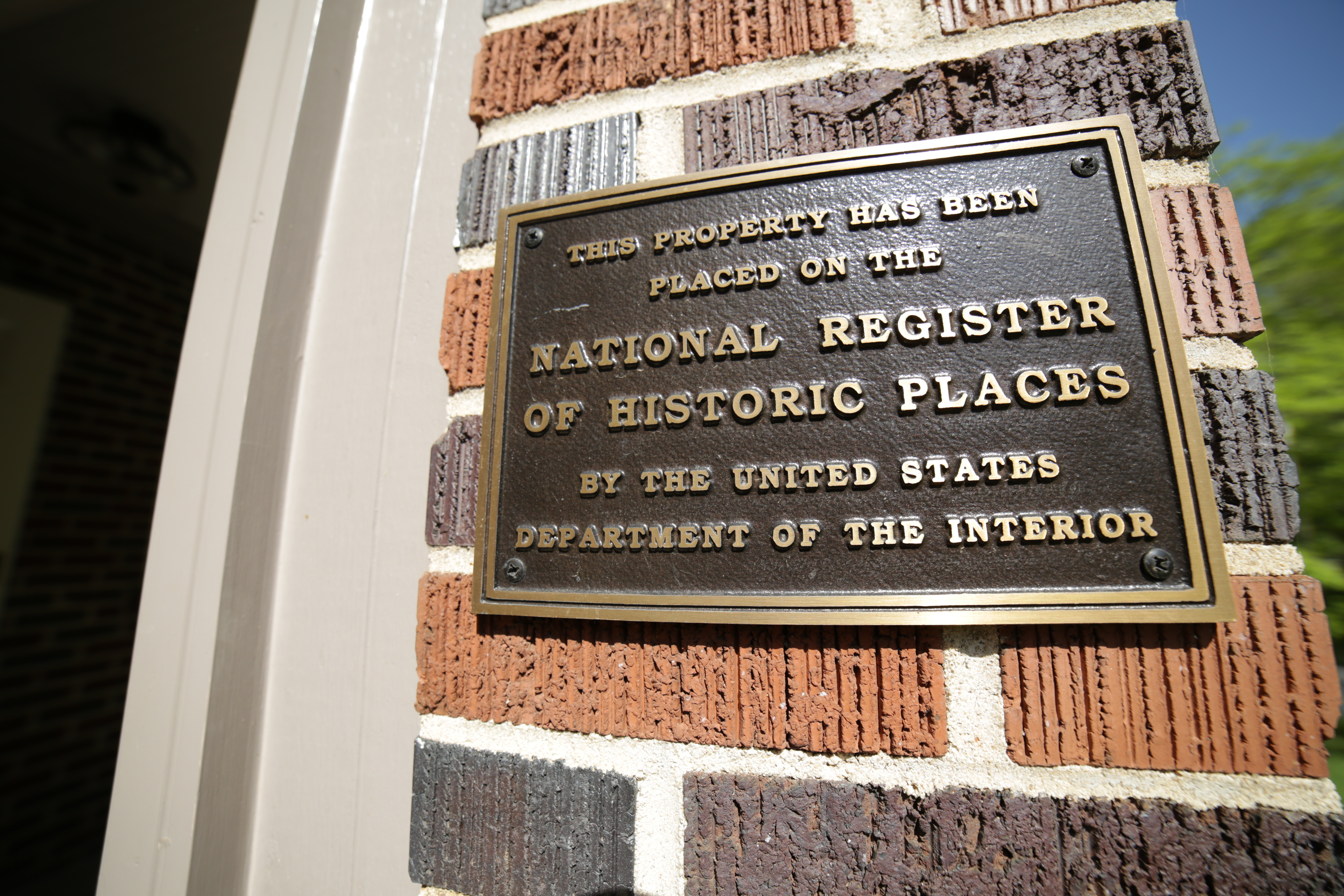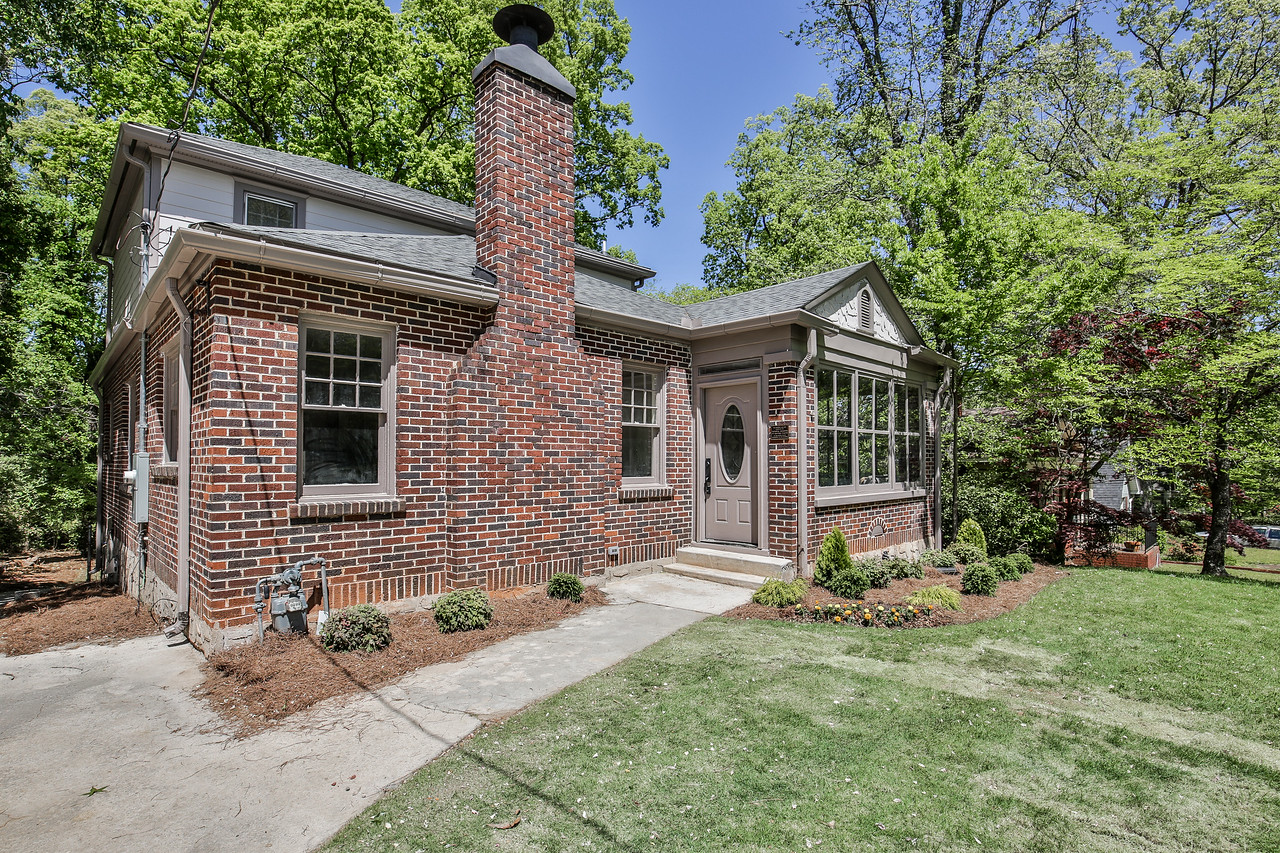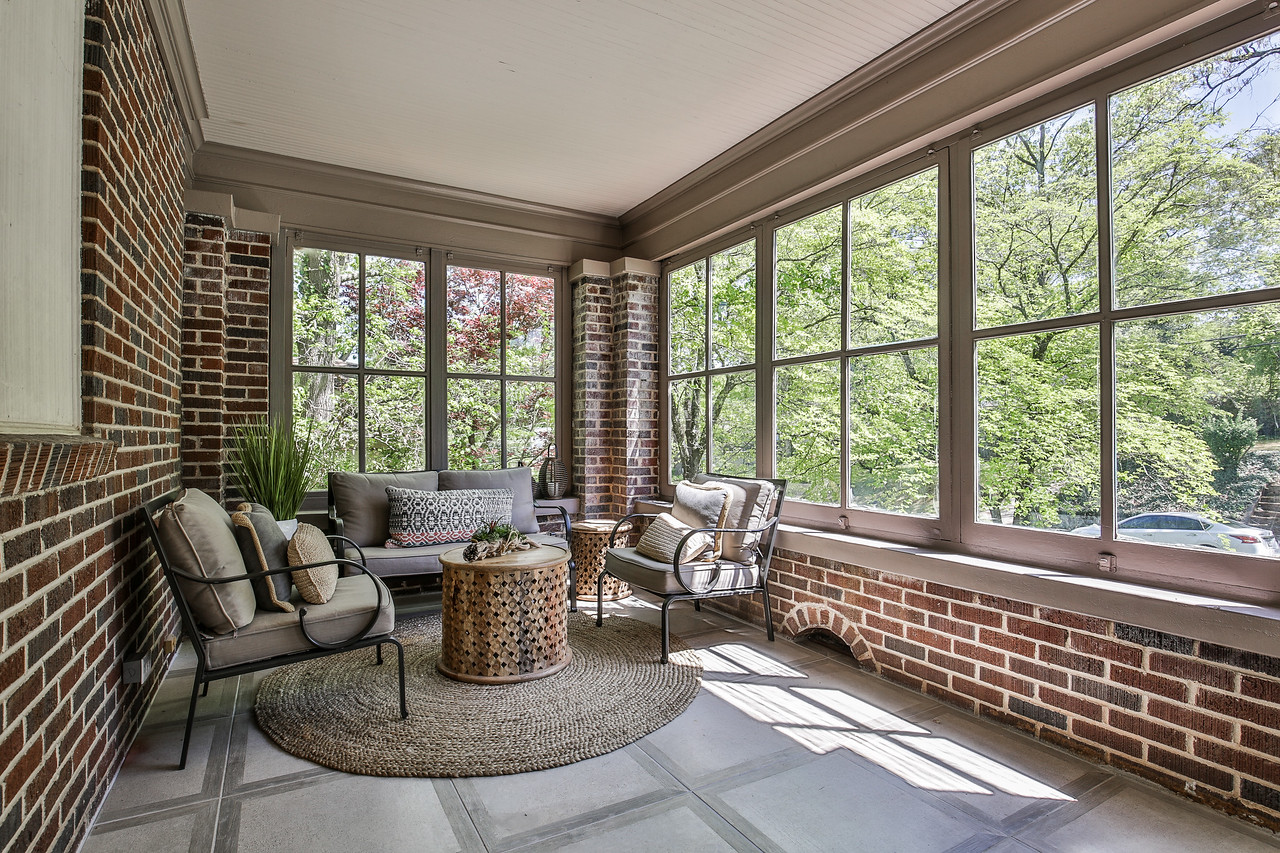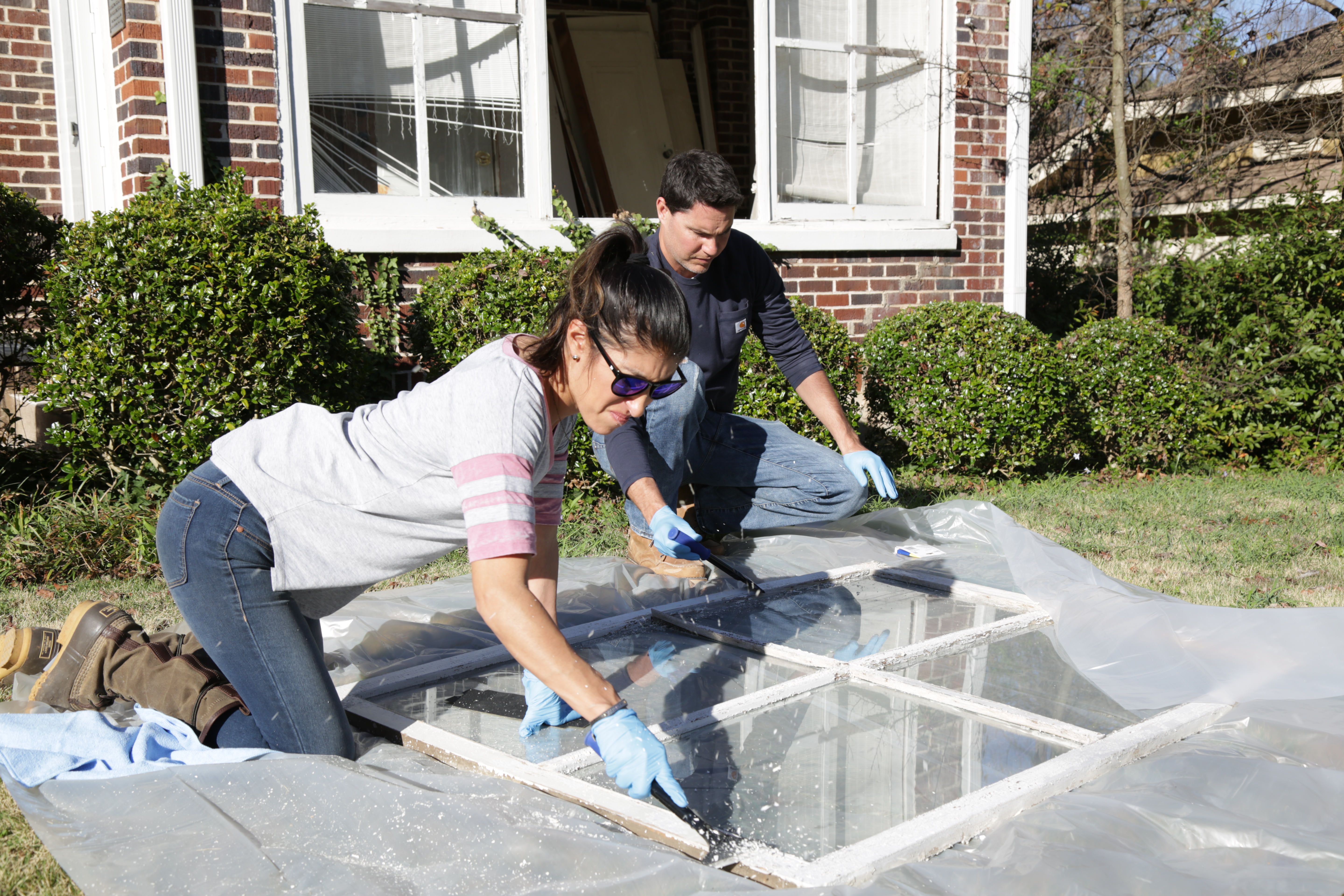 Part of maintaining the integrity of this historic home was preserving the original brick. In many instances, if our brick exterior is in disrepair, it must be painted since it's not always cost effective to replace the entire facade. It can be difficult to match original brick in older homes where it is damaged, but in this case the brick looked great! All we had to do to update this home was paint the trim. Using a darker taupey brown for the trim and a lighter color for the small patches of siding completely gave this home an updated look. Sometimes it doesn't take much to add some curb appeal. Those homes are always Ken's favorite. We also kept the original windows, and after some scraping, sanding and painting, they looked wonderful. The light in this sunroom is amazing! I foresee a lot of morning coffee drinking on this porch. Here is a funny detail, the new tile on the sunroom was chosen on a whim, we were in such a hurry completing the home I literally picked online, and hit the jackpot. Ended up being a favorite of mine.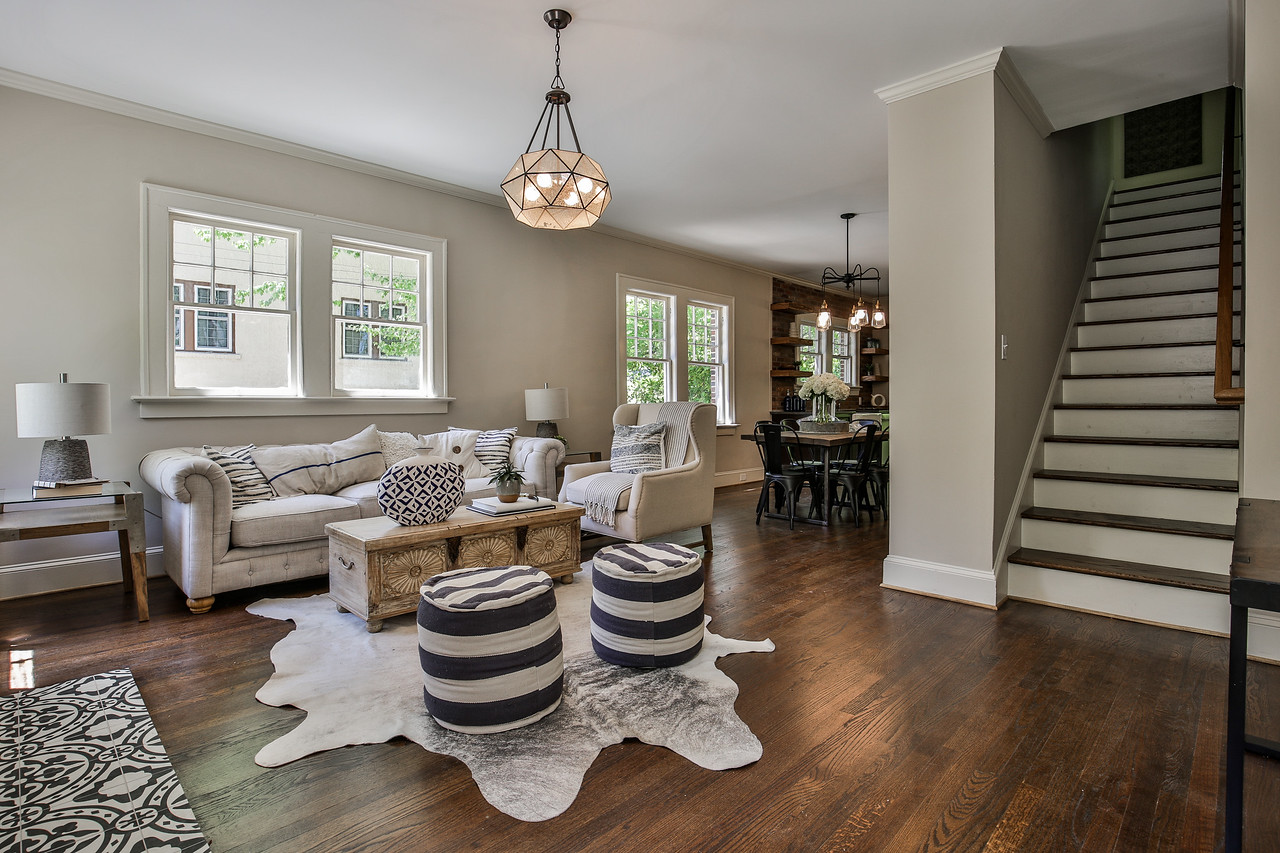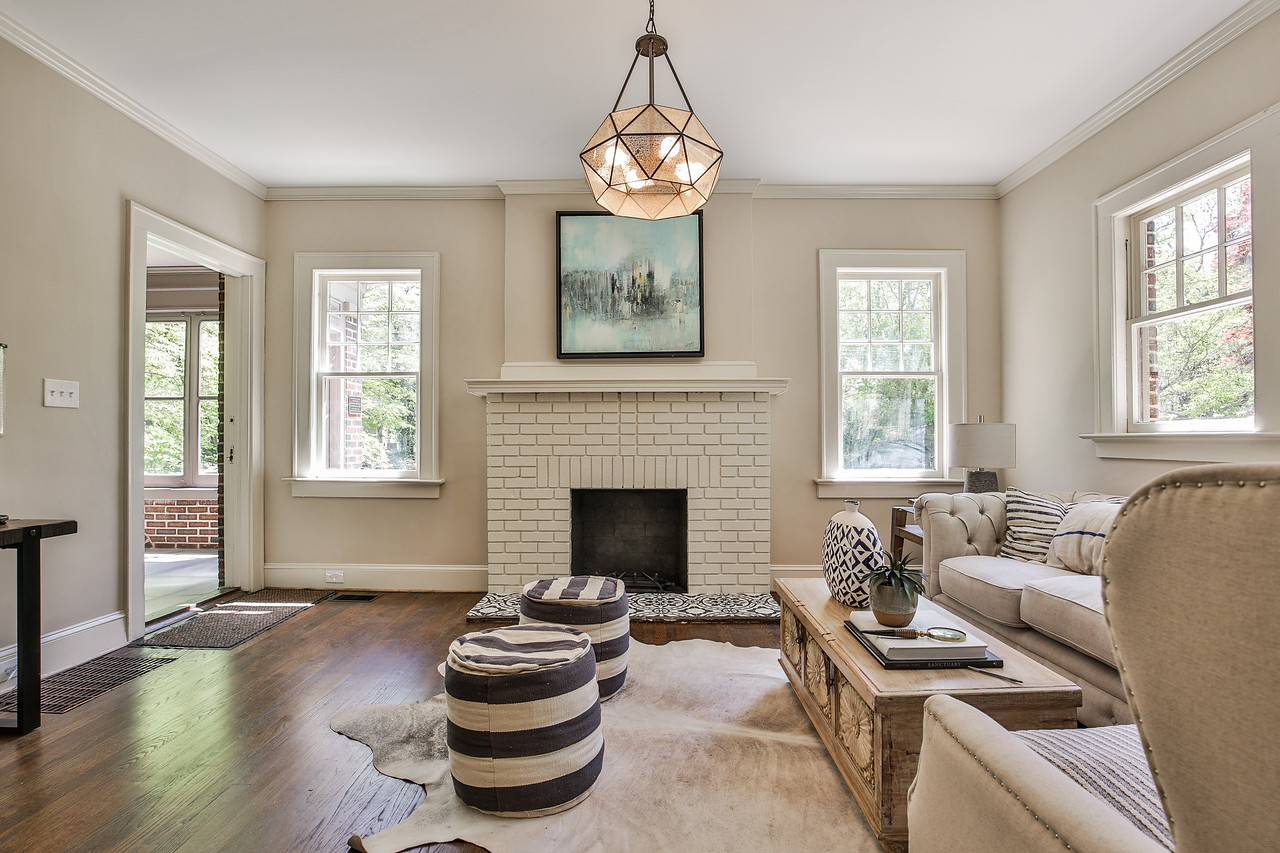 Light. Open. Refreshed. That's what this living space transformed into. The natural light, combined with the neutral paint is very soothing. We added some design punch with the Bristol encaustic tile from Cement Tile Shop for the fireplace hearth, and a stunning mercury glass chandelier from Savoy House. We are grateful the original floors were in great shape after sanding and staining - saving time, money and historical value.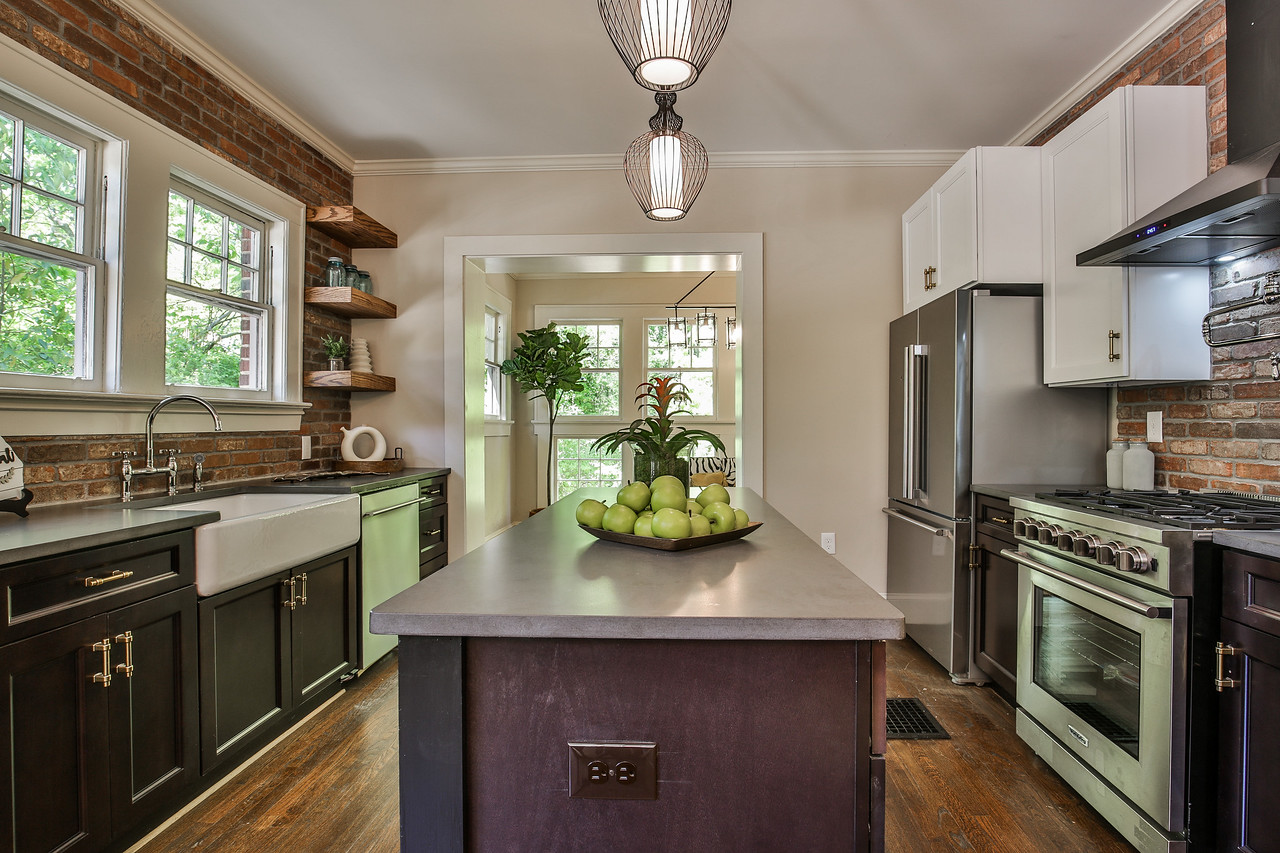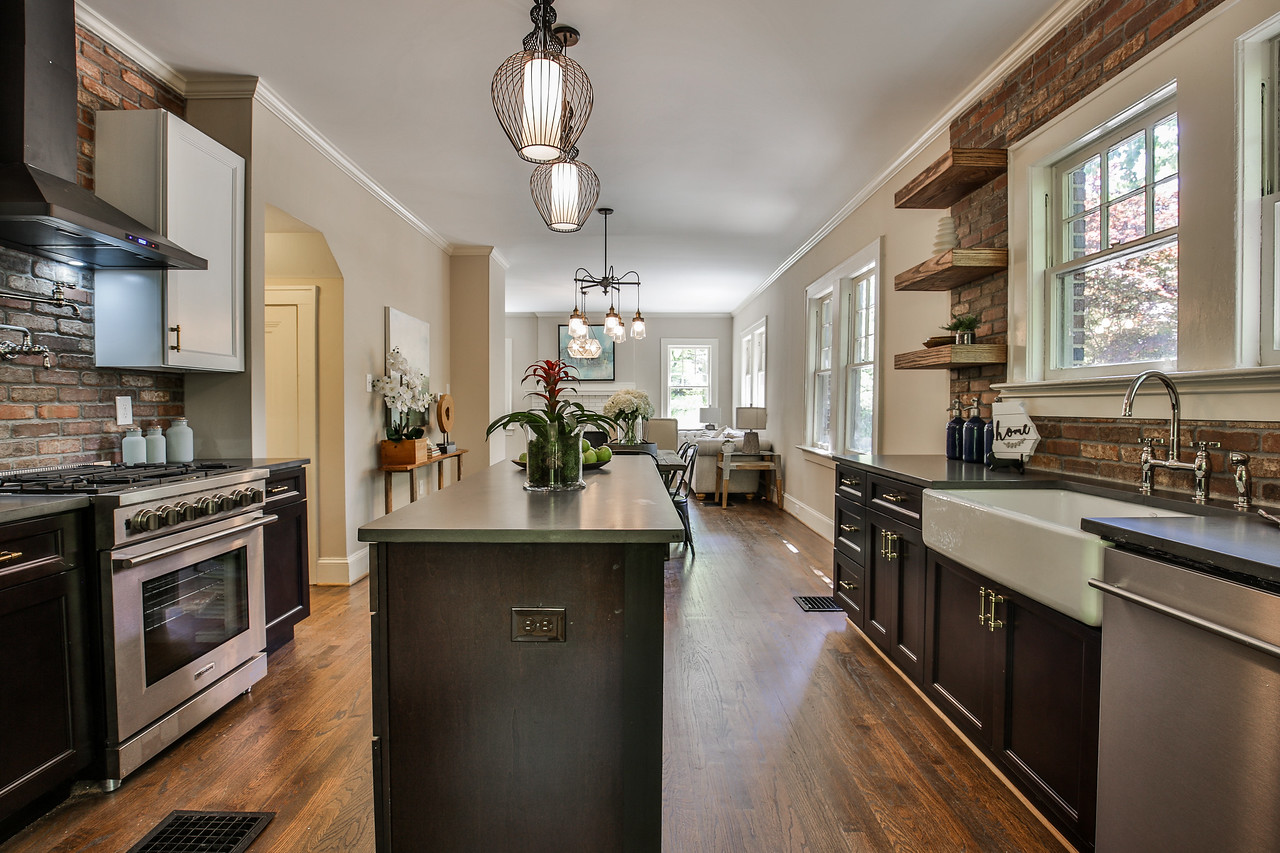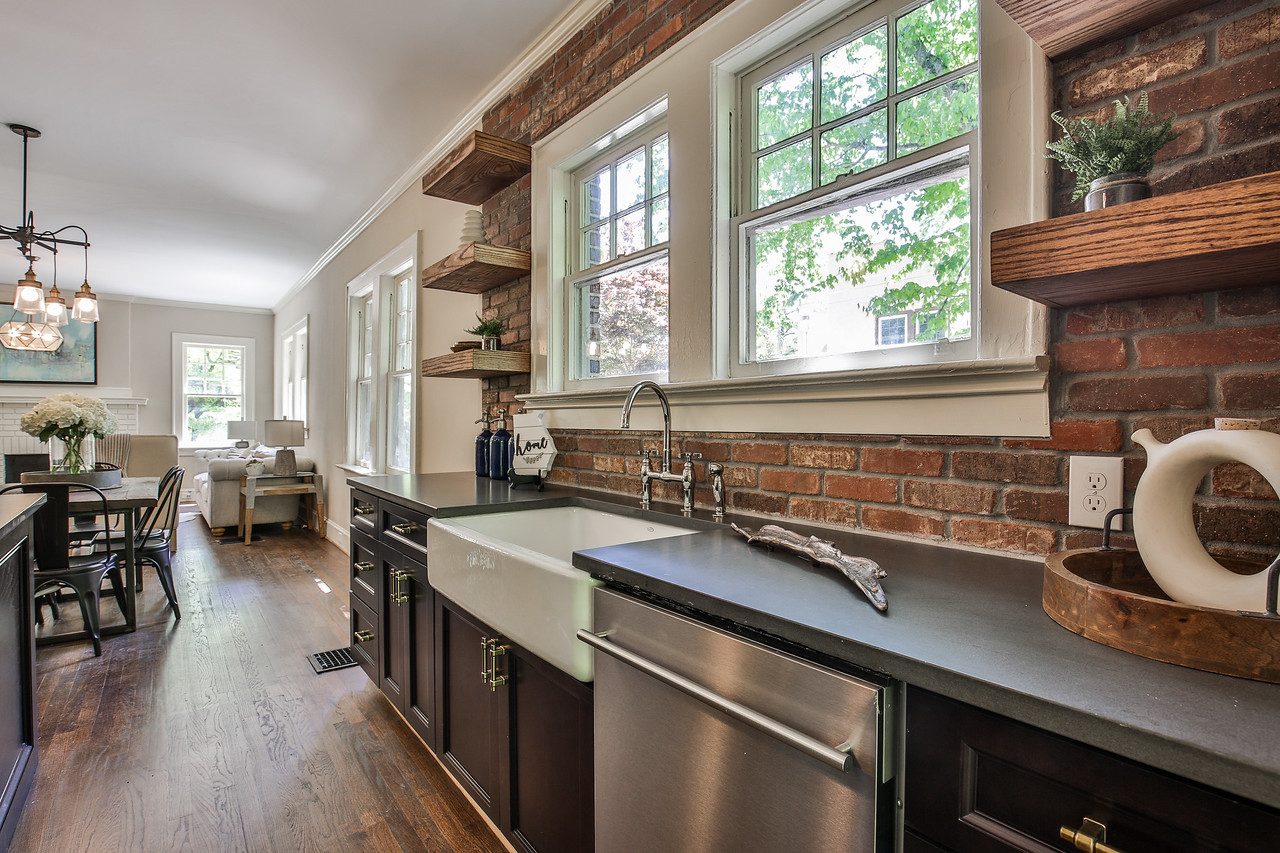 There are so many fun things to share about this kitchen! We brought a touch of brick inside the house as well with this rugged backsplash. The original kitchen window was so large we had to sacrifice some cabinet space to accommodate it, but the light it lends this space is priceless. Instead, we floated a few substantial wood shelves on either side of the sink for some added storage, AND added aesthetic. The Aramis gray quartz from Hanstone has been leathered to add even more texture - like a polished concrete. We chose a matte black vent hood to tie into the black shaker cabinets that we decorated with these weathered brass cabinet pulls.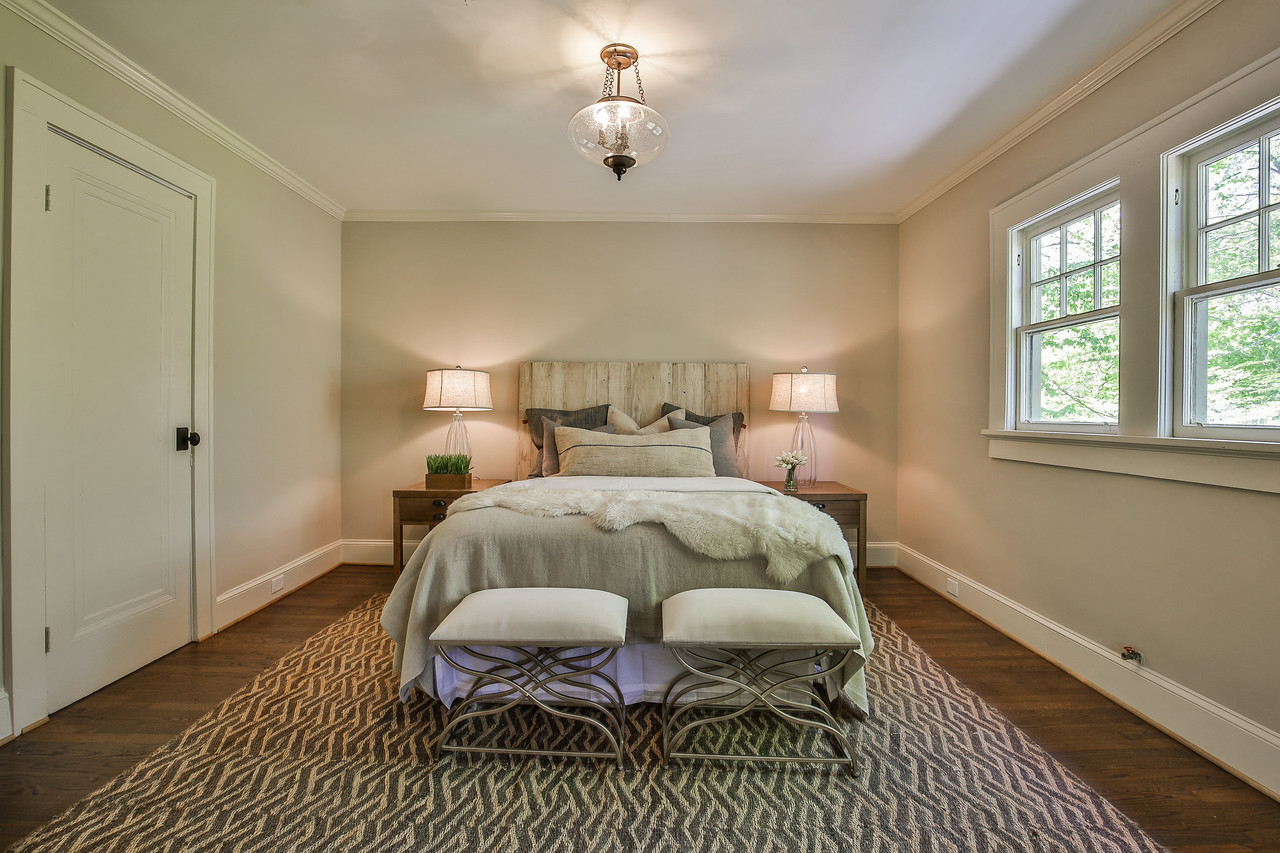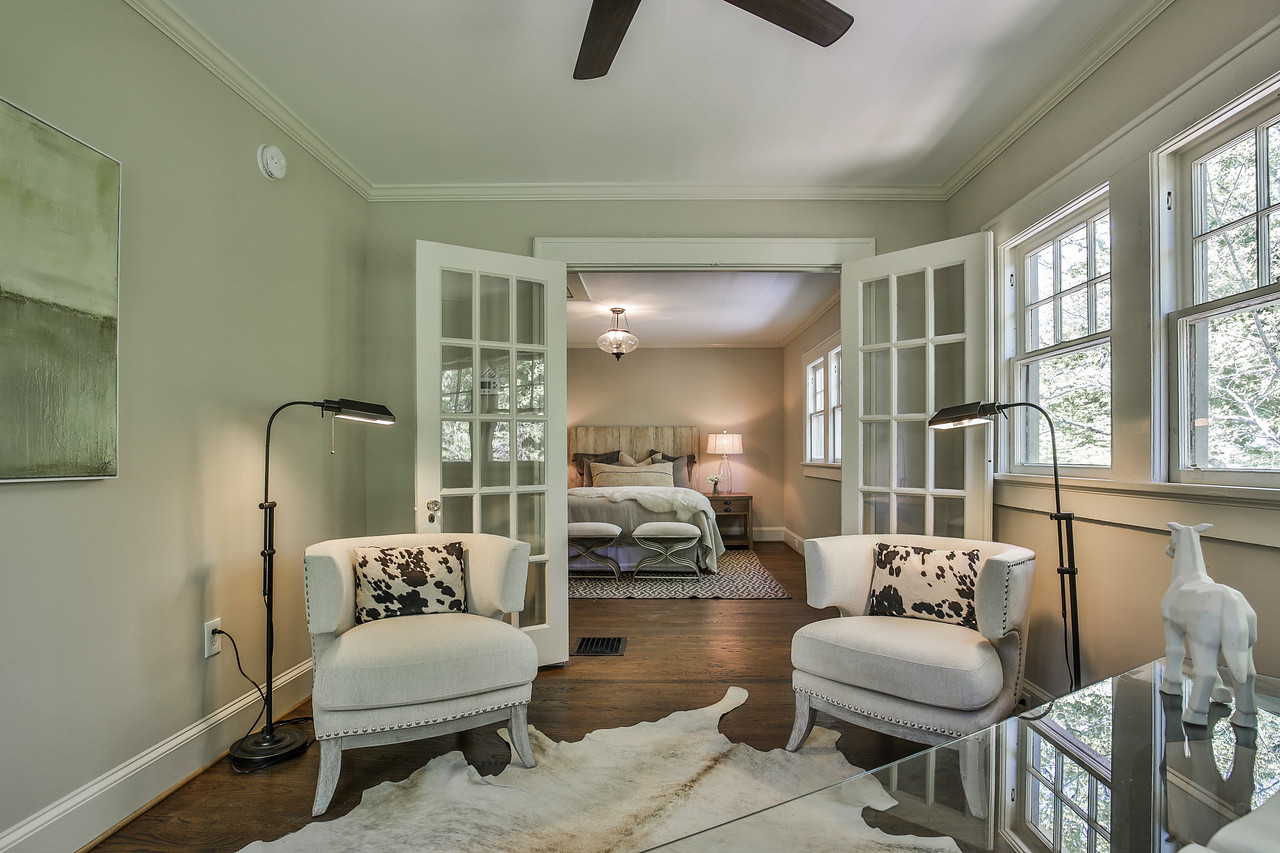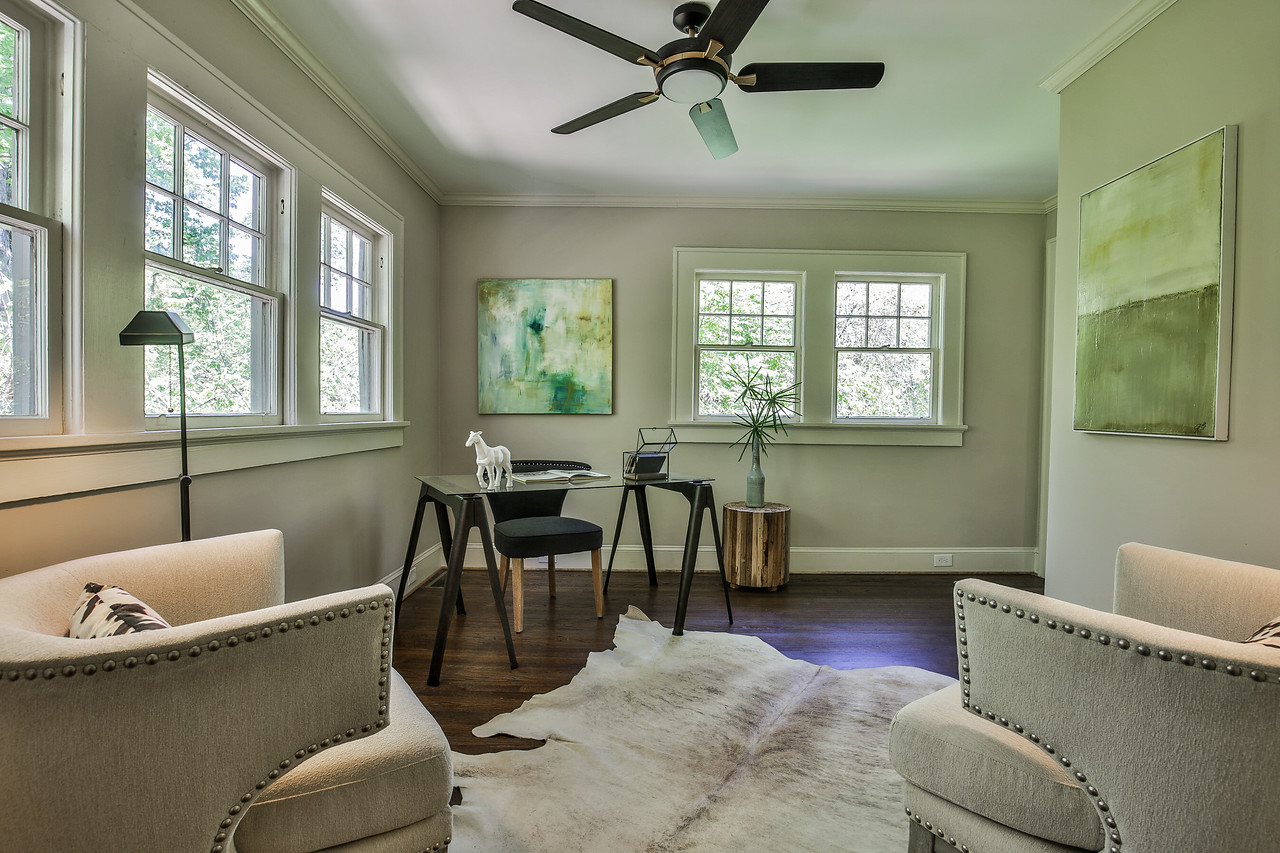 Windows, and more windows! This entire house is full of natural, filtered light that is difficult to convey in a photograph, but trust me when I tell you the ambience it creates for this master bedroom and study is amazing. Having a deluxe master suite, with a stylish office or sitting room, is always sure to be a win for homeowners.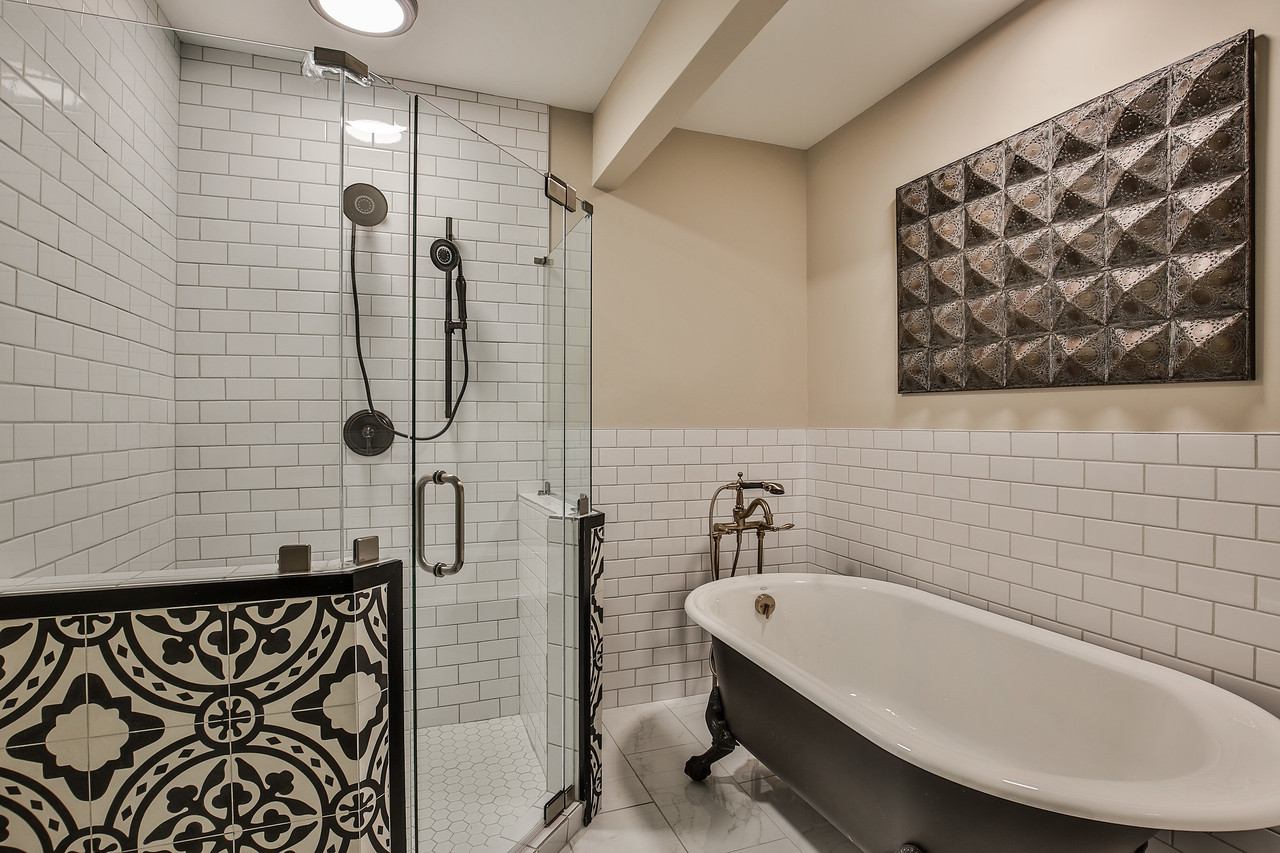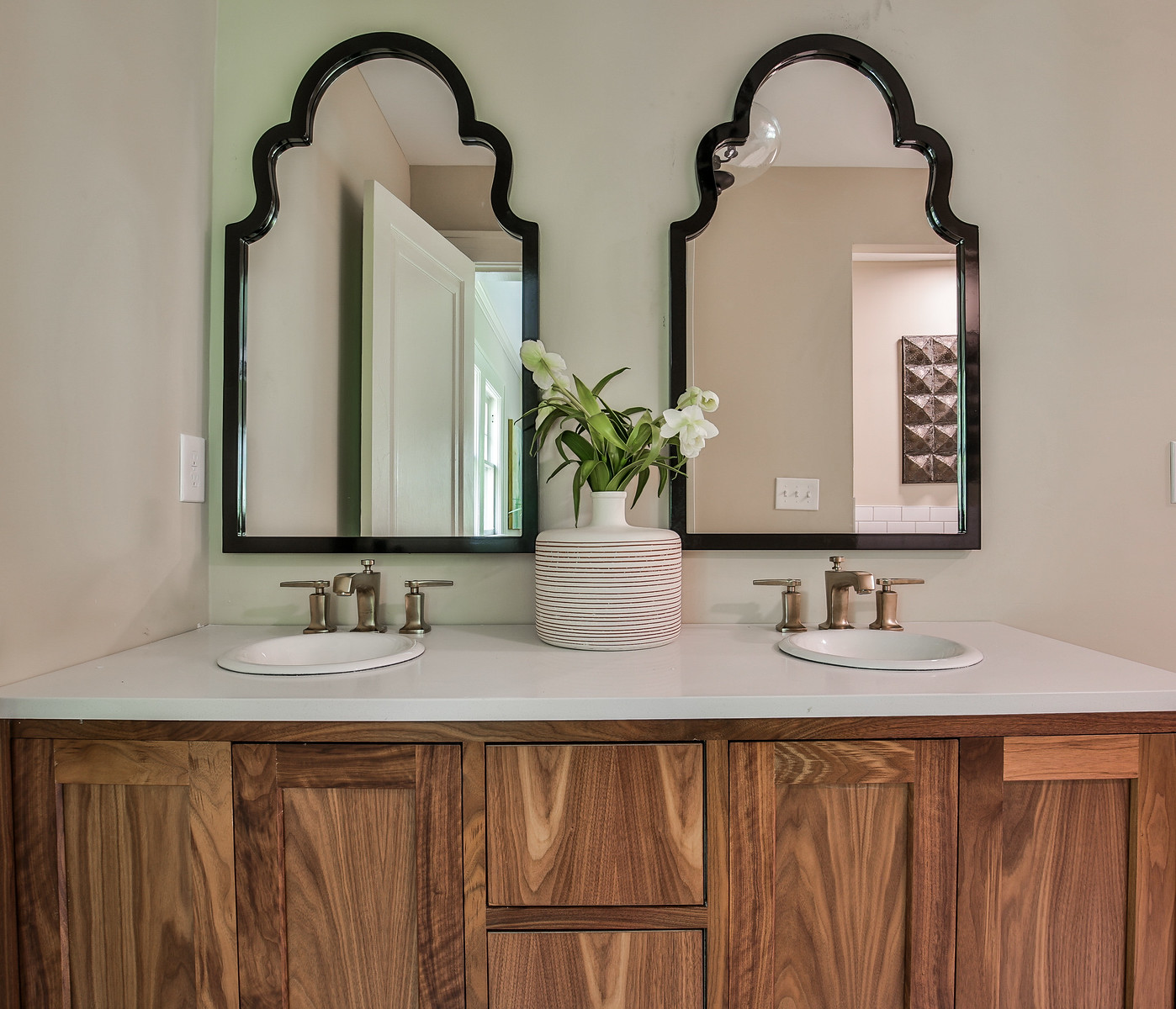 That tub weighs 400 pounds, and we are so grateful to our team for managing (with great effort) to get it in place because it looks amazing in this master bathroom! The cast iron, clawfoot tub, with free standing polished brass water lines, have a vintage vibe that integrate nicely with the historic elements of the home. We wanted to pick up on the black underside of the tub so we installed a dramatic tiled knee wall for the shower, and kept it simple with the surround tile and carrara porcelain flooring.
The National Register of Historic Places was right; this house IS worth preserving! We tend to feel that way about all of our properties, which is why we do what we do. Giving value to neglected properties, and making them useful and livable is our worthy cause.