Limewash: A Simple How-To
A Sponsored Post from Romabio
Was I the only one who loved the look of limewash on this house? I honestly had never done it before but had always heard that it was really easy to do. I looked up Romabio Paints and reached out to them for some help. Their products are easy to find, easy to apply, and I just had to share with you all! This is the basics of applying a limewash. There is a link at the end for a more detailed description.
How-to Apply Romabio Classico Limewash in 3 Easy Steps
With Romabio Classico Limewash you can update your home while still keeping the warmth of the brick, and not having to commit to completely painted brick. The best part is, it's removable. There's no stress when deciding the color or look that you want.
Here are the 3 easy steps to get this look for your Exterior or Interior brick or stone.
1. Prep and dampen your surface.
Prep the area to be painted by cleaning the brick or stone and cover any areas that will not be painted.
Dampen the brick or stone with water. This allows Classico Limewash to slowly absorb into the surface and starts the process of calcification. It creates an extremely durable and long-lasting paint.
Exterior: Use a typical garden hose spray nozzle or a pressure washer. The wall should be wet, but not dripping. If it is hot and in direct sunlight, keep the wall damp. Work one wall at a time to keep damp as necessary.
Interior: Use a water spray bottle. It's perfect for fireplaces!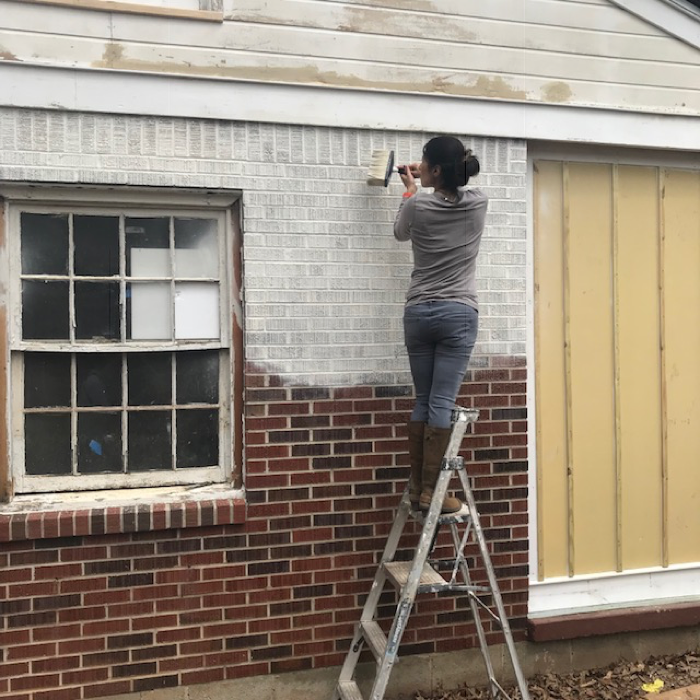 2. Paint one coat of Classico Limewash.
Apply Classico Limewash with the Romabio Large Masonry Brush or a standard paint sprayer. (Rollers are not recommended).
One coat is needed to create an antique limewash effect. The paint is a very flat finish, so you can touch up at any time.
As the paint begins to dry it may look semi-transparent and darker than you expected. This is normal.
3. Wash off and distress.
Start wash off process once the paint is starting to dry, but not wet to touch. Typically, between 10 and 60 minutes, depending on temperature and sunlight.
Wash off as much or as little of Classico Limewash as you want in order to expose the brick or stone. This is the fun part! You get to create the look you want!
Helpful Tip: If your house is a one-story brick ranch or you have an interior fireplace, then it's perfect for DIY. If you have 2 or 3 stories, then a PRO might be better. Fill out this form and Romabio can get you in contact with one in your area.
Buy Classico Limewash online at homedepot.com in 7 pre-tinted colors. Looking for something different than limewash? Romabio also offers a permanent, solid finish called BioDomus Masonry Paint, available at a local retailer near you.
Happy Painting!
For more information click here!