You've seen episode 1, of Season 2 of Flip or Flop Atlanta the house I have dubbed, "Grandmothers House." This house has a ton of history and fortunate for us, it is located a few miles from our home so we have met some of the grandchildren of the original owner of the property. To say that this was a home filled with love is an understatement. Ken and I walked the property with two of the granddaughters and they shared some of the details of the history with us.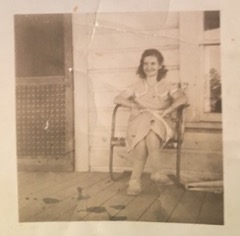 "Granny" as they affectionately called her has 10 grandchildren, 12 great grandchildren, and 4 great, great grandchildren. She only met 2 of her great grandchildren before she passed away. She was an artist at heart and the definition of a southerner. Embroidering, quilting, crocheting, and sewing on an antique treadle machine were just a fraction of her craft. The grandchildren have memories of milling the cow, gathering eggs, and churning milk for homemade butter. They recounted some of their favorite memories were spending Thanksgiving and Christmas in the house with the entire family enjoying her cooking. The favorites: creamed corn, fried apple pies, blackberry cobbler, homemade butter and jelly for you guessed it – biscuits. Homemade Biscuits.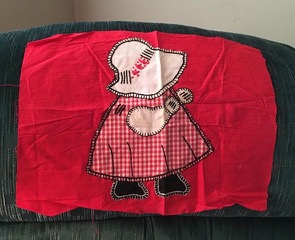 Granny also made biscuits every morning in a drawer in the kitchen, they weren't just for Thanksgiving and Christmas. Yes, you read that correctly, homemade biscuits every morning for breakfast. Does it get any better than that? I've been on a bit of a biscuit adventure myself this summer in search of the best biscuit recipe I could find, Granny's comes close to what I discovered works well for me. Her recipe and technique is shared with you below courtesy of their family: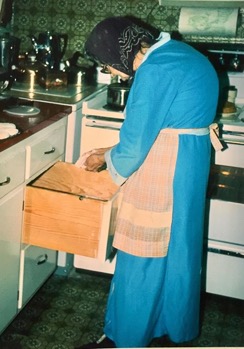 Granny's Biscuits
Ingredients
2 Cups White Lily Self Rising Enriched Flour
¼ cup of lard or Crisco vegetable shortening (could also substitute salted butter)
¾ cup buttermilk or 2/3 cup milk
2 tablespoons butter
Instructions
Heat oven to 475 degrees
Place flour in large bowl. Cut in shortening until crumbs are the size of peas. Add buttermilk, mixing until the flour is just moistened. Turn dough onto lightly floured surface. Knead gently 5 to 6 times, just until smooth. Roll dough into a 7-inch circle that is ¾ to 1 inch thick. Cut 7-8 biscuits using a snuff glass or floured 2 inch biscuit cutter. Place in round cake pan, arranging so that the edges just touch. Shape dough scraps into a ball, pat into a large biscuit, approximately ½ inch thick. Place in a second cake pan. Use a butter knife to add a pat of butter to the top of each biscuit. Bake 8-10 minutes or until golden brown. Remove from oven and serve immediately with apple butter or pear preserves.
An alternate method for shaping biscuits, is to lightly flour hands, pinch off a handful of dough after mixing the ingredients, and gently pat into a small circle. Place biscuits on an ungreased cookie sheet. The secret to a really good biscuit is not overworking the dough, if you do they will be tough.
---
How cute are these faces?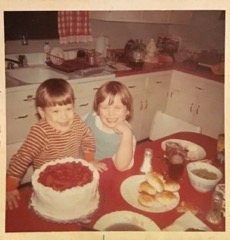 I'd say they were pretty happy at Granny's house, and wouldn't you be with all that love and goodness surrounding you?
What a privilege to breathe new life into this house. It was old and dilapidated, and some would have said it had no hope. The family couldn't even stand to drive past a house that once held such dear memories. Their excitement and awe made restoring this house so worth it.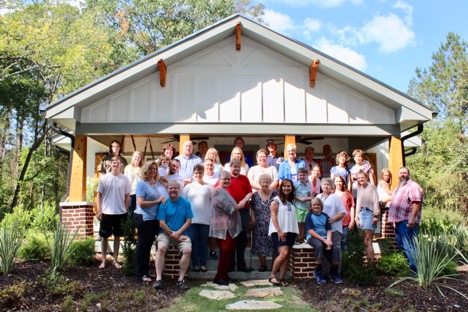 The generations after grandmother, her blessings, celebrating their memories in her restored home. Stories are worth rescuing. Photo courtesy of the family.