"Close to Home" or what Anita calls, "Grandmother's House"
Season 2, Episode 1
Now that the season two premiere episode has aired, we have been able to spend some time reflecting on the process that brought you this drastic transformation. This project was close to home - as in just down the road - so we were able to spend a lot of time here getting to know this house as each phase of the renovation unfolded. We named it "Grandmother's House" after meeting the grandchildren of the woman who lived here, who were kind enough to share some of their treasured childhood memories in this place. By the end, it started to feel like a second home, and after it was staged with so many of our favorite things - including original artwork by Ken - we were ready to move in ourselves! The journey has been rewarding, and we'd like to share some of it with you.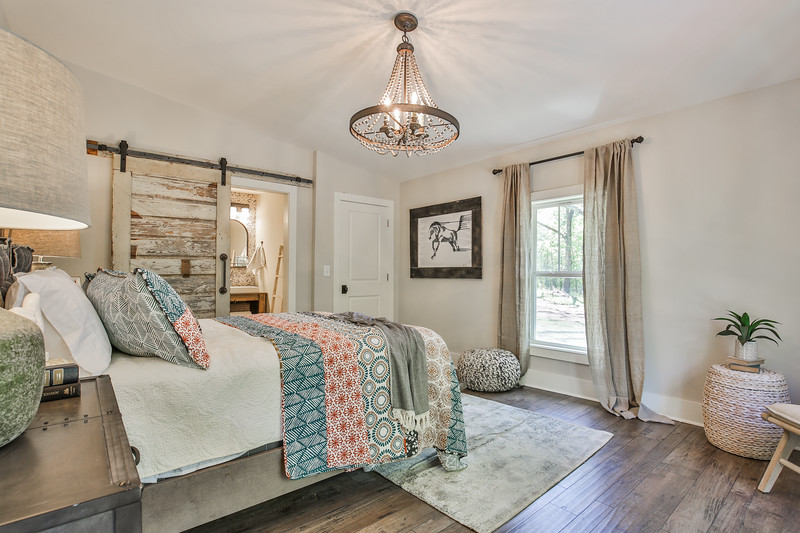 These custom barn doors from Junc2Funkt add to the eclectic vibe in this master bedroom. The wood for the doors came from the original siding of the house. They were salvaged pieces, beautifully deteriorated over time, that were resurrected to create something new. We think it's poetic, and adds so much to the continuity of the home's story. Although we made the home shiny and new, it's taking something with it from its old life.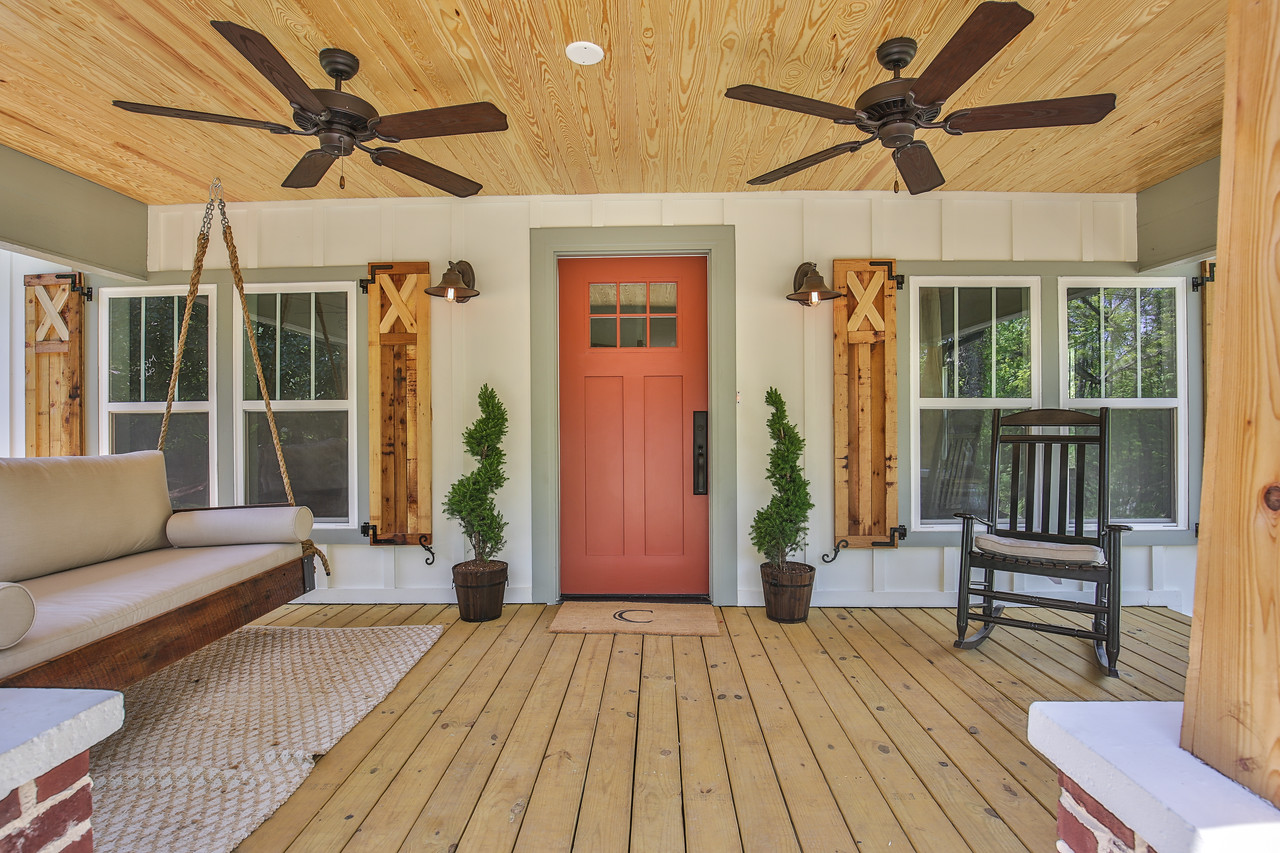 This porch has been transformed into a napper's paradise thanks to this beautiful creation by Four Oak Swing Beds, and dual ceiling fans from the Savoy House. We like a hearty exterior, and the weight of these custom cedar shutters really anchor the porch. They just needed a little linseed oil to seal them, and bring out the natural color. Speaking of color - how about a punch of Not-Quite-Red front door? It's all in the details, and together they make the perfect front porch!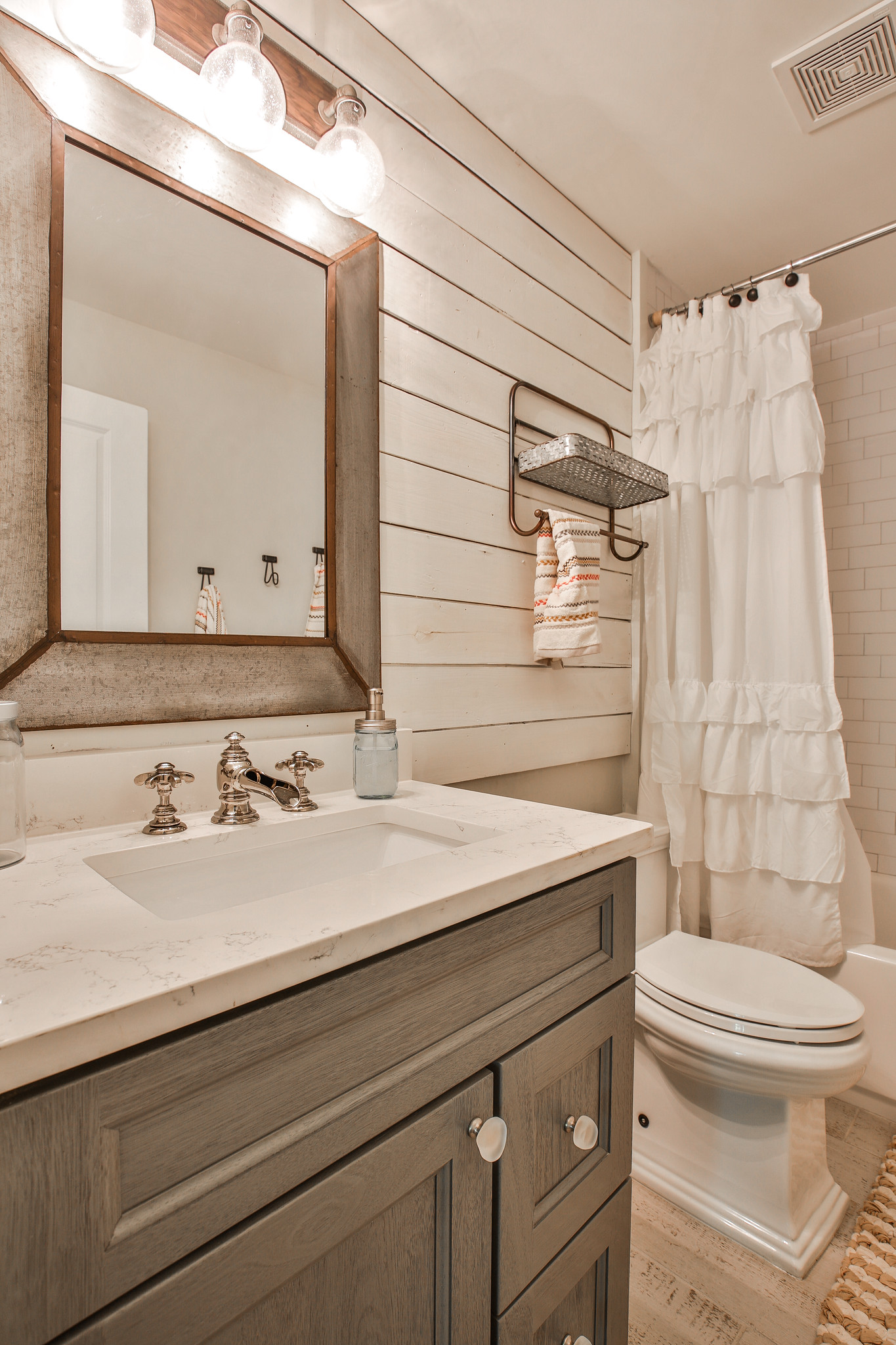 We love how this small space is reflecting some big style with a vintage inspired waterfall faucet in polished nickel from Kohler.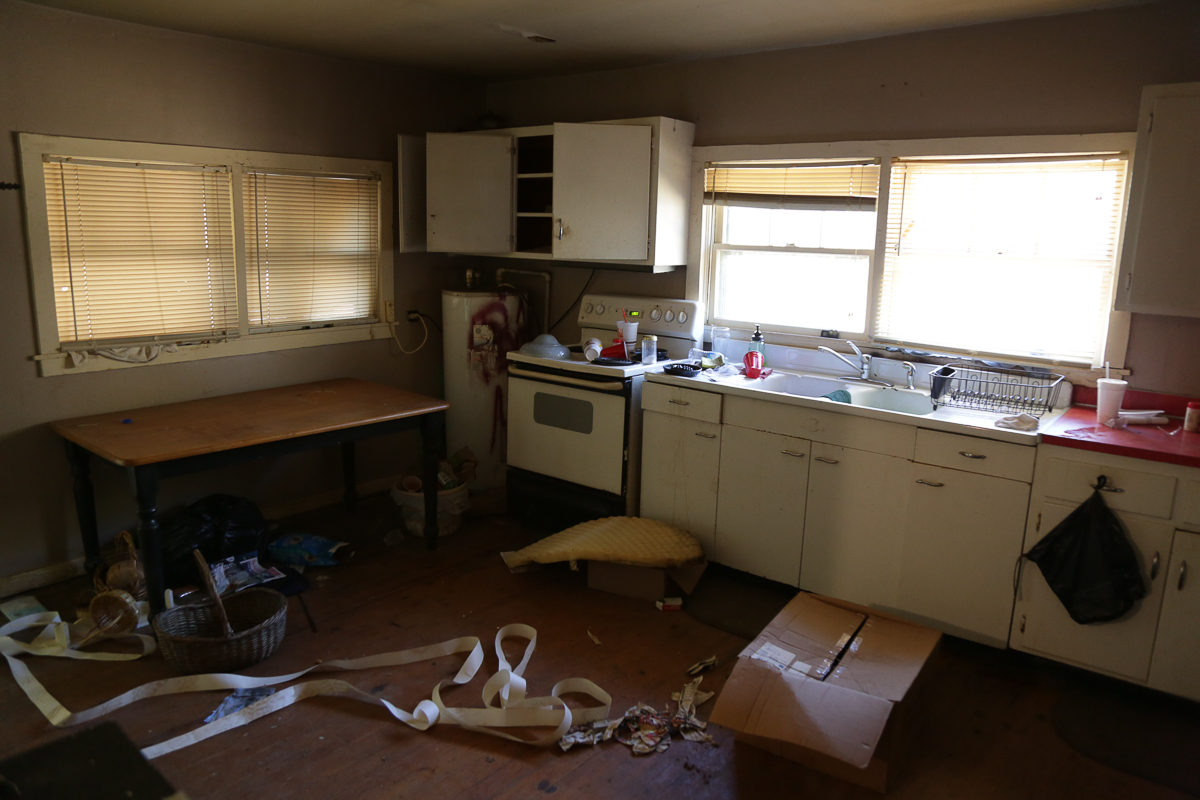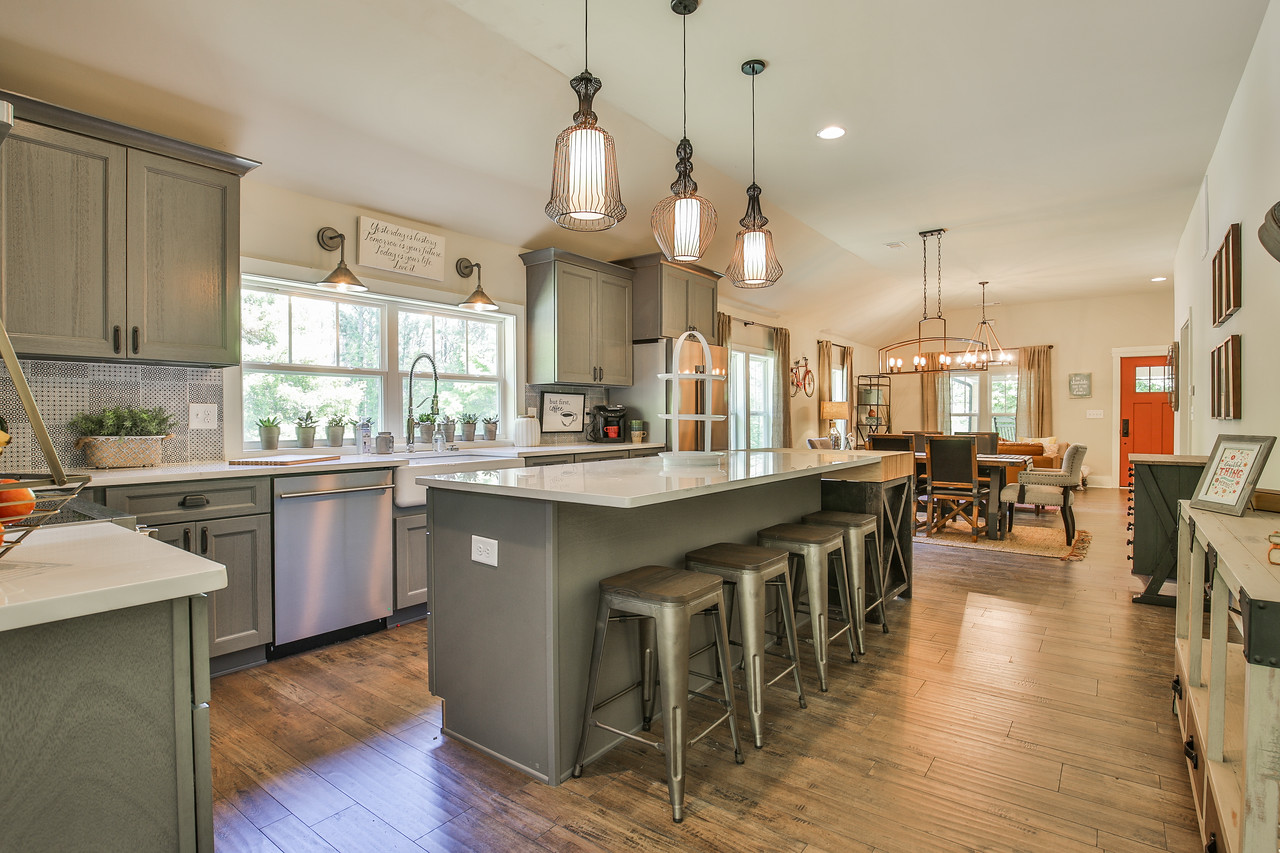 Before and After Kitchen. We kept the original window location, but dressed it up with a Kohler Tournant kitchen faucet in polished nickel, and a white, apron front sink. These lovely, whimsical, island pendants from Progressive Lighting we chose to install in various shapes to add to the whimsy. Adding a vaulted ceiling to this home gave the lighting the room it needed to really shine! The sleek appliances from Blomberg help to update, and polish this kitchen to perfection.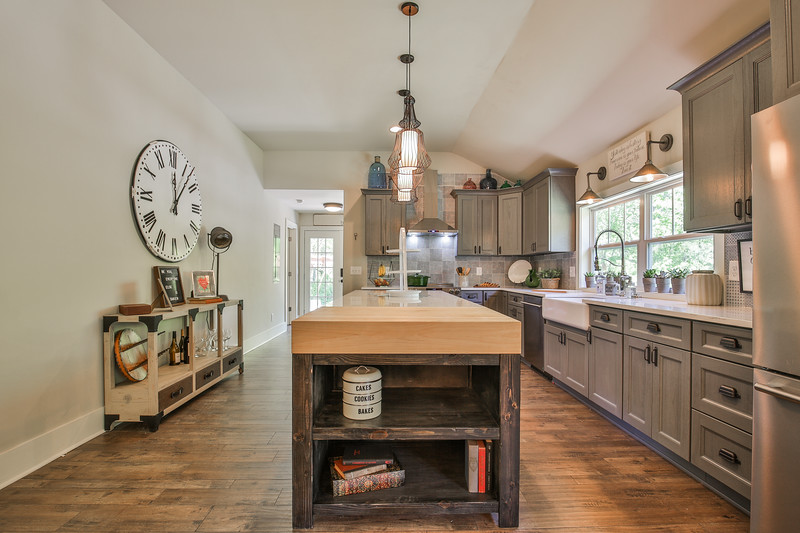 It was difficult to imagine a nine foot island in this space in the before photo, but there it is! It's a hosting dream come true, and such a great use of space for a long, narrow house. And the cherry on the top of this island sundae is an integrated 5.5" maple butcher block from Craft Art that we hope someone will use as a massive charcuterie board one day - or any number of other interesting uses! It is supported by a custom tchotchke shelf made by our friends at Junc2Funkt.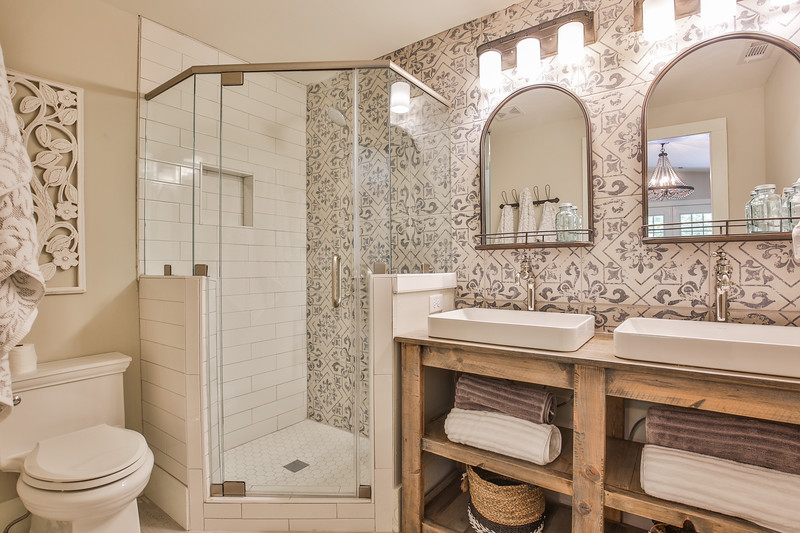 The master bathroom has all the right stuff. The Vox vessel sinks by Kohler are resting on another custom vanity creation by Junc2Funkt. It adds just the right amount of rustic to contrast the softness of the stamped tile. We kept the shower simple with a 4x16 ceramic tile so that our accent wall could really shine. The arched mirrors are also a great find! The tiny shelf it provides is a space-saving, yet stylish solution for a small bathroom space.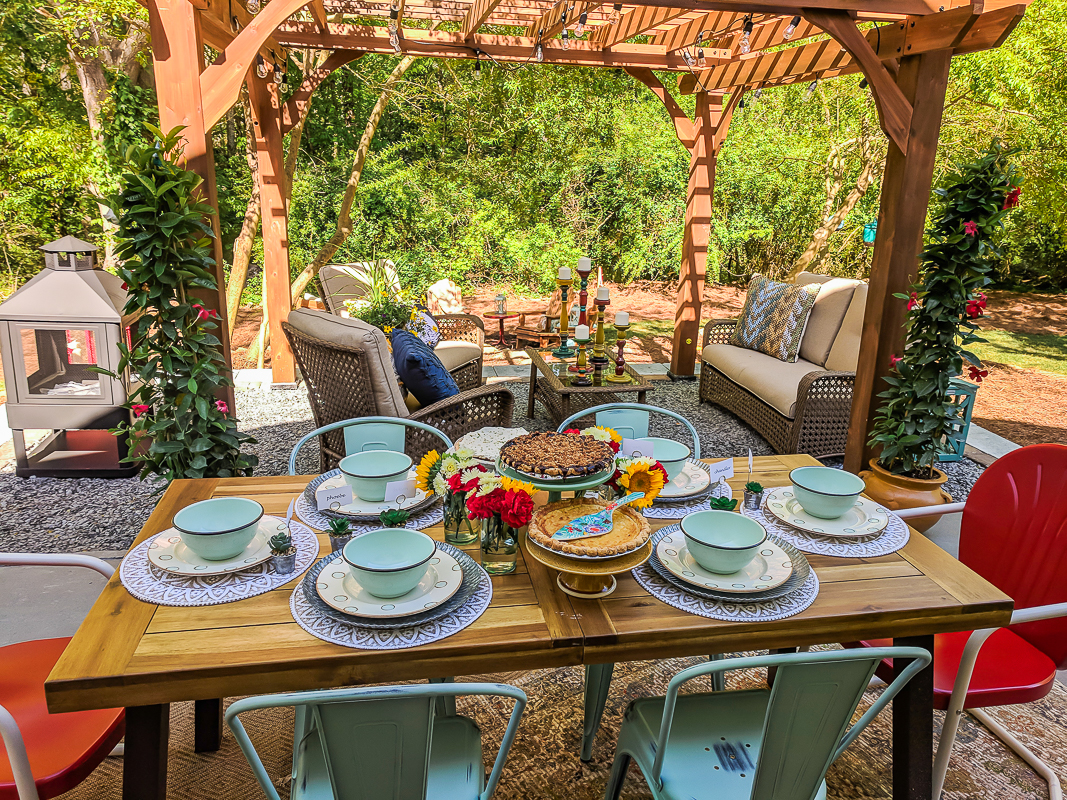 This, friends, is outdoor living at its best! We created several distinct spaces: a dining table, a lounge area, and a campfire circle with a firepit and adirondack chairs. There is something for everyone, for every occasion.
There you have it folks! We hope you enjoyed exploring more of the "Grandmother's House" episode with us. We enjoyed sharing it with you as much as we enjoyed hearing the history of the home from the families who have such fond memories of being there together. We think Grandmother would be proud to have her home restored in such a beautiful way, and hope that many future generations will have their own special stories to tell about this place.